Online Program
Afro Flow Yoga
Shine your Light and Raise Your Vibration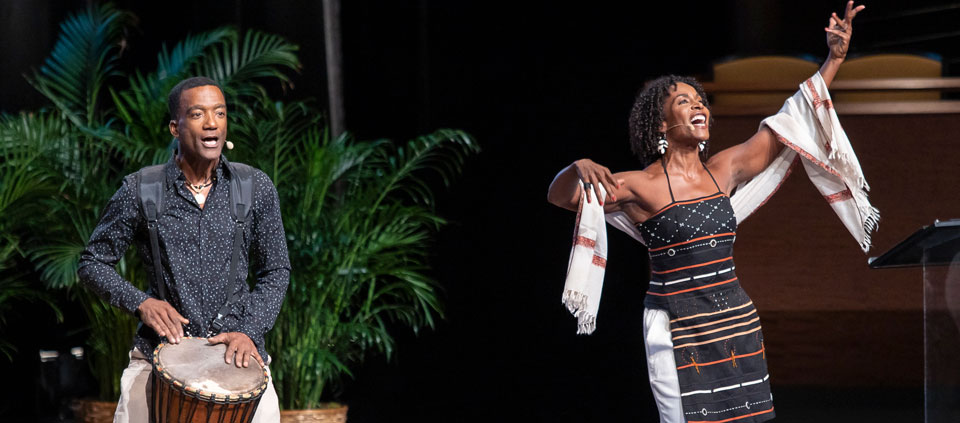 CELEBRATE COMMUNITY, SPIRIT, YOGA & DANCE
This November, connect to your inner wisdom with the creators of Afro Flow Yoga® for a creative and unique integration of yoga and dance. Join Leslie Salmon Jones, her husband Jeff W. Jones, and guest musician Stan Strickland for two Saturday afternoons full of dance, song, and storytelling.
This live online workshop is for everyone! Combining stories of the African Diaspora, drumming, dancing, and singing with yoga, pranayama, and meditation, you will be guided to soothe your soul, plant the seeds of your potential, and return to your true essence.
Through heart-centered practices, you will
Connect to the elements of nature and spirit
Tap into the power of our collective wisdom
Find what is truly important to you.
Together, let's take an unforgettable journey and raise the vibration of love and compassion for ourselves and our communities.
Note Although not required, it is recommended to have a journal, pen, mat, block, strap or towel, blanket, pillow, and/or chair for this program. All recordings will be available within 72 hours of the end of each session. You will have access to the video recording(s) for 30 days after the program ends.
---
Program at a Glance
Yoga Experience
All levels
---
Presenter(s)
Leslie Salmon Jones is a professional dancer, certified holistic personal trainer, wellness coach, yoga instructor, public speaker, and creator of Afro Flow Yoga®.
Full Bio and Programs
Jeff W. Jones, co-founder of Afro Flow Yoga®, is a multi-instrumentalist, recording artist, musical director, composer, and co-creator with his wife, Leslie Salmon Jones.
Full Bio and Programs
Stan Strickland is a singer, saxophonist, flutist, actor, and has performed extensively throughout the United States, Europe, New Zealand, and the Caribbean.
Full Bio and Programs