Online Program
Amplify Voices of the Global Majority
Free Online Series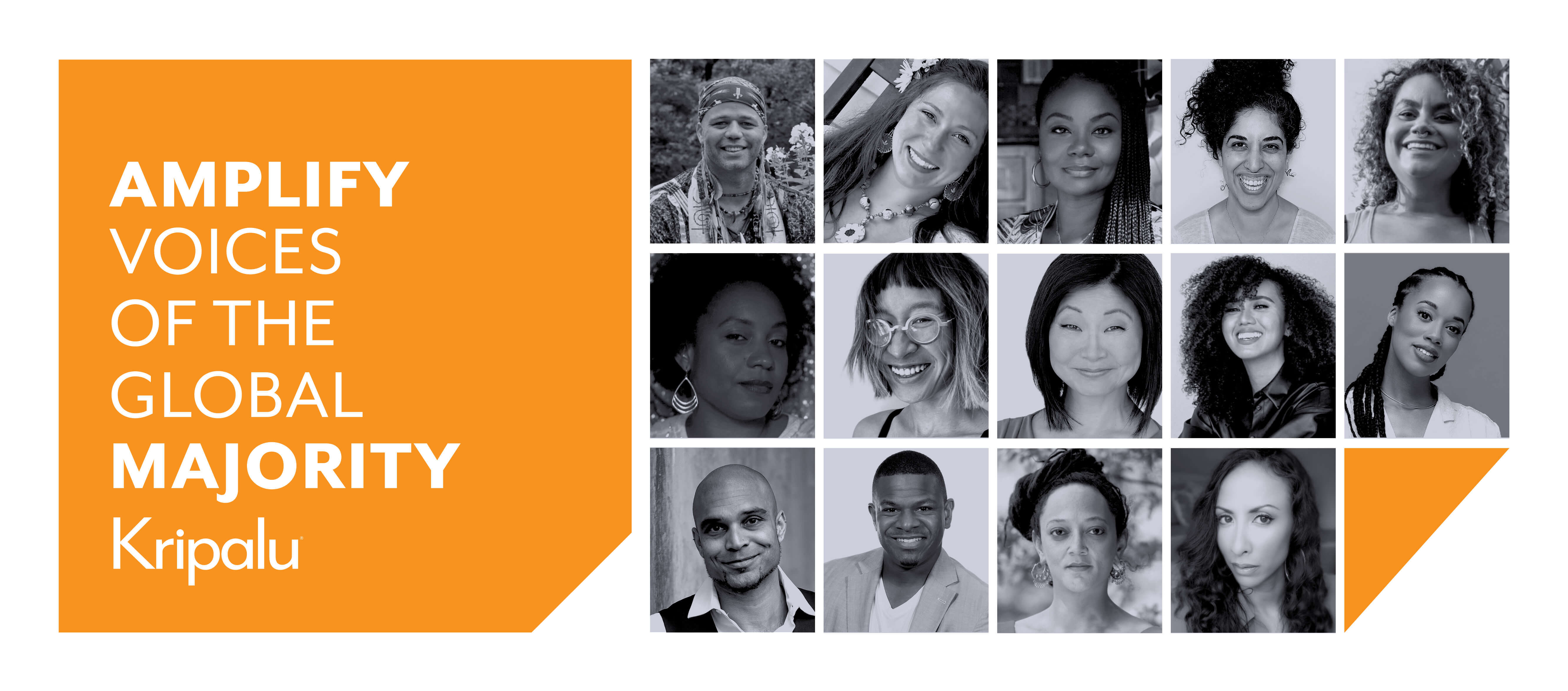 INDIGENOUS WISDOM, COMMUNITY CARE & COLLECTIVE LIBERATION
About the Series
We have joined forces with changemakers around the globe who work to dismantle inequity and harm, steward the planet, prioritize collective wellness, and stress interdependent liberation.
Throughout history, voices of the Global Majority*––Black, Indigenous, people of color––have been at the forefront of breaking down barriers of systemic issues that affect both the planet and humanity and ushering in radical change—whether that has been bringing yoga to the west or fighting for justice on the front lines.
Now is a time that requires us to listen, heal historical wounds, and do something different. We enter this work as an act of community care because none of us can be well unless all of us are well.
What to Expect
Be in relationship with wisdom holders during the months of February, March, and April. Each session will educate, inspire, and challenge us through fiercely authentic, live online conversations that uplift varied perspectives, life experiences, and identities within the wellness community.
The line-up includes adrienne maree brown and Mia Herndon, Millana Snow and Lauren Ash, Hawah Kasat and Abdul Muhammed, Yoli Maya Yeh and Aja Shah, Seher Sikander and Eniafe Isis Adewale, Shawn Stevens and Shannon Chada, and Raudhah Rahman and Mia Park.
Dive into the following topics:
Indigenous perspectives on community, culture, and nature
The importance and urgency of climate action
How to cultivate an inner and outer awareness for personal and collective liberation
How the right relationship to the planet and one another fosters healing
How to harness the power of the Spring Equinox
How to live with a worldview of inter-being, not division and separation
Healing through Indigenous yoga.
Outcome
Continue the journey to personal and societal transformation in a community united in compassion and committed to equity and accessibility for all.
*Since Black, Indigenous, and people of color represent over 80% of the world's population, we use the term Global Majority to point out the demographic inaccuracy of the euphemism "minority."
---
Explore the Sessions
February 10
Gather Round the Fire: Reclaiming Our Sacred Ways
Shawn Stevens and Shannon Chada
Create a deeper relationship with self through community, culture, and nature from an Indigenous perspective.
Access the Recording
February 17

Embodying Liberatory Healing Through Inner and Outer Awareness
Seher Sikander and Eniafe Isis Adewale
Explore the philosophical significance of cultivating inner and outer awareness as a means of collective healing and liberation.
Access the Recording

March 10
The Body As Our Vehicle to Liberation
adrienne maree brown and Mia Herndon
Join us for a conversation about the role of embodiment, healing, and opportunity that awareness and accountability have for building a new world.
Access the Recording
March 17
Lineage, Culture, and Authenticity
Mia Park and Raudhah Rahman
Through the sharing of personal stories, journaling prompts, and discussion, learn how to examine your biases about yourself, understand the attraction of lineages outside of your own while you investigate what your intention is behind seeking spiritual guidance.
Access the Recording
March 24
New Beginning, Now
Lauren Ash and Millana Snow
Within the energy of the Spring Equinox, and the start of the astrological new year, join us for exploration about the power inherent in all of us to press restart and renew our energy from the inside out.
Access the Recording
March 31
The Work Behind Us and The Work Ahead
Hawah Kasat and Abdul Muhammad II
In a fiercely honest, authentic, unfiltered conversation between two cultural change agents, educators, and healers, hear how they continue to push for equity and justice in their communities and the world.
Access the Recording
April 7
Global Indigenous Yoga to Heal the Bloodline
Yoli Maya Yeh and Aja Shah
Join us in an exploration of yogic practices from global Indigenous origins that support our ability to remember the way home.
Access the Recording
Note You will have access to the recordings for one year. All recordings will be available within 72 hours of the end of each session.
---
Program at a Glance
Program Theme
All Self-Discovery
---