Online Program
There are no upcoming dates for this program.
FOUNDATIONS OF THE KRIPALU KITCHEN
A New Live and On-Demand Course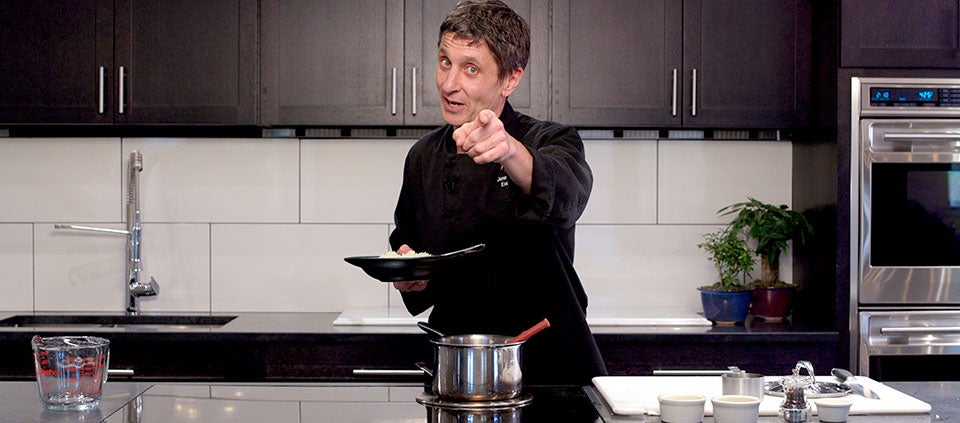 NEW COOKING IMMERSION WITH KRIPALU'S EXECUTIVE CHEF
This March join Kripalu's Executive, Chef Jeremy Rock Smith, for a 15-week program designed to teach cooks of all levels a deeper understanding of the principles of the Kripalu approach to nutrition and the skills our own chefs use in developing our recipes. Through primarily on-demand, pre-recorded instructional videos and demonstrations, Chef Jeremy will guide you through a comprehensive course from salads to dessert.
The course begins with an overview of Kripalu food philosophy and how nutrition and Ayurveda contribute to it. From there you will be guided through a progressive cooking course where you begin with the basics and gradually graduate to preparing main courses and baking sourdough bread.
In addition to insider tips that Kripalu chefs use every day to prepare delicious, nutritious meals, and more, you will learn
Culinary nutrition and the role of Ayurveda in our food philosophy
Knife skills, organization methods, food safety practices, and other kitchen tips
Preparation plans for selecting, storing, and prepping vegetables, vegetarian proteins, seafood, and poultry
Foundational flavor elements for soups and sauces
An overview of whole grain and legume cookery
How to make chutneys, pestos, pan sauces as well as non-dairy alternative cream sauces
Principles of the Kripalu bakery and how to make a sourdough starter, and so much more!
Complete this course with the confidence and knowledge to bring Kripalu's healthy and delicious cooking into your life.
---
How the Course Works
The self-paced course runs 15-week runs 6–10 hours a week consisting of pre-recorded videos and bi-weekly live meetings with Jeremy Rock Smith. There will be multiple opportunities for learning, self-moderated quizzes, opportunities for reflection, and sharing.
PDFs of resources and recipes will be provided each week in addition to the online video and digital content.
View the live session dates and times.
---
---
Preview the Course Curriculum
Unit 1 Principles of Kripalu Cooking and Kitchen Safety
Unit 2 Kripalu Kitchen Basics and Knife Skills
Unit 3 Salad Dressings, Emulsifications, and Herbs and Spices
Unit 4 Vegetable Cookery and Stock Preparation
Unit 5 Grains, Legumes, and Sauces
Unit 6 Alternative Proteins and Seafood
Unit 7 Poultry and Bakery Basics
The course culminates in a practical and written presentation.
---
KRIPALU SIGNATURE
This program—developed and led by our own faculty with the Kripalu methodology in mind—is offered exclusively at Kripalu.
---
Program at a Glance
Program Theme
Cooking and Nutrition
---
Presenter(s)
Jeremy Rock Smith, Kripalu's Executive Chef and a graduate of the Culinary Institute of America, began his career in classical French cuisine.
Full Bio and Programs