Online Program
The Kripalu Sunday Supper Club
Winter 2023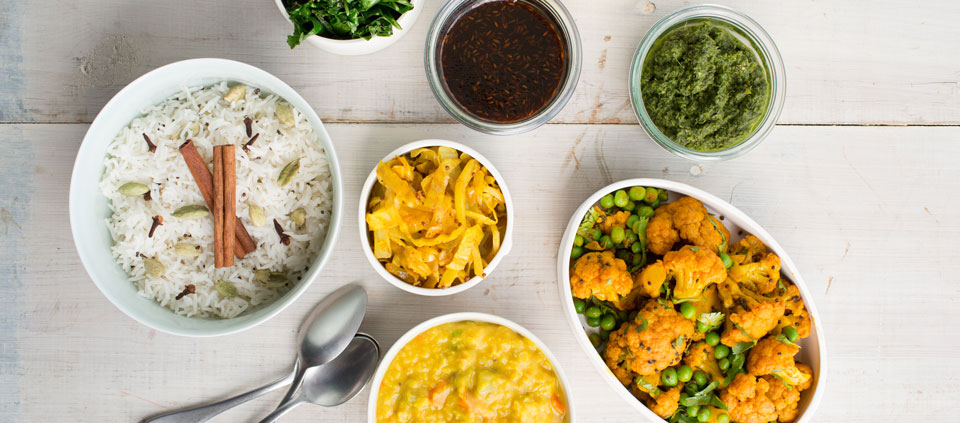 COOK LIVE WITH KRIPALU'S BELOVED CHEF JEREMY
Join Kripalu's beloved Chef Jeremy Rock Smith as he teaches you how to recreate some of the best meals served on Kripalu's campus. In addition to Kripalu classics, participants will learn brand new recipes—flavorful and nourishing meals that rely on a few simple fresh ingredients and accessible cooking techniques.
Through live online cooking demonstrations, discussion, laughter, and fun, Jeremy shows you how to organize, prep, and cook complete, cozy, and healthy Kripalu Kitchen suppers. You will also learn how to
Read and interpret recipes for success
Reduce food waste through proper meal planning and prepping tips
Cook more than one dish at a time
Effectively store, reheat, and reuse leftovers
Navigate your kitchen with ease
Gain first access to amazing new Kripalu recipes when you sign up! Jeremy's online sessions are intentionally scheduled to give you a sense of ease so you have time to rewatch the first session and cook during the off weeks. Whether you're an experienced cook or just starting out, this program will expand your repertoire of healthy and comforting meals, and help you start your week with a smile.
Notes Recipes and shopping lists will be provided in advance—you are invited to cook in real-time with Jeremy or just watch and cook later alongside the recorded class. All recordings will be available within 72 hours of the end of each session. You will have access to the video recording(s) for 30 days after the program ends.
---
KRIPALU SIGNATURE
This program—developed and led by our own faculty with the Kripalu methodology in mind—is offered exclusively at Kripalu.
---
Preview the Sessions
Week One Chicken or Chickpea & Veggie Curry, Vegetable Biryani, Cast Iron Naan, Tamarind Sauce
Week Two General Tso's Chicken or Cauliflower, Veggie "Fried" Rice, Broccoli, Kimchi
Week Three Turkey or Lentil Meat Loaf, Chipotle Tomato Jam, Whipped Celery Root & Potatoes, Glazed Carrots, Swiss Chard
Week Four Hearty Three Sisters Stew (Corn, Pinto Beans, Butternut Squash) Chili, Brown "Butter" Skillet Cornbread, Kale Caesar
Week Five Jerk Style Chicken or Cauliflower, Warm Pineapple Salsa, Red Beans & Rice, Braised Collard Greens
Week Six Seared Halibut or Tofu, Orange Yogurt Sauce, Braised Fennel, Spring Pea Puree, Spinach, Dilled New Potatoes
---
"Taking Jeremy's cooking class kept my family learning and staying excited about cooking at home."
—Past online program participant
---
Program at a Glance
Program Theme
Cooking and Nutrition
---
Presenter(s)
Jeremy Rock Smith, Kripalu faculty and a graduate of the Culinary Institute of America, began his career in classical French cuisine.
Full Bio and Programs