Online Program
LEADERSHIP IN MOTION
Integrating Body Movement into Social Movement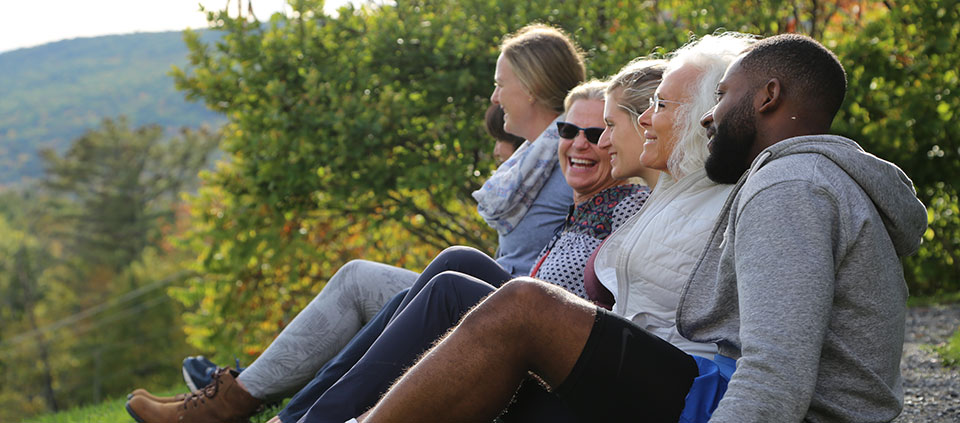 THE THIRD IN A SERIES ON LIBERATION
This March, join Akaya Windwood and Sarah Crowell in the third program of our Liberation Series, a collaboration between Kripalu and Hollyhock. This one-day program combines the wisdom of two veteran facilitators who have dedicated their lives to social justice by leading from the mind, body, and spirit.
For both Akaya and Sarah, this work is lifelong and immediate. Akaya, an internationally recognized leadership coach, mentor, and dream weaver is deeply committed to working for a fair and equitable global society while infusing a sense of purpose, delight, and wonder into everything we do. Sarah who comes to this work as a veteran dancer, dance and theater educator, and nonprofit leader, creates powerful collaborative experiences that combine movement, spoken word, intimate storytelling, and scathing political commentary, that re-imagine the world through the lens of justice.
In this live online program, you
Cultivate and affirm leadership practices that grow thriving leaders who bring moving bodies into the conversation

Create a vibrant, emergent space where we share, teach and learn together through mindfulness practices, embodiment practices, honest dialogue, and full-bellied laughter

Remember that in order to be agents for transformation we need our entire beings.
Note All recordings will be available within 72 hours of the end of each session. You will have access to the video recording(s) for 30 days after the program ends.
---
About the Collaboration

This November 2020 through April 2021, Kripalu and Hollyhock are collaborating in a 6-month, online series to explore topics in conscious leadership, lateral and collective liberation, climate justice, and creative embodiment. Sign up for Kripalu's email newsletter to stay updated.
For 48 years, Kripalu has been a leader in yoga- and mindfulness-based education. More than just poses on a mat, we believe yoga is an accessible practice that inspires connection, compassion, and joy.
Hollyhock is a Canadian not-for-profit leadership center with the mission of creating meaningful experiences to inspire personal growth and social transformation. Their vision is to achieve a future where people live in right relations with ourselves, each other, and nature—understanding that these are intricately connected.
---
Program at a Glance
Program Theme
All Self-Discovery
---
Presenter(s)
Akaya Windwood, faculty for the RSF Social Finance Integrated Capital Institute, advises, trains, and consults on how change happens individually, organizationally, and societally.
Full Bio and Programs
Sarah Crowell, a lifelong teacher of dance, theater, and violence prevention, believes that the arts are an essential component of the journey to social justice.
Full Bio and Programs
Program Facilitator
Monique Schubert, MFA and Kripalu-certified yoga teacher, uses her 20 years of experience as an artist and educator to develop yoga and mindfulness programs for schools, workplaces, and cultural institutions.
Full Bio and Programs