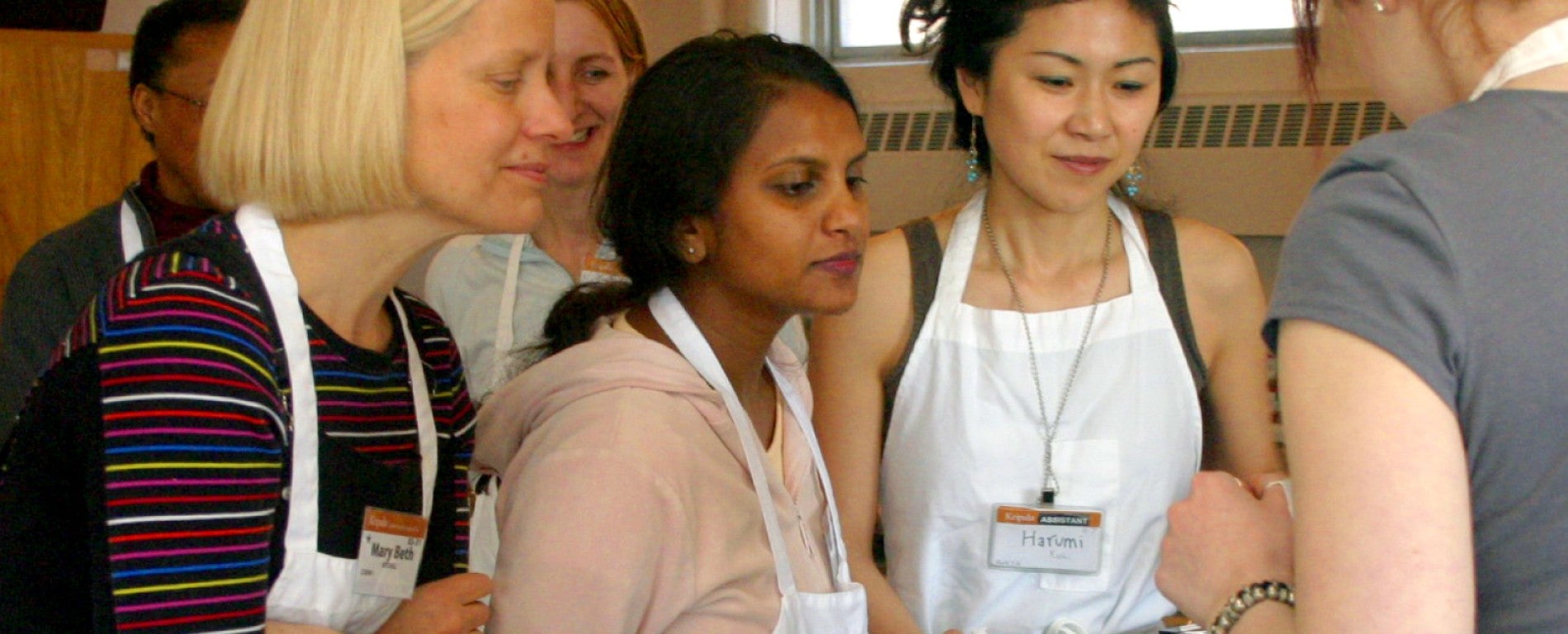 Teaching for Diversity
Thousands of people have experienced the healing benefits of yoga through the charitable efforts of Kripalu᾿s Teaching for Diversity (TFD) program since its inception in 2001. TFD grants provide seed funding, stipends, and supplies for graduates of the Kripalu Schools who are bringing yoga, yoga therapy, or Ayurvedic practices to diverse populations, including students inTitle I schools, ethnic minorities, and individuals who are socially, economically, and physically challenged.
Applications for the 2017 award year will be accepted from January 1–March 31, 2017. Award notifications will be made no later than April 30, 2017.
Eligibility checklist
Graduate of a Kripalu School of Yoga or Ayurveda training
Well-established relationship with the program host organization
Plans for long-term sustainability of the program in place
Experience/training specific to the population
Complete an online application between January 1, 2017–March 31, 2017. Applications must be submitted electronically.
Obtain and submit a letter from the organization you will be working with confirming they will be hosting your classes and their support of your plan for sustainability of the program.
If you are requesting funding for supplies, provide an estimate with pricing of the supplies you plan to purchase.
Tip: Price out products from the store or website where you plan to purchase your supplies—this way you will receive the correct amount of funding in your grant award.
Send the above documents to tfd@kripalu.org with "TFD" and your name in the subject line.
Contact the program administrator if you have questions regarding the eligibility of your application.
Grant Award Process
You will receive a confirmation via e-mail once we receive your application.
Applications for the 2016 award year will be reviewed by an advisory committee beginning on April 1, 2016. Applicants will receive an award decision no later than April 30, 2016.
If approved, you will receive an award notification by e-mail with the final grant amount and the required documents you need to submit once your program is completed.
You will also be notified if your application is denied.
Once your application has been approved and you have completed your program, you must submit the following materials:
Host Organization Survey
This form must be completed by an administrator at the organization where your program is hosted. Grant recipients/host organizations who do not complete the survey within the grant year will be ineligible for future TFD grants.
Grant Recipient Survey
This form must be completed by you. Grant recipients/host organizations who do not complete the survey within the grant year will be ineligible for future TFD grants.
Letter of acknowledgement from your host organization verifying completion of the number of classes agreed upon
Photos (optional)
Release and Consent Forms (if photos are submitted)
Receipts for any supplies that were purchased using designated TFD funds
Share your story on the KYAA Community Forum (optional)
Contact Information
Kripalu Center for Yoga & Health
Teaching for Diversity
PO Box 309
Stockbridge, MA 01262
Questions about the grant award process? Contact Sarah Carpenter at tfd@kripalu.org or 413.448.3284.
You Might Also Be Interested In
Rachel Greene Memorial Fund
Through the Rachel Greene Memorial Fund, teachers are awarded scholarships to attend trainings to bring yoga to Title I schools.