Top Five Berkshire Nature Walks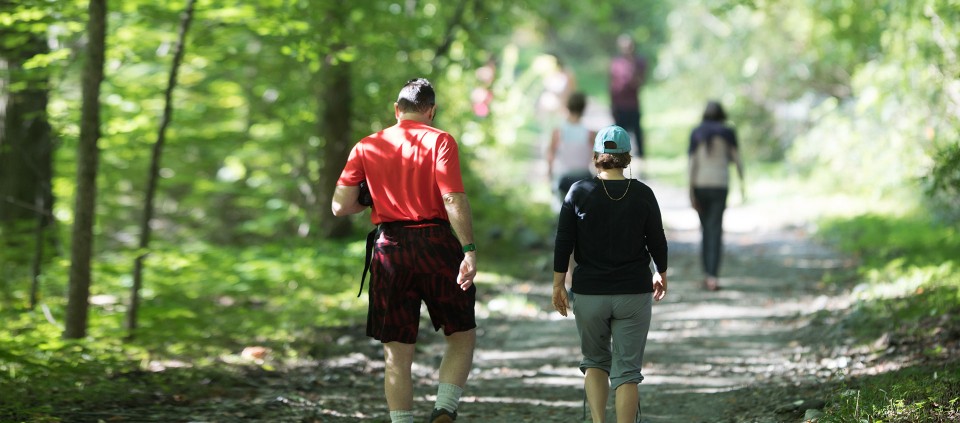 Along with numerous cultural and historical offerings, the Berkshires offers picturesque walks and hikes for all levels, where you can enjoy the view while soaking up the benefits of forest bathing. Micah Mortali, Director of Outdoor Education and Programming at Kripalu and Dean and Founder of the Kripalu School of Mindful Outdoor Leadership, shares some of his favorite nature walks.
Monument Mountain
Where: Great Barrington, Massachusetts
Level: Strenuous
Highlight: A dramatic 360-degree view of four surrounding states at the summit
Find out more.
This hike is, in my opinion, the best all-around hike in the Berkshires. Set aside a minimum of two to three hours for this epic ramble.
Ice Glen
Where: Stockbridge, Massachusetts
Level: Easy to moderate
Highlight: The largest hemlock trees in all of New England
Find out more.
This magical glen weaves through giant boulders, over wooden bridges, and up hand-hewn stone steps. An optional fire tower hike provides exceptional views north.
Tyringham Cobble
Where: Tyringham, Massachusetts
Level: Moderate
Highlight: That feeling of big-sky country—hard to find in these parts
Find out more.
The Cobble trail ambles through spacious cattle-grazing land and up the banks of this notable promontory. Once at the top, you can catch a gorgeous view of Tyringham's bucolic charm.
Stevens Glen
Where: Richmond, Massachusetts
Level: Easy
Highlight: A dramatic waterfall
Find out more.
This short hike winds through balsam and deciduous forest to the waterfall site—once a party destination when a lavish deck overlooked the falls during Prohibition.
East Rock
Where: Great Barrington
Level: Strenuous
Highlight: At the top, climb up a wooden ladder onto a giant boulder for a birds-eye view of Great Barrington.
Find out more.
A local favorite, East Rock abuts some of the best rock climbing in the Berkshires. The trail is straight up all the way, so get ready for a workout.
Find out about nature programs and trainings with Micah Mortali at Kripalu.
Experience Best of the Berkshires Week at Kripalu.
© Kripalu Center for Yoga & Health. All rights reserved. To request permission to reprint, please email editor@kripalu.org.