How Being in Nature Helps Kids Thrive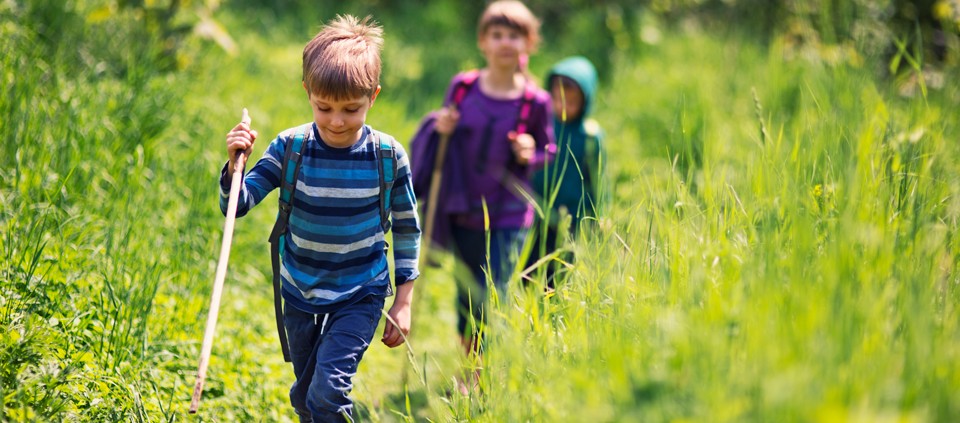 If you're a nature lover, you probably want to instill a love for wild places in your kids. But did you know that time spent in green spaces can boost your child's test scores, lower the symptoms of ADHD, improve their health, and spark creativity?
On the flip side, a lack of "green time" can have hazardous effects on children's health. According to the nonprofit Children & Nature Network, "An expanding body of scientific evidence suggests that nature-deficit disorder, "a non-medical term coined by the organization's cofounder, Richard Louv, "contributes to a diminished use of the senses, attention difficulties, conditions of obesity, and higher rates of emotional and physical illnesses. Research also suggests that the nature-deficit weakens ecological literacy and stewardship of the natural world."
As Micah Mortali, Director of Outdoor Education and Programming at Kripalu and a father of three who has been leading groups of children in wilderness settings for more than 15 years, observes, "Right now, so much of a child's learning is happening through two-dimensional tablets, computer screens, and television screens. It's not embodied."
"One of the biggest benefits for kids is activation of the senses," he continues. "Unstructured natural play is so important for kids, because that's how they learn proprioception and safe risk taking—by climbing trees, jumping off things, throwing stuff, chasing each other. Their senses are engaged when they're breathing in the air, feeling the wind on their skin and their feet in the grass."
Here's an inspiring roundup of other benefits of green time for kids.
It Reduces the Symptoms of ADHD
Kripalu Yoga teacher and art therapist Craig Hanauer, who leads nature-based YogArts workshops for children at Kripalu, observes that "taking hikes in the woods, walking in Kripalu's outdoor labyrinth, collecting things from nature and making art out of them—these kinds of activities seem to have a natural calming effect on children, especially for those identified as ADHD. It quiets them and captures their attention."
Research conducted by the Landscape and Human Health Lab at the University of Illinois at Urbana-Champaign suggests that time in green spaces can lead to a significant reduction of ADHD symptoms in children.
It Inspires Kids to Care for the Environment
As Micah observes, "We're living in a time when environmental issues like climate change and the preservation of wild spaces are paramount." The problem, he says, is that "we have a generation of young people growing up whose connection to the land has been cut. How will they protect something that they don't have a visceral connection to?" Most environmental activists, he says, are doing their work because "they had a visceral connection to the land as children. So it's important that we foster that connection for kids."
Some research supports this notion. The Children & Nature Network points to a critical review of 30 studies conducted since the early 1980s on the connection between childhood experiences in nature and environmental attitudes. The coauthors of the review write that such "children … have greater interests in environmental issues, are more aware of and concerned about nature, want to learn more about nature, and are more likely to adopt pro-environmental behaviors."
It Encourages Creativity, Social Skills, and Resilience
A 2015 study published in the International Journal of Environmental Research and Public Health showed that kids who explored the great outdoors and took part in "risky outdoor play" such as climbing and jumping, displayed improvements in the following categories: social skills, resilience, and creativity (along with better physical health).
Craig has observed some of these benefits firsthand during his YogaArts workshops. "Spending time outdoors gives kids an opportunity to express themselves wholeheartedly and allows them more freedom than they have in indoor environments. And when they're given the opportunity to play freely, they often come up with their own games and their own structured activities. I've seen a lot of interesting conversations happen between kids in nature."
It Can Improve Academic Performance and Test Scores
"Some studies have shown that outdoor classrooms and environment-based education programs show an increase in standardized test scores," observes Micah. He cites the forest kindergartens of Finland and Germany as a compelling example. "Some of these kids spend half the amount of the time in the classroom than American children do, but they're doing better on standardized tests."
An article published by the Natural Learning Initiative at NC State University reports (among other benefits) that nature-based forms of education can help kids make significant strides in performance in numerous subjects, including science, social studies, and language arts. For example, a 2005 study by the American Institutes for Research showed that students in outdoor science programs boosted their test scores by 27 percent.
It Can Increase Their Sense of Self-Fulfillment, Purpose, and Spirituality
A 2014 study conducted at Michigan State University suggested that children who play outdoors have a stronger sense of self-fulfillment and purpose than those who don't … and could, perhaps, be more spiritual.
It Fosters a Sense of Wonder
From a more philosophical perspective, "When you have a special moment in nature, when you stare up at the night sky, it instills a sense of awe," Micah observes. "When we place ourselves and our children in the larger web of the natural world, there's sense of smallness that arises, as well as a sense of wonder at the way we fit into this larger web of life."
© Kripalu Center for Yoga & Health. All rights reserved. To request permission to reprint, please e-mail editor@kripalu.org.