Kripalu Recipe: Caramelized Brussels Sprouts with Kimchi Sauce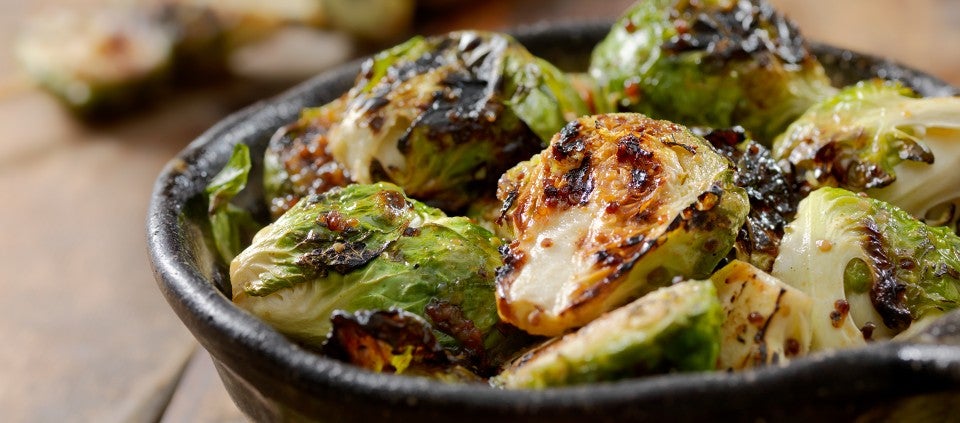 As a fermented food, kimchi provides some fantastic prebiotics and probiotics to improve your digestive health. Just don't cook it or you'll kill all the good stuff. That's the idea behind kimchi sauce, a sort of vinaigrette made with finely chopped kimchi, maple syrup, and olive oil. It works perfectly with pan-seared Brussels sprouts.
Brussels Sprouts
1½ pounds Brussels sprouts, trimmed and halved lengthwise
3 tablespoons toasted sesame oil
Sea salt and freshly ground black pepper
¼ cup minced shallots
2 tablespoons minced fresh ginger
Kimchi Sauce
1 cup drained and coarsely chopped kimchi
3 tablespoons extra-virgin olive oil
2 tablespoons pure maple syrup
2 tablespoons unsweetened brown rice vinegar
Pinch of crushed red pepper flakes
½ teaspoon toasted sesame seeds
Preheat the oven to 350 degrees.
For the Brussels sprouts, heat two large ovenproof sauté pans over medium-high heat. When hot, divide the sesame oil and Brussels sprouts between the pans, season the sprouts with salt and pepper, and toss to coat evenly.
Use tongs or your hands to place the sprouts cut sides down, then cook until the sprouts are lightly browned on the bottoms, about 5 minutes.
Place the pans in the hot oven and roast until the sprouts are golden brown on the bottoms, 5 to 8 minutes more.
Remove from the oven and stir in the shallots and ginger.
For the kimchi sauce, combine everything except the sesame seeds in a blender or food processor and blend or pulse until slightly chunky, 10 to 15 seconds. You should still see bits of cabbage in the mixture. Taste the sauce and season it with more salt if needed.
Pour the sauce over the bottom of a serving platter or 4 to 6 individual plates. Spoon the sprouts over the sauce and garnish with the sesame seeds.
Options
We use pure maple syrup instead of white sugar because it's available locally here in Massachusetts, and it's delicious. You could use agave nectar or brown rice syrup.
For a paleo version, replace the vinegar with lemon juice.
For a vegan version, use vegan kimchi made without fish sauce.
Jeremy Rock Smith, Kripalu faculty and a graduate of the Culinary Institute of America, began his career in classical French cuisine.
Full Bio and Programs