Kripalu Recipe: Grilled Mahi Mahi and Artichoke Caper Relish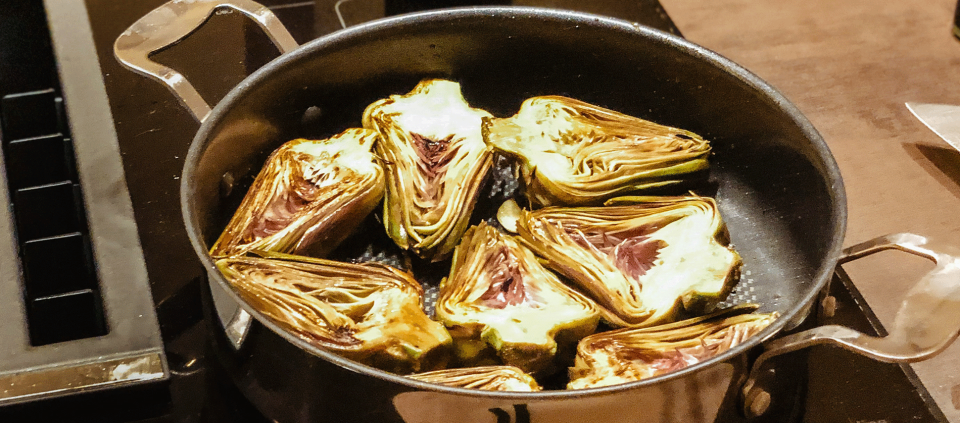 Get your grill going with this summer recipe featuring the season's best vegetables and mahi mahi.
¼ cup olive oil, plus more for rubbing
1 cup celery, small diced
½ cup onion, finely chopped
3 garlic cloves, chopped
½ cup prepared tomato sauce (Muir Glen)
½ cup dry white wine
¼ cup white wine vinegar
½ pound or 2 cans marinated artichoke hearts, drained and chopped
½ cup pitted Castelvetrano or other green olives, chopped
¼ cup pine nuts
2 tablespoons capers, drained
3 tablespoons basil, chiffonade (thin strips)
4 4oz mahi mahi or other firm white fish filets
In a large, deep sauté pan, heat the ¼ cup of olive oil until shimmering. Add the celery, onion, and garlic and cook over moderate heat until just softened but not browned, about 3–4 minutes.
Add the tomato sauce, wine, vinegar, artichokes, olives, pine nuts, and capers. Season with salt and pepper to taste. Simmer until the vegetables are tender and the liquid is reduced, 8-10 minutes. Stir in the basil and let cool. Grill the Mahi Mahi and serve with relish.
Jeremy Rock Smith, Kripalu faculty and a graduate of the Culinary Institute of America, began his career in classical French cuisine.
Full Bio and Programs