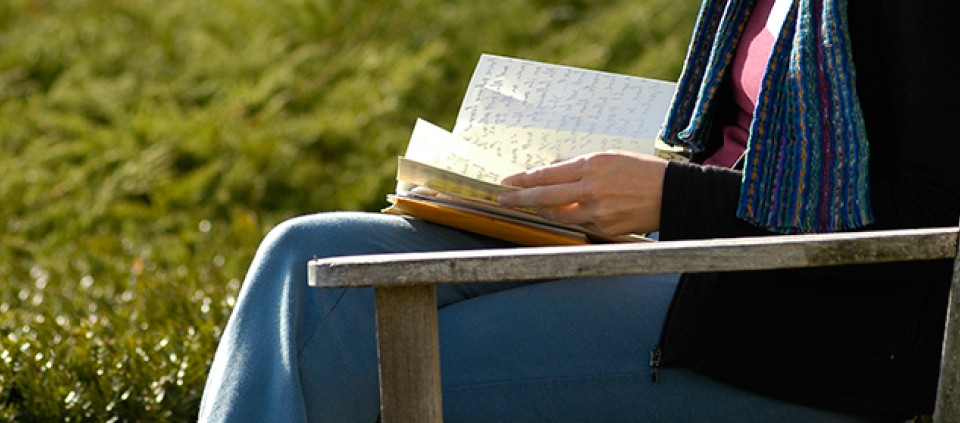 The Lessons of Poetry
by Janet Arnold-Grych
I believe that life directs us toward realizations and paths that help us develop to our highest good. But I know that I routinely miss the overt clues pointing me in that direction. Perhaps I'm distracted by the self-imposed busyness of my life. Or maybe my myopia is rooted in fear or a lack of faith that those signs are meant for me.
Lately, I've found a remarkable key in that journey to be poetry, specifically that of poets like John O'Donohue, Mary Oliver and David Whyte. All have a gift for capturing the ineffable and giving it shape and meaning. I've come to think of them as my poetic shamans—individuals who, because of their deep connection to those clues and to language, are able to serve as interpreter and even healer.
One of my favorite David Whyte poems is Mameen, which brings together the symmetry of the inner and outer landscapes. I might look at a horizon and sense its spaciousness, but miss its specific invitation. David seems able to have a conversation with that view and distill the wisdom it offers. For me, Mameen transforms my diffidence into strength and gratitude. The last part of the poem reads:
Remember the way you are all possibilities
you can see and how you live best
as an appreciator of horizons,
whether you reach them or not.
Admit that once you have got up
from your chair and opened the door,
once you have walked out into the clean air
toward that edge and taken the path up high
beyond the ordinary, you have become
the privileged and the pilgrim,
the one who will tell the story
and the one, coming back
from the mountain,
who helped to make it.
Or reading his work, Everything is Waiting for You, I find it impossible not to summon courage. The final directive reads:
Put down the weight of your aloneness and ease into
the conversation. The kettle is singing
even as it pours you a drink, the cooking pots
have left their arrogant aloofness and
seen the good in you at last. All the birds
and creatures of the world are unutterably
themselves. Everything is waiting for you.
To feel that sense of connectedness and purpose is one thing; to voice it and make it even more real is another. For me, that realness, that weight, is what stirs me to action.
Most of us are not poets. We aren't able to use words to transmute our everyday experience into the sacred. And so we continue to step over the lessons offered. I sometimes envision the universe engaging wonderful poets like Whyte and Oliver and O'Donohue in an exasperated attempt to say, "I don't know why they keep missing these things. You try."
Regardless of the backstory, I am grateful to walk with these guides, these translators of the shouts and whispers of the universe.
Janet Arnold-Grych is a yoga teacher and writer whose work has been published in Elephant Journal, Huffington Post, Third Coast Digest, and other outlets. She's also a marketing manager for a Fortune 200 company.
© Kripalu Center for Yoga & Health. All rights reserved. To request permission to reprint, please e-mail editor@kripalu.org. Portions of the poems published with permission from Many Rivers Press, Langley, Washington.
Explore the wonder and mystery of life with a focus on the sacred in everyday experience.
Explore