The Powerful Practice of Gratitude Journaling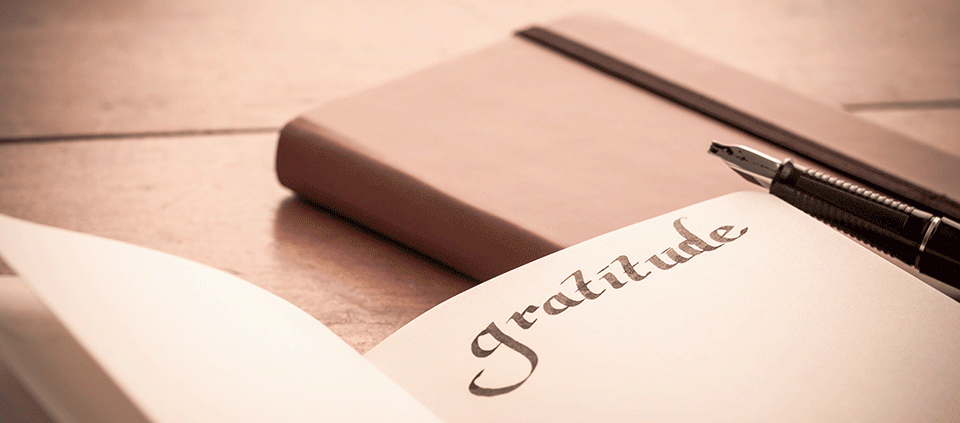 In late November 2001, I took a Peter Pan bus from New York City, my home of three months, to mid-coast Maine, my home for the previous 28 years. It was almost Thanksgiving. I jammed in earplugs and opened a thick novel. I wanted to burrow into someone else's thoughts, line by line, for the eight-hour trip.
I was struggling with the notion of giving thanks. The phrase "ground zero" had gained traction during the previous 10 weeks. It was now an actual place, not an abstract term. On September 11, I woke to sounds I'd assumed, in my bleary state, were meteors landing, followed by throngs of seagulls, disturbed from their roosts and squawking. It was police sirens, en masse. Then I couldn't see outside. Smoke filled the downtown streets.
I evacuated the apartment. When I returned, weeks later, I found black dust on all surfaces. I scrubbed and felt I was lucky. But mostly, I felt numb.
At the Portland bus station, my parents greeted me, as planned. Then they led me to a borrowed minivan with our extended family crammed inside—my nephew, my parents' friends, a neighbor. They could have waited to see me on Thanksgiving Day but instead they climbed out and hugged me at the station, a somber kind of surprise party. We said little during the 90-minute journey back to my hometown, but I felt buoyed by their presence. I felt gratitude, though I didn't know to call it that at the time.
Soon after, a dear friend gave me a notebook labeled Gratitude Journal. I ignored it for weeks. It was a gorgeous handmade book, threaded with red and gold, and I was scared to mar it with smudges and mistakes. But one night, back in Manhattan, I began with a simple list. What was I grateful for? Surely I could come up with a few things. The onion bagel I'd had for breakfast, the umbrella I'd remembered to take, the stranger who'd picked up my dropped keys on the subway.
I continued, daily. Some nights it was easy—I filled a page. Some nights, it was hard to think of three. Some days, I forgot, but I tried not to berate myself. No shoulds, I'd heard in a yoga class. (Gratitude's antonyms include criticism, condemnation, and judgment.) Because of this, I slowly developed gratitude radar. The journal kept me on the lookout for items to add to my list.
The journal also made it clear: Gratitude doesn't have to be synonymous with appreciation. It can mean acknowledgment, recognition. As in, This exists for me right now. I can note the challenges I face, even if I don't feel particularly thankful for them. I can write them down, rather than deny their presence.
I think of those familiar faces in the minivan, there to acknowledge my return. They wanted to see me, to offer recognition. They provided a container, like a beautiful blank book to be filled line by line.
Gratitude Journaling Practices: Present, Past, and Future
Claim your favorite writing tools in your favorite writing space (such as a fountain pen and a comfy sofa). Make this time just for you, a gift to yourself.
Present (five-minute writing exercise): What are you grateful for? Aim for a list of five things. If only three come to mind, so be it. No shoulds. Just consider what exists for you in this present moment. What can you acknowledge?
Past (10-minute writing exercise): Think of a specific time in your past when you felt deep gratitude. Try to recall this day in as much detail as possible. Where were you? How old were you? What sensory details come to mind? (What did you see, smell, hear, taste, and touch?)
Future (10-minute writing exercise): Allow yourself to fast-forward in time to fall 2020 (one year from now) and imagine what gratitude will look like. Where will you be? How will you be? What will you be able to acknowledge in the future?
Lara Tupper, MFA, is the author of two novels, Off Island and A Thousand and One Nights, and Amphibians, a linked short story collection forthcoming in 2021.
Full Bio and Programs