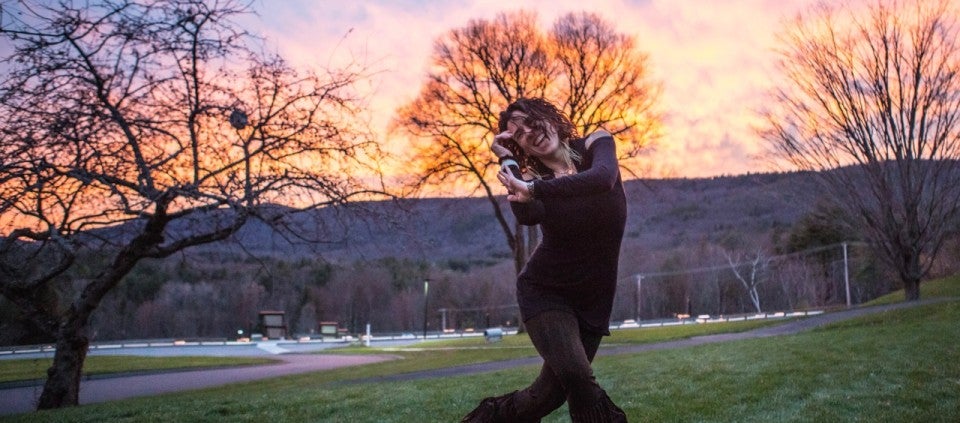 Turning Point Q&A with Toni Bergins
Toni Bergins, MEd, founder and director of JourneyDance™, has helped thousands of people find a new sense of self-esteem, inner wisdom, emotional health, spiritual practice, and well-being. She leads an international team of hundreds of JourneyDance Teachers, spreading joy and passion for life.
Describe what you do in 15 words or less.
I lead transformational workshops and Teacher Trainings in JourneyDance™.
Tell us about a turning point in your life.
In 1993, when I was 23 years old, I came to Kripalu for the first time and took a Yoga Dance class (then called Danskinetics). It changed my life on a dime. Though I was a workout maniac, I wasn't in my body—I was dealing with eating disorders and chaos in my emotional life. When the teacher told us how beautiful we were, I found myself there, just feeling and dancing. My dream and my path became clear to me, and my healing and everything else unfolded from that point. The birth of my first child was another huge turning point. I had no idea I could love so much. I knew then that I had to really walk my talk and live with integrity, authenticity, and joy.
What do you love about teaching?
I love moving with people. I love sharing music and weaving movement into ritual to awaken our inner healing resources. I love creating sacred space to allow the release of emotions to transform our angst into art and our vulnerability into strength. I love celebrating, getting funky, and watching the dancers discover their true magnificence.
What are you passionate about right now?
My mission for this year is help as many people as I can to release their "I'm not good enough" voices. I'm committed to dancing as a tool to change our minds, create community, and find self-love, empowerment, and passion for life.
What do you do in your downtime?
I spend time with my boys, reading, cooking, hiking, and traveling. I play the guitar and sing. I swim in the summer, and knit hats and scarves in the winter. My latest passion is comedy, and I'm constantly collecting material for my spiritual comedy act to uplift others on the seeker's path.
Register for an upcoming JourneyDance program with Toni Bergins at Kripalu.
© Kripalu Center for Yoga & Health. All rights reserved. To request permission to reprint, please e-mail editor@kripalu.org.
Create personal change and empower yourself to transform possibility into reality.
Explore