8 Tips for Worrying Less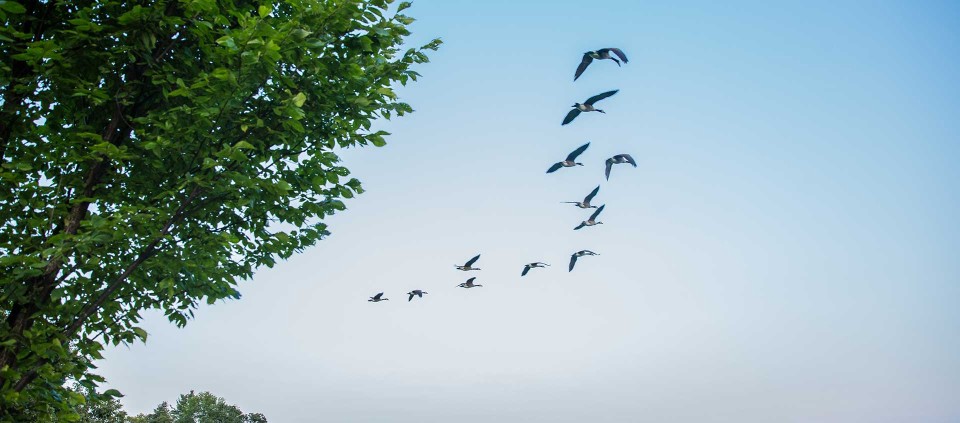 May 1, 2020
When it comes to worry, I consider myself an expert. I've been at it for decades.
As I try to work from home now, I find myself staring at a particular chipmunk on the deck, one intent on stockpiling birdseed, his haunches mottled from some long-ago injury. He never stops, little heart thumping under his fur. This scene is usually restorative—hungry birds at the feeder, chipmunks hoarding seed. But now it reminds me of the grocery aisles. I'm anxious, like the chippie, watching it all unfold.
My husband, meanwhile, is building a coop and ordering baby chicks for the eventual eggs we can share with neighbors. He's planting a starter tray of seeds for our communal garden: spinach, carrots, peppers. In other words, his reaction to uncertain times is to do something, whereas I stare outside, feeling helpless.
So what do I do? I make a list. I find it soothing to put pen to paper. It's something I can do with my hands, a small degree of order and control.
How not to worry:
1. Connect with others. "We should call it physical distancing, not social distancing," said theologian Nóirín Ní Riain in a Facebook livestream from Limerick, Ireland. "We can still be social." Two friends invited me to "virtual tea and scones" via Zoom the other day. There were some technical kinks, but we figured it out. I didn't have the right ingredients and improvised with stale Girl Scout Cookies. It was something to look forward to, an activity. A break from the news cycle.
"And we didn't have to wear bras," said my friend. We agreed to meet weekly.
Telephone calls are making a comeback, too. "The warm timbre of a human voice in your ear is more real, more present, than text on a screen," writes Tim Kreider in the New York Times. "I often forget exchanges I have online; they evaporate like dreams as soon as I'm offline. Phone conversations last in your memory; they have weight and consequence."
I dread the telephone at times—I'd rather gauge someone's reaction in front of me.
But if Ellen DeGeneres can do it, so can I. Phone calls disable my worried, looping brain. I call my mother, my college roommate, my neighbor. I haven't talked this much on the phone since junior high, when I had all my friends' numbers memorized.
2. Structure your days. Sister Mary Catharine Perry has been a cloistered nun for 29 years. "We don't go to parties or weddings or out to eat with friends. I often go months without leaving our eight-acre home," she says. She stresses the importance of daily routine. At the monastery, they wake up at the same time every day and get fully dressed (no pajamas). "We have planned time for prayer, worship, work, eating and fun. Our days usually have a peaceful rhythm."
"Your normal day-to-day lives have structure imposed on them from the outside: You have to catch the train at a certain time to go to work, you have school recess at the same time every day," she says. "These things give you a sense of consistency and rhythm. Now that you're at home, create a schedule for yourself and your family. This might take some experimentation, as each household is different and for many, it might be the first time they spend an extended period of time with roommates or family."
"No pajamas" is a hard rule to follow some days. But I do feel better when I actually "dress" for work.
3. Allow for entertainment, as Sister Mary suggests. My work day can become much longer at home. There's no one telling me to quit and leave the office. But in the evening, I try.
Grateful for Internet access, a luxury not all have, I attended a virtual Facebook Indigo Girls concert with 50,000 others, listened to poets read their work on Instagram, took a virtual tour of the Metropolitan Museum of Art, attempted a dance class with Debbie Allen, and watched a full season of Shaun the Sheep on Netflix. My husband dug out beloved vinyl records to play, Kenny Rogers among them. I've begun to chip away at my towering "to read" pile and ordered titles online to support independent bookstores that have closed to the public. If we're in a position to do so, we can continue to support the well-being of artists and small businesses.
4. Keep moving. Nóirín continues to take daily walks in all Irish weather, and briskly. "It's hard to keep up with her," says her son, poet and performer Mícheál Ó Súilleabháin. "How do you find the motivation to do it?" he asks during their livestream from Limerick.
"It's the chicken before the egg," says Nóirín. "I know how much better I'll feel when done." Inspired by this, I take breaks to walk outside—far from neighbors, though we do wave and shout hello.
Rather than head straight for my laptop after breakfast, I've resurrected my at-home yoga practice, just 20 minutes of gentle movement. I know how well this works, how focused I am thereafter. I'm grateful for the reminder.
5. Know that it's okay to worry. "Despite its negative reputation, not all worry is destructive or even futile," says Kate Sweeny, a psychology professor at the University of California, Riverside. There are motivational benefits to worrying, she says, particularly when linked to preventive health behavior such as physical distancing—or seatbelt use, sunscreen use, and cancer screenings.
"The unpleasant feeling of worry motivates people to find ways to reduce their worry" and be proactive. (Thus, this article.) Of course, "extreme levels of worry are harmful to one's health," Kate says. "I do not intend to advocate for excessive worrying. Instead, I hope to provide reassurance to the worrier—planning and preventive action is not a bad thing."
I plan to tattoo this on my forehead.
6. Maintain a sense of humor. It may feel inappropriate to laugh right now. But neuroscientist V. S. Rakmachandran suggests in his book, A Brief Tour of Human Consciousness, that we laugh during challenging times to feel less threatened and to gain perspective. "Remember, it doesn't take happiness to laugh," he says. "Humor, like patience, humility, mindfulness, tolerance, and forgiveness, is a 'mature defense mechanism' that "enhances feelings of control and pleasure and help people deal with conflicting emotions and thoughts. Laughter engenders a sense of mastery over circumstances that initially seemed distressing and all-consuming."
Best of all, laughter strengthens immunity and decreases stress and anxiety. It lowers cortisol levels and increases the production of dopamine and endorphins.
I watched Shaun the Sheep again, with this in mind.
7. Remember that we depend on one another."If nothing else, this contagion is reminding us of our interdependence," says Kerri Kelly, founder of CTZNWELL, which provides a Community Care Resource Guide. "As Dr. King wrote, 'We are caught in an inescapable network of mutuality, tied in a single garment of destiny. Whatever affects one directly, affects all indirectly.' Let's fight for the most vulnerable. And let's keep our distance even while acknowledging our proximity."
8. Take action. As Kerri says, "When anyone lacks access to testing and treatment, all of us are vulnerable. Community care is our mutual commitment to the well-being of the whole. It looks like small and big acts of compassionate action: buying groceries for others (with curbside dropoff), sharing resources, advocating for social welfare, and more. Collective care is how we ensure that the most vulnerable people don't fall through the cracks. And it's how we invent new and innovative ways of taking care of everyone."
One friend enlisted a local distillery to produce and donate hand sanitizer with alcohol. She's collecting (via curbside) empty travel bottles from friends to disinfect and fill with hand sanitizer, which will then be delivered to homeless shelters.
Finally, I turn to my Mister Rogers Talking Figurine. "Look for the helpers," he tells me. "You will always find people who are helping."I keep pressing the button, to hear Fred's voice of reason, to remember all the things I can do.
Lara Tupper, MFA, is the author of two novels, Off Island and A Thousand and One Nights, and Amphibians, a linked short story collection forthcoming in 2021.
Full Bio and Programs