The Yoga of Mister Rogers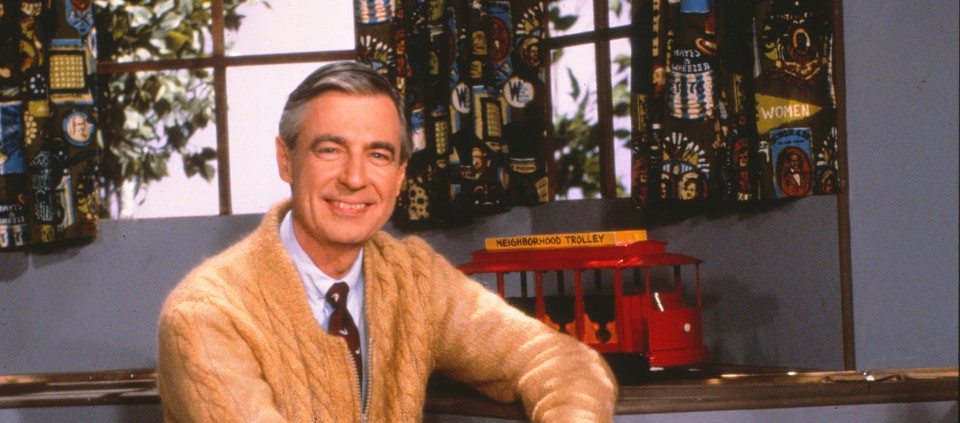 Photo courtesy of PBS.org
Last year, my (now) husband gifted me with two incredible items for Christmas: an engagement ring and a Mister Rogers mug.
"How am I ever going to top that?" he said.
"You mean the mug?" I asked.
Not that I don't love the ring—but the mug is heat sensitive, causing Mister Rogers' cardigan to change from blue to yellow as I pour my tea. It's adorned with memorable phrases from his TV program, Mister Rogers' Neighborhood:
"I like you just the way you are."
"It's a beautiful day in the neighborhood, a beautiful day for a neighbor. Would you be mine?"
"You can never go down the drain."
"You always make each day a special day, by just you being you."
(I also appreciate the advice on the bottom of the cup: "For best results, use other side.")
February 19, 2018, marked 50 years since the first episode of Mister Rogers' Neighborhood, which aired from 1968 to 2001 (895 episodes—you can watch the time pass in this video of his classic greeting over the years). On March 23, the US Postal Service will issue a Fred Rogers "forever" stamp. A biopic is in the works; Tom Hanks will play Fred.
I didn't want to wait for the movie to find out more about Mister Rogers, so I did an investigation myself:
Fred McFeely Rogers (1928–2003) held a Bachelor of Arts in music composition and felt most relaxed at the piano. During his senior year of college, he visited his parents and was daunted by their new purchase: a television set. "I got into television because I saw people throwing pies at each other's faces, and that to me was such demeaning behavior," said Fred. "And if there's anything that bothers me, it's one person demeaning another. That really makes me mad!"
Fred wrote all the episodes and composed all the music for the program. He woke each morning at 5:00 am, swam laps, answered his own fan mail, and edited his speeches and scripts before heading to the studio. "Simple is better," he reminded himself. In his free time he studied the cognitive and emotional development of children and attended seminary, becoming an ordained Presbyterian minister.
I asked friends about their childhood impressions of the Neighborhood: "He made me feel settled." "I liked his predictability. His routine and song were the same every day." "He didn't treat children like babies but as learning and growing minds that were curious about the world around them." "I loved that he talked directly to me! I really felt like he knew me." "Always a lesson on loving one another, learning to appreciate our differences." "He was a comforting contrast to the harshness and chaos of the adults in my world at that time."
Said Fred, "I'm not that interested in 'mass' communications. I'm much more interested in what happens between this person and the one person watching. The space between the television set and that person who's watching is very holy ground."
I remember, at age four, sitting on a braided rug in front of our small TV set with a box of raisins, my afternoon snack. In the opening sequence of the program, the stoplight was on yellow, a reminder to slow down. I liked his sweaters, his direct speaking style. I was lulled by the quality of his voice, which to me held an endearing twang. He wasn't trying to be larger than life in silly costumes. He simply took off his outside shoes and put on inside shoes. He made up songs and went on field trips and interviewed the mailman, the factory workers, the women who ran the dairy farm. He showed us that everyone has a story; everyone is worthy of attention.
My father, hovering nearby, giggled about the songs, the weird puppets. I found this infuriating. Adults just didn't get it, I concluded. But this turns out not to be true. One grown-up friend admits, "I never knew of Mister Rogers until my children were born, but I watched right along with them." "In a world that has so many people being rude and rushing around," says another, "I appreciate him more now."
Novelist Richard Ford also watched as an adult, though he didn't have children. "The truth is, Mister Rogers gets into me," Ford said in a New York Times article. "As soon as Fred clears the door and heads toward the closet for the cardigan, singing 'Won't you be my neighbor?,' I am his neighbor. And what neighborliness means is the lowering of my spiritual guard … and the trust that everything Fred does and says for the next 30 minutes will have useful lessons lodged within."
Writer Barbara Newman was part of the think tank that initiated the Fred Rogers Center for Early Learning and Children's Media. "What made me love him even more was his plea to Congress to continue funding PBS" in 1969, says Newman—a moment that has gone viral on social media.
Rather than watch cartoon characters "bop each other on the head," Fred wanted to sustain his "neighborhood expression of care. I feel that if we in public television can only make it clear that feelings are mentionable and manageable, we'll have done a great service for mental health," he said before the US Senate. "I think that it's much more dramatic that two men could be working out their feelings of anger—much more dramatic—than showing something of gunfire."
In The Simple Faith of Mr. Rogers: Spiritual Insights from the World's Most Beloved Neighbor, author Amy Hollingsworth relays a conversation she had with Fred about this. "It's one of the most important part of the Neighborhood, knowing that feelings are all right," he said. "You don't have to hide [feelings]. There are ways that you can say how you feel that aren't going to hurt you or anybody else." Fred hoped that this understanding would be the Neighborhood's legacy.
He did pass this on. He taught me about non-self-judgment before I understood what it meant.
Fred received many accolades during his lifetime: a Television Hall of Fame induction, the Presidential Medal of Freedom, four Emmy Awards, and a Daytime Emmy Lifetime Achievement Award. When he accepted the latter, in front of glittery soap opera stars and talk show hosts, he spoke briefly. "All of us have special ones who have loved us into being. Would you just take, along with me, 10 seconds to think of the people who have helped you become who you are? Ten seconds of silence. I'll watch the time."
As Esquire's Tom Junod wrote, "There was, at first, a small whoop from the crowd, a giddy, strangled hiccup of laughter, as people realized that he wasn't kidding, that Mister Rogers actually expected them to do what he asked. And so they did. One second, two seconds, three seconds—and now the jaws clenched and the mascara ran, and the tears fell."
I can't watch this speech without crying myself. Something primal is tapped as I see it. Because I remember being four? Because I remember my father, born in Fred Rogers' decade? They had so much in common, I realize now, though my father wouldn't have admitted this. Stan Tupper folded his sweaters carefully and polished his shoes. He was kind, old-fashioned, angry about all forms of injustice, curious about how things were done. He loved music. He shook hands and made eye contact. He had a knack for asking questions and made everyone in the room feel as though they mattered.
Perhaps my father regretted teasing me, because he gave me a book when I was old enough to appreciate it, The World According to Mr. Rogers: Important Things to Remember. It's my Bhagavad Gita. I dip in for sound advice. The words have become a bridge between my father and me.
I still feel seen by Mister Rogers every morning, as I fill my tea mug.
Lara Tupper writes, teaches, and sings in the Berkshire neighborhood. www.laratupper.com
Find out about upcoming programs with Lara at Kripalu.
© Kripalu Center for Yoga & Health. All rights reserved. To request permission to reprint, please email editor@kripalu.org.
Lara Tupper, MFA, is the author of two novels, Off Island and A Thousand and One Nights, and Amphibians, a linked short story collection forthcoming in 2021.
Full Bio and Programs