Now online and on campus! Ayurveda, India's traditional system of medicine, is thousands of years old and is often called the oldest continuously practiced healthcare system in the world. Ayurveda is a natural, complementary healing modality designed to help us realize our true self.
At the Kripalu School of Ayurveda, we empower our students to live their fullest life through the cultivation of nourishing practices that foster vitality and well-being. What makes Ayurveda so special is that it illuminates our innate curiosity about the interconnectedness between the mind, the body, the senses, and the spirit.
Following our circadian rhythms is at the heart of Ayurveda. The tools this practice offers can help us find whole health through the development of seasonal eating and sleep habits, daily care of our sense organs, yoga and meditation, and connecting with nature.
Foundations of Ayurveda can be taken as a standalone immersion, or as the first 200 hours of either our 300-Hour Ayurvedic Yoga Teacher Training or 650-Hour Ayurveda Health Counselor program. The Ayurvedic Health Counselor program prepares graduates to guide clients toward balanced health. The 300-Hour Ayurvedic Yoga Teacher Training is for 200-hour-certified yoga teachers who want to enhance their classes or one-on-one sessions with Ayurvedic principles.
School of Ayurveda Trainings

Admissions
General Requirements
Applicants for all Kripalu School of Ayurveda programs must
Be at least 18 years of age
Display English-language competency
Have received a high school diploma or GED
Exhibit the ability to contribute to a safe and cohesive learning environment
Demonstrate physical, mental, and emotional preparedness to fully participate in all required aspects of the program.

The Kripalu certification programs have an intensive schedule (approximately 10.5 classroom hours per day) and curriculum that is physically, mentally, and emotionally demanding. To be admitted, you must demonstrate medical and mental health and readiness to fully participate in the demands of the program. Additionally, an applicant must be able to support the group learning process and may be denied if it is determined that his/her participation would in any way compromise a safe and cohesive learning environment. The Kripalu School of Yoga Admissions Committee may require your medical provider to furnish a note confirming the training is suitable for your capabilities.
Additional Admissions and Certification Requirements
200-Hour Foundations of Ayurveda
Admissions Criteria

Previous exposure to Ayurveda
A telephone interview or online conference call

Certification Criteria
This program does not offer professional certification. In order to receive a letter of completion and continue on to the Ayurvedic Health Counselor training you must complete the following:

100% attendance
Active class participation
At-home assignments completed on time
70% or higher on final exam
300-Hour Ayurvedic Yoga Teacher Training
Admissions Criteria

Minimum of two years of experience practicing yoga
Successful completion of a 200-hour yoga teacher training from a Yoga Alliance-registered school. Must provide proof of completion with either a copy of your 200-hour certificate or a copy of your RYT-200 Yoga Alliance registration card

Certification Criteria

Successful completion of Foundations of Ayurveda, Uniting Yoga and Ayurveda, and one of the approved 300-hour electives, either Teaching Pranayama and Advanced Asana or Guiding Meditation for Transformational Yoga Teaching. These modules can be taken in any order but must be completed within five years.
100% attendance in all modules
Active class participation
At-home assignments completed on time
Demonstrate teaching competency and proficiency
Maintain safe space for teaching and practicing yoga
Demonstrate professional behavior and ethical conduct
650-Hour Ayurvedic Health Counselor Training
Admissions Criteria

A telephone interview is required for anyone applying for certification as an Ayurvedic Health Counselor. If you have completed Foundations of Ayurveda and wish to continue toward certification, you must contact the Kripalu Schools to request an add/drop form and schedule an interview.

Certification Criteria

Successful completion of four Ayurvedic Health Counselor modules. Must be completed in order and in the same semester, unless special permission is granted by the Dean.
100% attendance in all modules
Active class participation
At-home assignments completed on time
70% or higher on final exam

Successful completion of the Foundations of Ayurveda will be determined by the Kripalu School of Ayurveda, at its sole discretion, based on demonstrated command of the skills necessary to meet the requirements listed above.

Apply Online
For general information about the Kripalu School of Ayurveda please fill out our form for more information. If you are ready to apply for the specific teacher trainings select the following:

Scholarships
Please Note Given the uncertainty around Covid-19, we are not currently reviewing scholarship applications. Keep checking back, as we'll make our application available as soon as we are able.

Faculty
Qualifications required for our faculty include
BAMS degree or equivalent
Five years' of study with an Ayurvedic scholar
An active practice or teaching for a minimum of four years
Special permission from the Dean for specific courses.
The Kripalu School of Ayurveda is NAMA-recognized Ayurvedic Health Counselor Program.*
*For students enrolled in a NAMA-recognized program beginning on or after January 1, 2022, live in-person classes are required to be offered unless state and local public health guidelines mandate otherwise. In the instance that any further pandemic complications should arise, the program format may be adjusted accordingly. See our published schedule for details.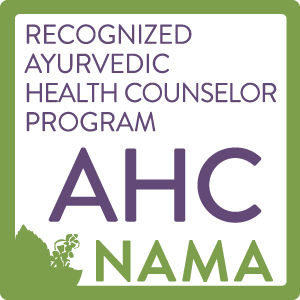 Registration
In order to register, you must first receive an acceptance decision from the Kripalu Schools of Ayurveda. Once you have been notified of acceptance into your program, contact Kripalu Registrations at 413.448.3152 to confirm your space in the training and reserve your accommodations.
Payment, Cancellation, and Refund Policies
Payment Policy
50 percent of the total program cost (tuition and housing/commuter fee) is due at the time of registration to reserve program space and housing. The remaining balance is due five days before program start date.
Refund and Cancellation Policy*
On Campus Trainings Refunds (less a $50 processing fee) will be given according to the following schedule: for cancellations two or more days prior to the start of the program, 100 percent of monies paid will be refunded. Less than two days prior to and up to completion of 25 percent of the program, 75 percent of the program cost will be refunded. Up to completion of 50 percent of the program, 50 percent of the program cost will be refunded. Up to completion of 75 percent of the program, 25 percent of the program cost will be refunded. No other refunds or credits are available. The standard cancellation policy applies to all other charges.
Online Trainings All online classes paid in full at the time of booking. Kripalu Online Terms and Conditions of Sale apply.
Notes on Terms
For programs offered in two 12-day sessions in which both parts are required for program completion, program cost refers to the total cost of both program parts. Refunds are based on full program length (24 days not 12 days), according to the terms of the cancellation policy above.
For other programs with multiple modules, program cost is determined based on one module at a time. Program start date refers to the start of each module.
Method of Payment
Acceptable forms of payment are
Visa, MasterCard, American Express, Discover
Personal checks (US dollars)
Money orders (US dollars).
*If you are an international student traveling to Kripalu for a training and you are unable to obtain a visa to allow you entrance into the United States, we will refund in full all monies paid toward tuition and housing, including the $50 processing fee. Application fees are nonrefundable.