The Practice of Putting Pen to Paper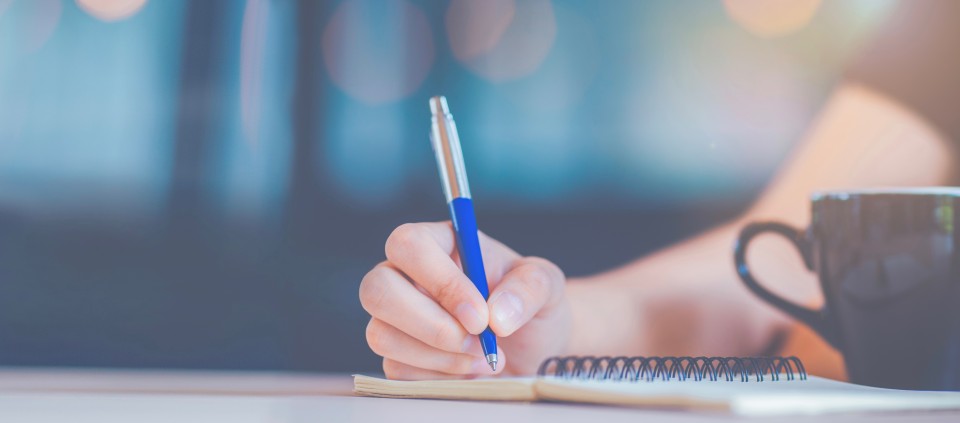 March 20, 2020
As we prepare to spend more time at home over the coming weeks, working remotely and removing ourselves from public spaces, it's tempting to remain glued to devices. I'm grateful for my digital tools (laptop, phone, streaming services), necessary for my livelihood, but I want to strike a balance and remain "digitally well" even as we all spend more time interacting online. Perhaps this unexpected time at home can be a chance to explore tactile creativity without devices, and to send tangible letters to those we're seeing only on screens.
Creating by hand "displaces fear with fun," says author, illustrator, and Kripalu presenter Suzy Becker, who has published a dozen books, including the international best-seller All I Need to Know I Learned from My Cat.
There may be additional benefits as well: University of Texas at Austin psychologist and researcher James Pennebaker claims that writing by hand (and journaling in particular) strengthens immune cells, called T-lymphocytes.
In a recent attempt to resist Netflix, my husband and I found gel pens and tried to recall the cursive alphabet. (A wild and crazy night!) Uppercase Q and Z seemed wrong. But the rest drifted back to me like a secret code. I remembered penmanship paper, thin grey sheets with blue and pink lines for gauging the loops of lowercase Gs. At the top of that sheet, once, a gold star.
It was fun, tracing letters on scrap paper at the dinner table with my husband. My work at the keyboard can sometimes feel like the opposite: monotonous and lonely taps into the void.
The Pen-Paper-Heart Connection
One friend, a screenwriter, says she was taught "hand to heart" by a dear teacher, who told her, "You can access more emotion writing by hand than by machine."
A musician friend echoes this: Pen to paper "feels like part of me being transferred."
I'm a Gen Xer and, at times, an obsessive journaler. From a young age, I understood the thrill of recording private thoughts in an unlocked book. Typing, for me, was never as intuitive. I left for college in 1991with a Brother word processor, fancy because it showed three lines of text on a tiny green square. I sent my first email at age 20 and didn't see the point.
For me, writing by hand still feels reckless, which is useful when my ideas are raw. At first, I'm just playing on paper, which means my sentences don't have to be pretty or logical. (This essay began with two words on a hardware store receipt, "Why pen?") Typing, for me, leads to a false sense of control and shape. All those uniform letters in a row—I'm suddenly "writing" and it's serious.
"My unqualified preference is writing by hand," says Suzy. "I journal in a notebook. I wrote the first draft of my first illustrated memoir [I Had Brain Surgery, What's Your Excuse?] by hand on yellow graph paper and edited it heavily in the process of typing it. I think in words and images, so working on the keyboard interrupts that process and forces me to transcribe the pictures into words. I realize there is a digital solution for that, but I have chosen not to draw on the computer. I'm too attached to everything about working with all kinds of pencils, pens, ink, and paint on all kinds of paper."
"I believe the term is 'working remotely' not 'remotely working,' dear."
Why Write By Hand?
I ask friends, a mix of creative types and others: Do you still use paper and pen to write? Why or why not? I receive 112 replies. Only 10 say no.
A therapist says, "On paper, I can be nonlinear and stylized. I can write zigzag, in circles, on margins and vertically. I can doodle and allow creativity to seep out fluidly this way."
A yoga teacher says, "On paper, there's freedom. In order to witness and be direct with my own stuff, and to connect to it, I prefer handwriting."
The schoolteachers I consulted prefer to plan on paper. "Handwriting helps me to remember and retain information," one says. "I also use handwriting to organize my thoughts and to graph out ideas into teachable bites."
"I need the freedom to draw and to flip through pages," says another. "Unless you have many tablets or a giant screen, nothing really beats paper for laying everything out to look at it all at the same time, whether it's a textbook and a lesson plan and a homework assignment and your schedule, or any other set of information."
A classroom aide says she "tried to write notes on devices, but then I'd forget to look there. I'm a Boomer. I need to write it down on paper. I can't do it differently. It needs to be tactile. So everything gets the paper treatment first."
A lawyer in her 60s says, "I really only write by hand, except for something like a legal document, where form is important and a more 'official' brain is required. I can think better and feel better on paper. I've tried taking notes on a computer while witnesses speak. Bad! It feels like I can't think. I do see all the young lawyers taking notes by typing."
"I write letters on paper to people I really love, so they can hold it and the ink from my hand goes right into theirs," says an actor. "I write on paper because otherwise, it just blends in to all the unending screen information."
Writing It Into Our Memories
It would seem that typing notes would be better for retention. But in a study from the University of Wisconsin, psychologists found that writing by hand "requires sequential finger movements, which activate multiple regions of the brain associated with processing and remembering information." And according to research by Pam A. Mueller and Daniel M. Oppenheimer, when people type their notes, they tend to try to record them verbatim rather than grasping the overall concept.
"The students who were taking longhand notes in our studies were forced to be more selective—because you can't write as fast as you can type," Mueller says in NPR reporter James Doubek's story on the topic. "And that extra processing of the material that they were doing benefitted them."
Or, as a college friend says, "Writing by hand forces me to record the essence of ideas rather than their full breadth. That's both efficient and keeps my thoughts fluid. I always brainstorm with paper, which gives me a mix of phrases, structures, and images that are a critical part of any writing I do."
One songwriter says, "It's a bit awkward to admit, but I love my own handwriting. It feels like I'm making art. I am making art. I mostly write by hand in cheap spiral notebooks, then transfer to computer when I am pretty much done. That way, memorization happens in the editing process."
The Tactile Pleasure of Pen on Paper
Many hand-writers are attached to the accoutrements of penmanship. A poet/nurse buys, on e-Bay, "pens by the dozens from Korea that I starting writing with in the '70s." Another belongs to a group of fountain pen enthusiasts called Write On Nation, which leads me to another group called Stationery Nerd Herd. (I joined this group.)
There is something sensual about the right ink, the right notebook. And we can tailor the paper for any odd need. My cousin, 10 years younger, introduces me to waterproof paper called Aquanotes, his favorite invention. He uses it "for those shower-thoughts you can't afford to lose. I got tired of thinking up a line of dialogue just to have to repeat it over and over in my head for the next few minutes so I didn't forget."
A friend from high school loves "the feeling of certain pens gliding across the paper and even the sound that some words make when I write them. They have an auditory pattern all their own. Nothing digital has ever come close for me."
"I love the slight resistance that graphite or lead has on paper," says a textile artist.
Before we could write, we could draw, Suzy adds. Weaving together text and art can deepen your artistic expression. Exploring one can lead us further into the other. By adding visuals to our narratives—drawings, photographs, found objects, clippings, collages—we can capture experiences that come before or go beyond words.
Which brings me back to the tactile pleasure of writing in cursive. Maybe it's a matter of bodily engagement. "Nothing compares to paper because it's multisensory," a high school friend says. The screen, by contrast, is a blank, inviting uniformity of symbol across the page.
A Record of the Wandering Mind
The pen—or pencil or crayon—also offers a record of my idiosyncrasies and mistakes. As Christopher Payne and Sam Anderson write in the New York Times article "Inside One of America's Last Pencil Factories," "In an era of infinite screens, the humble pencil feels revolutionarily direct. It does exactly what it does, when it does it, right in front of you. Pencils eschew digital jujitsu. They are pure analog, absolute presence. They help to rescue us from oblivion. Think of how many of our finest motions disappear, untracked ... And yet when you hold a pencil, your quietest little hand-dances are mapped exactly, from the loops and slashes to the final dot at the very end of a sentence."
Times New Roman can't do that. But the humble pencil allows me to leave a unique mark. Something transient made indelible. I'll take that over spellcheck any day.
"I like finding bits of paper with notes scribbled on them, sometimes weeks, months or years later, and trying to place what it is I meant," a high school teacher shares with me. "While cleaning my pockets the other day, I found several pieces of paper—one that said just the word hum. I have no recollection of writing the word hum and putting it in my pocket and have no idea what I was trying to remember, but I loved finding that one simple word tucked away."
Visit our YouTube channel to browse yoga classes, guided meditations, wisdom from our faculty and presenters, cooking demos, and more.
Lara Tupper, MFA, is the author of two novels, Off Island and A Thousand and One Nights, and Amphibians, a linked short story collection forthcoming in 2021.
Full Bio and Programs