Playing With Scissors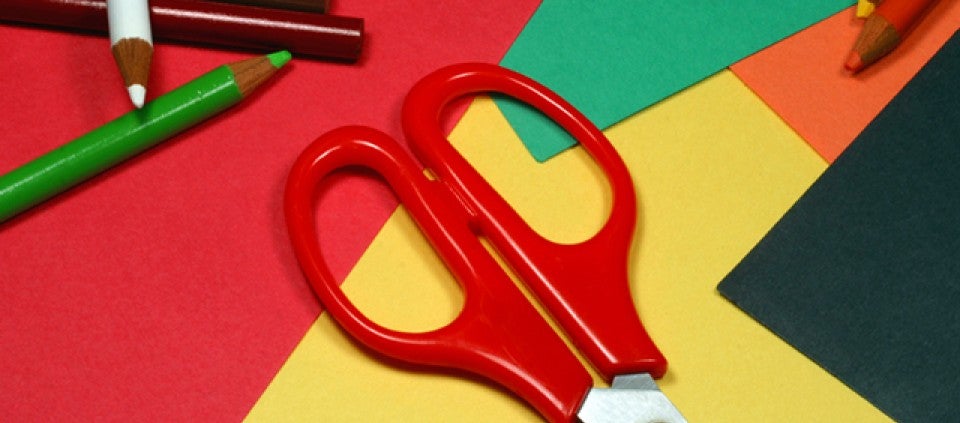 Not long ago, I found a sad, peat-colored mug in Mom's cupboard and remembered: In junior high, I loved Art Club for the plain joy of making a mess and doing something crafty with my hands. My glaze was off-color, my papier maché was lumpy, my seashell mobile tilted, but no one threw them out. In the spring, I could cruise by the holiday-painted windows of Burger King with Dad and say, "That's my shamrock/Easter bunny/American flag." I could choose from a Crayola assortment of markers, pastels, and construction paper that never ran out.
It wasn't cool to be in Art Club after a certain age. Instead, I sang a little and read a lot. I tried writing poems, an internal brand of craftiness that wasn't as pretty. My colors were black or white or grey.
Fast-forward 25 years. In the Yoga Studio at Kripalu, the table is scattered with scissors, glue sticks, glitter, roughed-up magazines. There are pipe cleaners and packets of googly eyes—loose pupils looking everywhere. There are old calendars of fairy houses, lighthouses, and bear cubs. There is construction paper, a full rainbow ream of it.
I'm there as a guest, collaging with a seasoned Kripalu Yoga instructor, the tables and chairs in a square so we can all look at each other. Electric candles flicker in the windowsills. Snatam Kaur is chanting sweetly on her CD, "May the longtime sun shine upon you …" There is no format, just an invitation to consider our intentions, to cut the images that speak to us without thinking too much.
I don't know how to do this, not think too much, so I create more rules. I avoid words like confidence, peace, laughter, intimacy—things that I crave deeply. I opt for subtlety: a sunflower, a teacup, a mermaid. I'll know what they stand for and, in this way, I won't have to reveal too much about myself to strangers. I can remain guarded, my desires hidden.
Arranging the images is harder. Or "more challenging," as I've learned to say. I decide that no construction paper can show; I must find items to cover all blank spaces, which leads to false image choices, bits I don't truly want. I snip an ugly ladybug from an allergy medicine ad. Then a peace sign (obvious). But I need to cover the page.
"Stop," says our instructor. She rings a little chime. Crafters who have taken their messes to corners of the room now crawl back to tables, teary or triumphant. It hadn't occurred to me to take my project elsewhere. I wanted a hard surface underneath and supplies within arm's reach. Already I'm concerned about gathering the spare slivers. I imagine morning yoga class, a runaway googly eye spotted during Downward Dog.
"Tell us about it," says our leader. "You can say 'pass,' if you want."
No one says pass.
"This is my future," says the one man in the room. There is camping equipment and a sunset.
"This is my heart," says a woman I met in the whirlpool the night before. Dogs. Rainbows. Disembodied, henna-ed hands in prayer.
"Mine's not done yet," I say.
The instructor waits for me to explain. "It's not perfect yet," I blurt. "There are holes I need to cover." Then I laugh at myself.
"It's already perfect," says the instructor.
She's wrong, I think. But I'll remember what she said. I'll remember it years later, when I've returned to Kripalu again and again, and eventually moved to the area to do the things I love most: writing, singing, teaching. One of my favorite workshops to teach at Kripalu, shamelessly adapted, is Word Collage, a chance to create found poems. "Play with scissors, glue, and poetry in this crafty exploration."
There are so many beautiful ways to make a mess. In other words, you too can create an imperfect masterpiece—perfectly.
© Kripalu Center for Yoga & Health. All rights reserved. To request permission to reprint, please e-mail editor@kripalu.org.
Lara Tupper, MFA, is the author of two novels, Off Island and A Thousand and One Nights, and Amphibians, a linked short story collection forthcoming in 2021.
Full Bio and Programs