Down Dog, Up Dog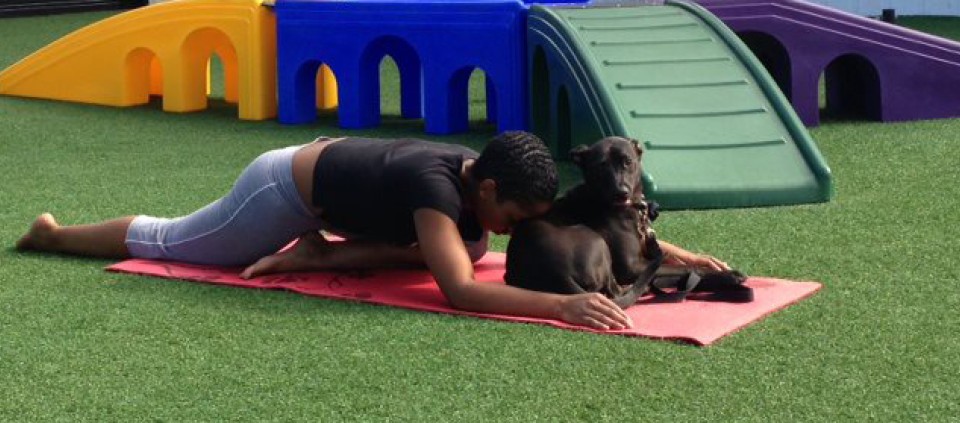 by Stephanie Knox Cubbon
I came to teaching yoga for the same reason many people do—because yoga transformed my life and I wanted to share the gifts it had given me with others. I chose Kripalu, quite simply, because of Stephen Cope. Right around the time I discovered yoga, my cousin recommended that I read Yoga and the Quest for the True Self, and from everything that Stephen wrote about Kripalu I felt it was my "yoga home." Several years later, when I started thinking about becoming a teacher, I don't think I even considered studying anywhere else. I graduated from teacher training in 2006, and Kripalu still feels like home.
I live in an urban neighborhood in San Diego, and recently a dog-friendly bar and restaurant called the Doghouse opened a few doors down from my apartment. I was walking home from work one night and the owner came running down the street after me. "Hey! Do you teach yoga?" he asked. "Yes," I replied, thinking he must have seen me go by the window with a mat on my back. "Would you be interested in teaching a dog-and-people yoga class?" "Well, sure!" I responded, never one to say no to something new.
And thus Doga Yoga: Yoga with Your Furry Friend was born. I had a bit of experience: my dog, Rocky, likes to come sit on my mat with or near me when I practice. With that in mind, I designed a class with an overall theme of connection—an opportunity for the students and their dog friends to bond through yoga. I begin the class by asking the students to put a hand on their dog and pay attention to the rhythm of the dog's breath, then to pay attention to their own breath. I stick to mostly floor poses so the students can be close to their dogs, and we do poses such as Downward Dog, Upward Dog, Puppy, and everyone's favorite, Fire Hydrant! We don't do a lot of standing poses (other than "Upward-Facing Human," aka Mountain pose) because it can be hard to manage the leashes.
I'm not teaching the dogs yoga—we're not manipulating them in any way. The dogs hang out, and they seem to really enjoy being with their human friends while they're practicing yoga. The dogs practice in their own way. The biggest surprise has been how mellow they are—I thought bringing a group of dogs together would be completely chaotic. The key to keeping a calm atmosphere was having a trainer on hand, Fernando of Canine Education, who made cute doggy yoga mats by cutting a regular mat into three pieces. The dogs stay leashed, and they stay on their mats, which they seem to enjoy. Their favorite pose, by far, is Savasana (isn't it everyone's, though?).
The biggest reward has been having people who are new to yoga come to the classes. I have always had a mission to teach in unconventional places, to make yoga accessible to people who otherwise might not find it or be exposed to it. We keep the class very affordable and, since it takes place in the Doghouse, participants get breakfast, too. I never thought I'd be teaching in a bar, but if it brings people to yoga who might be intimidated by a studio, I'm all for it!
In a way, the presence of the dogs brings another layer of awareness to the practice. Dogs have an ability to love unconditionally, which, for me, is really the goal of yoga practice, if yoga can be said to have a goal: to cultivate unconditional love for all beings and the planet. Also, dogs know how to play, and that's something that we adult humans can forget sometimes! We can learn a lot about yoga and life from our furry friends.
Stephanie Knox Cubbon is a Kripalu Yoga teacher, and holds a 500-hour certification from True Nature School of Yoga. She is also a peace educator who teaches online courses and has implemented programs for organizations including Teachers Without Borders, the National Peace Academy, and the Organization of American States.
© Kripalu Center for Yoga & Health. All rights reserved. To request permission to reprint, please e-mail editor@kripalu.org.