Enter Slowly and Quietly: The Path to Understanding the Unified Body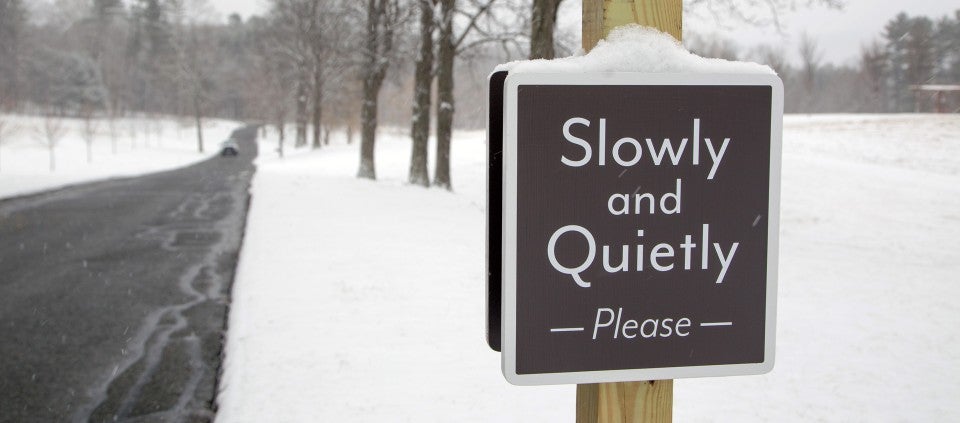 As you turn off the road and onto Kripalu's campus, there is a sign that reads "Enter Slowly and Quietly." It is a reminder and an invitation to slow down your speed and turn down your volume in order to connect with the rhythms of life here.
As a yoga teacher, I extend this same offering to practitioners on the mat. I invite students to slow down their breath and movements, and to become aware of what they are doing in each moment. I also invite them to tune into each sensation, tracking it as they approach it and staying with it until it dissipates. My intention is for them to deepen their connection to the life that lives within them.
Dancer Gabrielle Roth once said, "Between the head and the feet of any given person is a billion miles of unexplored wilderness." We have these amazing bodies with intricate inner landscapes, multilayered infrastructures, and delicate inner ecosystems. And the yogis say we don't have just one body, we have many bodies—a body of bones, muscles, organs, and fluids, and also a body of energy and light, a body that thinks and feels and has emotions, and a wise intuitive being whose natural state is homeostasis.
Although we can intellectually dissect these bodies, we experience them as inextricably and intimately linked with one another. The physical body is the perfect portal into practice because (as contemporary science is finding out) energy, mind, feeling-sensations, feeling-emotions, and intuition are all linked. When we practice with the physical body, we are practicing with our whole self. Our physical structure is set up to transmit all that information, energy, and emotions. The on-the-mat practice of postures and pranayama are wonderful vehicles for traveling across that inner landscape. The practices of concentration and meditation help us navigate the terrain, bringing attention to where and how we are traveling. By becoming mindful of how each movement and each breath are impacting our inner world, we tap into an innate embodied wisdom that sharpens the inner senses, helping us navigate practice with more grace and skill.
As yoga teachers and practitioners, when we understand this inner connectedness, we become more responsible travelers. When we learn how to sense and discern what is needed from practice, we find that we can elegantly master the balance of effort and ease, and make choices based upon what we find moment to moment, movement to movement, and breath to breath.
Register for Unified Body Yoga: The Kripalu Approach to Deeper Practice, with Michelle Dalbec and Christopher Holmes.
© Kripalu Center for Yoga & Health. All rights reserved. To request permission to reprint, please e-mail editor@kripalu.org.
Michelle Dalbec, E-RYT 1000, YACEP, is a lead faculty member for Kripalu, lead teacher trainer for the Kripalu School of Yoga, a Kripalu R&R Retreat presenter, and a Kripalu RISE™ facilitator.
Full Bio and Programs