How to Take Turmeric: 10 Ways to Make Turmeric Part of Your Daily Diet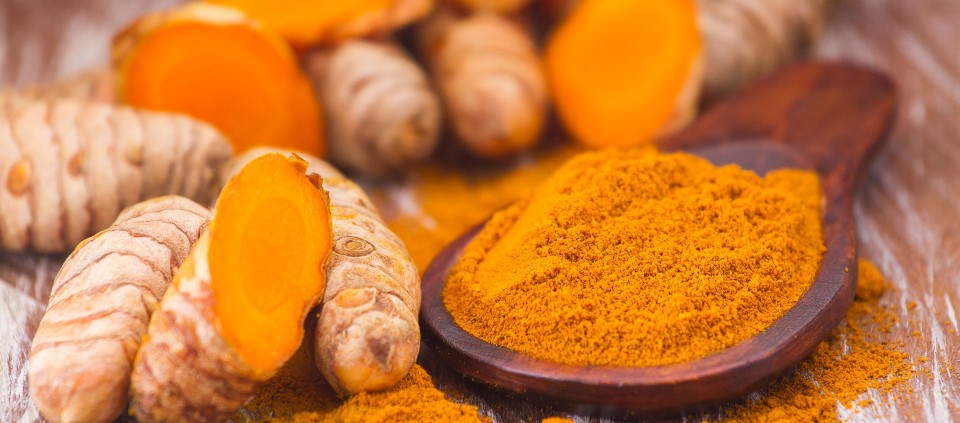 The bright-yellow herbaceous perennial known as turmeric, originally from South India, has America enamored with its oft-trumpeted health benefits. Lately, it's been hailed for its ability to prevent anything from the common cold to cancer. Harvested mainly for its rhizomes, or roots, turmeric is closely related to ginger, another herbal powerhouse for health.
You can find turmeric in the spice aisle at your local grocer, or in the supplement section at your local pharmacy. But the best way to reap the long-term benefits of this "farm-acological" miracle herb (unless you're directed by a medical professional to take a medicinal dose) is to consume it every day in foods or beverages.
The qualities of turmeric, in Ayurvedic terms, are hot, light, and dry, and it has a bitter taste. It's an anti-inflammatory, a blood tonic, an emmenagogue (stimulates blood flow), and a carminative (relieves gas). It promotes ovulation in women, is great for the skin, and is antibacterial, antifungal, and antimicrobial. It's also a blood thinner and blood detoxifier. And it's a pain-killer that speeds up the healing of wounds. Turmeric has been shown to help in recovery from chemotherapy; may help prevent specific types of cancer; and can ease the effects of psoriasis and arthritis
Go ahead, jump on the turmeric train! If you've been wondering how to take turmeric, here are 10 creative ways to incorporate turmeric into your daily diet.
Want more recipes and nourishing resources like this?
Sign up for the Kripalu newsletter today.
Golden milk. Bring to a boil 2 cups of milk or unsweetened almond milk with 1 teaspoon powdered turmeric and 1 teaspoon powdered ginger. Turn off heat, let cool for a few minutes, and add 1 tablespoon of raw honey. If you're drinking it before bed, add ½ teaspoon each of nutmeg, cinnamon, and cardamom to the mixture to promote a good night's sleep. Optional: Add 2 teaspoons of ghee or good-quality coconut oil.
Cold buster. Mix one part powdered turmeric to three parts raw honey. When you feel a cold coming on, eat a teaspoon of the mixture every two hours to boost immunity and lower inflammation.
Soup it up. Add a tablespoon of powdered turmeric to your vegetable soup along with lots of fresh oregano, to kill any infections or viruses that may be hanging on in your body.
Mellow yellow. Sprinkle turmeric into your scrambled eggs. The taste is mild and the eggs are already yellow, so it will go undetected if you are trying to get kids to eat it.
Cashew Banana Turmeric Muffins
1 cup chopped cashews
3 mashed ripe bananas
¼ cup melted coconut oil
1 teaspoon baking powder
1 teaspoon each cinnamon, turmeric, nutmeg, cardamom, cloves, and salt
Mix dry ingredients and wet ingredients in separate bowls. Slowly mix wet ingredients into dry, and pour into lined muffin tins. Bake at 350 degrees for approximately 25 minutes, or until a toothpick comes out clean.
Turmeric tea. Dissolve 2 teaspoons powdered turmeric in 2 cups boiling water, and add 1 tablespoon of raw honey, the juice of a lemon wedge, and a sprinkle of black pepper.
Shake it up. Put equal parts turmeric, coriander, and cumin in a saltshaker on your table, and sprinkle it on everything!
Turmeric for brunch. Add a pinch each of turmeric, cinnamon, nutmeg, clove, and cardamom to your pancake batter for a spicy, healthy kick.
Cashew Energy Bars
1 cup cashews
2½ cups pitted dates
Pinch of salt
1 teaspoon each vanilla extract, turmeric, cinnamon, and powdered ginger
Combine ingredients in food processor and pulse until mixture reaches a chunky but pliable consistency (you may need to add a bit of water). Remove and shape into balls, then roll in shredded coconut. Refrigerate and enjoy as a treat.
Smoothie smarts. Add turmeric to your favorite smoothie. A teaspoon will be beneficial without changing the taste of your beverage too much.
Sarajean Rudman, E-RYT 500, is a clinical nutritionist, Kripalu Yoga teacher, Ayurvedic practitioner, life coach, fitness instructor, and outdoor adventure guide.
Full Bio and Programs