Kripalu Recipe: Smoky Vegan Beet Burgers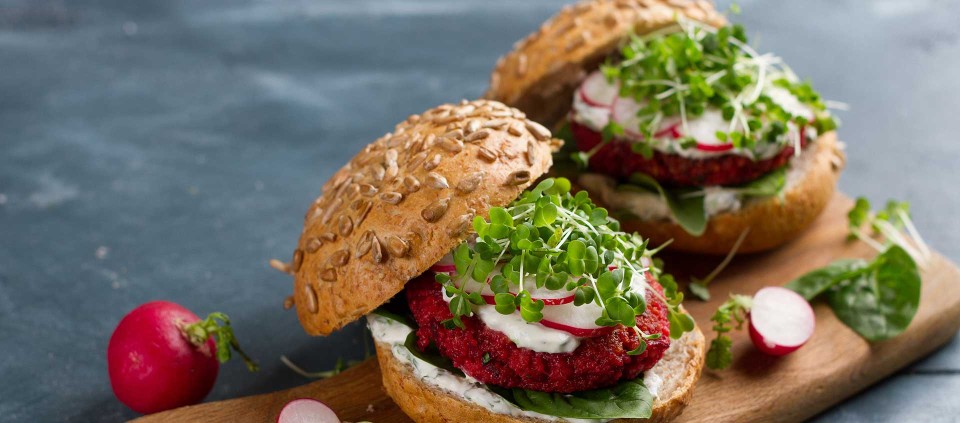 May 28, 2020
It's almost grilling time! Vegetarians and vegans can delight in BBQ season with these smoky vegan beet burgers. While a bit messy, they do not require a whole slew of ingredients. Short-grain rice serves as a binder, while beets, caramelized onions, and smoked paprika bring on the flavor brigade.
These burgers can be served in the traditional manner—with lettuce, cheese, pickle, and onions on a sesame seed bun. Or you can pan-fry them like beet latkes and serve them with a side of applesauce and sour cream. Alternatively, use them as a base for your breakfast, topped with an over-easy egg in lieu of hash browns or toast.
If you're going to grill the burgers, you will want to bake them first as they tend to be on the softer side—then throw them on the grill to get those tantalizing grill lines. Brushing them with oil prior to baking makes them nice and crispy on the outside—like a beet Smashburger.
Makes 6 burgers.
2 cups grated raw beets (approximately 1 large beet)
1½ cups cooked brown rice
3 tablespoons olive oil, plus extra
1 yellow onion, diced
1 cup walnuts
2 teaspoons smoked paprika
¼ teaspoon cayenne
Salt to taste
Preheat the oven to 350 degrees. Prepare your baking sheet by greasing it with a slick of olive oil.
Grate the beets in a box grater or using the grater attachment of a food processor. Place the beets in a colander, strainer, or nut milk bag and squeeze out the excess water. Discard (or drink!) the liquid and set the beets aside.
Heat a medium-sized sauté pan over high heat and add 3 tablespoons of olive oil, followed by the diced onions. Sauté for one minute on high, then lower the heat to medium and cook until the onions are caramelized, about 5–7 minutes. Stir in the walnuts, paprika, cayenne, and 1 teaspoon salt, and cook for another minute. Cool to room temperature and set aside.
Place the cooked rice in the bowl of a food processor. Process until the mixture forms a thick puree, about a minute. This puree serves as the glue that binds the burgers together. Add the onions and 1 cup of the beets, and pulse until the vegetables are broken down into small chunks, leaving some chunks for texture.
Scoop out the rice puree and add the remaining beets to a medium-sized bowl. Mix thoroughly with lightly oiled hands. The mixture should be thick and a bit sticky, so it's easy to form into patties.
Divide the mixture into balls using a lightly oiled half-cup measure or an ice cream scooper, and then shape into burger patties. Place the patties on the greased baking sheet, brush the tops with oil, and bake for 45 minutes.
Lauren Gernady is an Ayurvedic Health Counselor, a 500-hour Ayurvedic Yoga Teacher, a graduate of the Kripalu School of Ayurvedic (KSA), and a former intern and Academic Coordinator of KSA.
Full Bio and Programs