Kripalu Recipe: Spiced Squash Ginger Bisque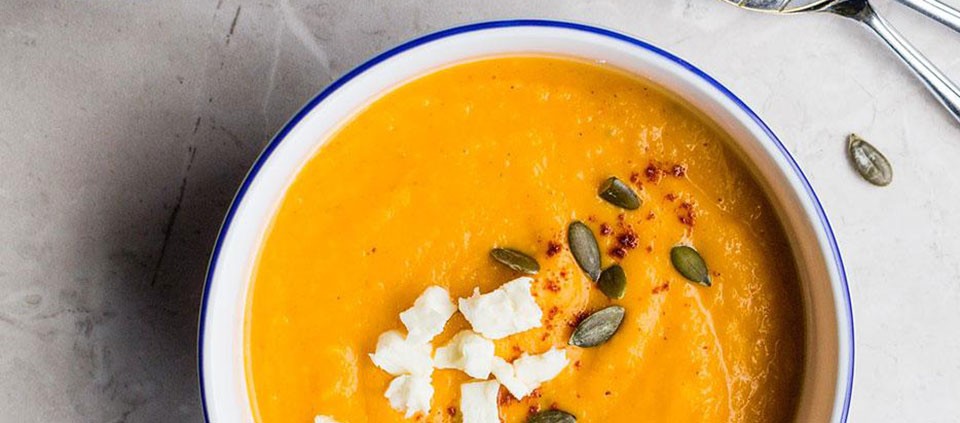 November 17, 2020
Enjoy this vegan, spicy version of classic pumpkin soup.
Ingredients
1/4 cup pumpkin seeds
2 tablespoons olive oil
1/2 cup onions, small diced
5 cups butternut squash, peeled and large diced
1/2 teaspoon cinnamon
1/4 teaspoon allspice
1 ½ tablespoons ginger
4 cups vegetable stock or water
1 teaspoon cider vinegar
½ teaspoon salt
¼ teaspoon ground black pepper
1/4 cup coconut milk or non-dairy alternative or just straight up cream!
2 tablespoons maple syrup
Place pumpkin seeds in a small sauté pan on the stovetop. Turn heat to medium and toast lightly until the aroma is released, set aside to cool and reserve.
In a medium-sized saucepot with a lid place olive oil and onions with a pinch of salt. Place lid on the pan and let cook on low for 3–4 minutes or until onions are translucent. Mix in squash and place lid back on the pan. Continue to sweat stirring periodically for 5–7 minutes or until the pumpkin is cooked through and begins to lightly brown. Next, remove the lid and add cinnamon, allspice, and ginger and turn heat to medium. Allow spices to "bloom" for 2 minutes stirring frequently.
Next mix in the ginger and cook for 1 minute or until the fragrance is released. Add 1 cup of the stock and scrape and caramelization from the bottom of the pan. Add the rest of the stock and let simmer for 5–7 minutes. Remove from heat and puree using a tabletop blender or immersion blender. Mix in vinegar, salt, pepper, and milk. Adjust seasonings as needed.
Divided soup into bowls and sprinkle roughly 1–2 teaspoons of toasted pumpkin seeds on top with a drizzle of maple syrup for garnish.
Jeremy Rock Smith, Kripalu faculty and a graduate of the Culinary Institute of America, began his career in classical French cuisine.
Full Bio and Programs