Making an Impact: Kripalu Helps One Young Yoga Teacher Find Her Calling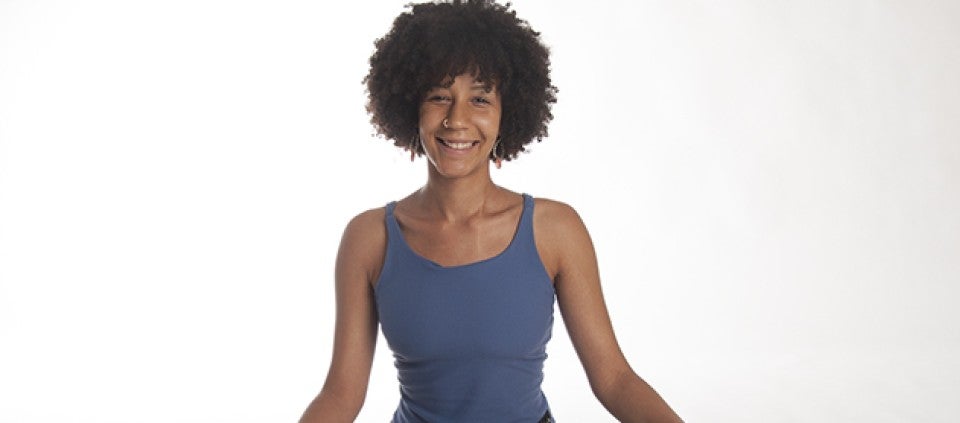 When Nyacko Perry first heard about the Kripalu Semester Intensive program during a presentation at her college in 2008, she didn't quite understand what Kripalu was all about. But she was incredibly interested in finding out.
"I didn't know what it was, because it was such a new program, but I knew I had to do it," she says. (The Semester Intensive program has since been discontinued.)
After four months immersed in the Kripalu lifestyle, Nyacko returned to Cambridge, Massachusetts, to finish school, but something in her had shifted. Kripalu had made an imprint that couldn't be removed. "It was both the greatest and hardest experience of my life, and I always knew that I wanted to come back," she says.
As soon as she completed school, Nyacko applied for and was accepted into the Kripalu Volunteer program in 2011. For eight months, she worked on the Kripalu dish crew and as a lifeguard at the Kripalu beach. While she loved the experience, Nyacko wanted to change the perception that yoga is only for the privileged. Having lived the majority of her life below the poverty line, Nyacko developed a personal mission that is very much aligned with Kripalu: to bring yoga to people who don't easily have access to it.
"I was always very frustrated by the lack of diversity at Kripalu," she says. "I knew if I wanted to see yoga brought to the communities around me, I'd need to take a training and bring it myself."
With the help of a scholarship provided by Kripalu, Nyacko returned in 2012 to earn her 200-hour yoga teacher certification. With the training under her belt, Nyacko started making calls to youth organizations back home in Cambridge, Massachusetts, asking if they wanted to bring yoga to their participants.
Recently, Nyacko has been working with Girls Taking Action, a youth leadership program for girls ages 14–18, whose mission is to get women of color interested in and exposed to science. She teaches yoga to the girls there regularly and says, "The kids that I work with want this, they want yoga, they need this tool." To make their experience even more memorable, Nyacko worked with Kripalu to fund a trip that allowed 17 girls to spend a day at Kripalu in August 2012.
"It's really good for Kripalu to bring these communities in," Nyacko said. "The girls loved Kripalu. They can't wait until they're old enough to volunteer there."
Thanks largely to the scholarships provided by Kripalu, Nyacko was able to tap into her true calling. Kripalu opened doors for her, and she continues to embody the Kripalu mission in the world.
Nyacko certainly plans to return to Kripalu in future; she says that completing the 500-hour training will be an important part of her development as a teacher. But for now, she's taking her work in a different direction: She has joined the Peace Corps and is headed for Botswana.
"I realized I could go anywhere and do anything, and it all leads back to Kripalu," Nyacko says. "All the work I've been doing has been leading up to this opportunity without me even knowing it. I just feel like it's what I'm supposed to be doing."
© Kripalu Center for Yoga & Health. All rights reserved. To request permission to reprint, please e-mail editor@kripalu.org.