The Sadhana of Compassionate Caregiving: Letting Kripalu Yoga Dance On and Off the Mat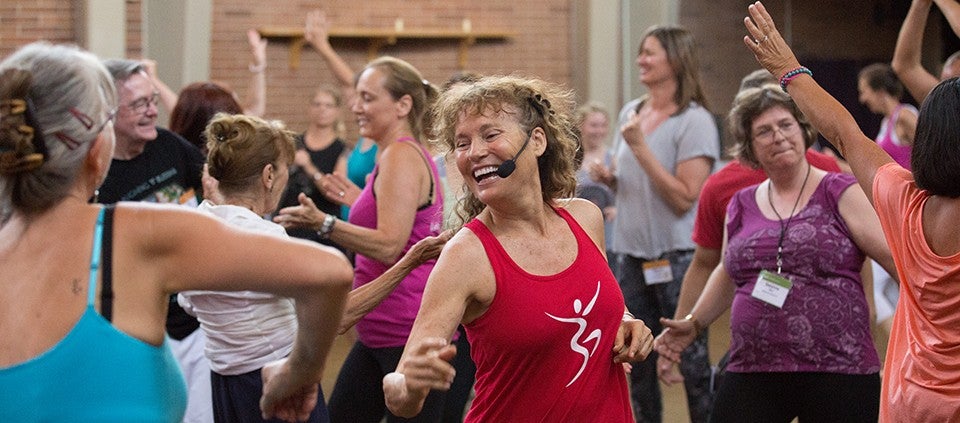 These days, I'm experiencing what millions of baby boomers are going through: caring for parents. My mother, age 90, has dementia and various other ailments. Two years ago, Mom suffered a nasty stroke, and we brought her to a nearby nursing facility. At age 91, my dad's heart is as big as infinity but is no longer working very well. He voluntarily chose to join Mom so he could have skilled nurses caring for him. Now they are both living just one mile from Kripalu. My life is rather split these days: By day I am a teacher trainer of asanas, dancing yoga, meditation, and chanting, but once the sun goes down I become a cleaner, reader, caregiver, cheerleader, singer, bed maker, cook, cardplayer, and frequent emergency-room facilitator. As this list suggests, mothering one's offspring and parenting one's parents can become an interesting role reversal.
Placing my mother in a nursing facility was a very hard choice for my family. Throughout our childhood, Mom had made us promise to give her "a poisoned pretzel" if she ever became unable to care for herself. "I do not want to loiter!" she would declare. At first, I was miserable every time I entered the nursing home doors. Strange noises and smells assaulted my senses, and one squawking resident constantly yelled, "Help me!" Sometimes I would escape outside and cry by my car. The pain of bearing witness to this degradation, along with the realization that both my parents were actually now living within these walls, was sometimes too much for me to bear.
After a few months, however, I experienced a difficult but useful epiphany. My many years of living, learning, and teaching at Kripalu began to seep into my sadness. One day after bringing Dad back from a hospital visit, I found Mom in a demented tizzy. She was a mass of uncontrolled anger. After about 30 gut-wrenching minutes of trying unsuccessfully to cheer her, I finally gave up in despair. Then a little light switched on in my brain as I thought of the words, "Now the Inquiry of Yoga," Patanjali's first sutra (which I often chant with my students). In that moment I got, at a bone level, that right next to me was the nitty gritty practice of Yoga 101. Not hatha yoga with grand postures and buff bodies sweating in Kripalu's Yoga Studio but the yoga of life flowing inextricably toward death. In the next moment, I recalled the Buddha's first Noble Truth: "Life is suffering," and thought, "Must I suffer just because Mom is? Can I find a little more equanimity here?" I breathed again, Mom still agitated and unhappy. Then at last I began to practice the tried-and-true Kripalu methodology: BRFWA: breathe, relax, feel, watch, and allow. Soon I felt a little more peaceful within the maelstrom of Mom's misery.
As I drove home later on, other practices came to my rescue, such as metta, the practice of loving-kindness. I chanted metta resolves to Mom all the way home while reflecting on santosha (contentment) and gratitude. Serving a loved one with dementia means that I need to constantly seek and find gratitude in life, no matter what the circumstances.
My yogic epiphany happened many months ago. Now I'm accepting more readily that my parents have their daily ups and downs. The best I can do is practice the yoga of equanimity no matter what is presented to me. The yapping lady who cries "Help me!" actually has a name: it's Harriet. I have grown used to her bellows and have even grown rather fond of her. She is a part of the tapestry of my family's "new normal."
This off-the-mat yoga practice constantly teaches me that much of life is just doing the next thing while "managing gracefully," as my meditation teacher Sylvia Boorstein likes to say. For me, the key to peace is to remember to practice
BRFWA during the hard spots
Yama and niyamas (restraints): particularly santosha (contentment and gratitude)
Metta: loving-kindness and equanimity.
When I can just remember these practical, helpful spiritual tools I have learned and taught right here at Kripalu, then the yoga of end-of-life care for my parents becomes sweeter, more tolerable. I realize that Mom, Dad, my siblings, and I together can dance through life into death with grace and ease.
© Kripalu Center for Yoga & Health. All rights reserved. To request permission to reprint, please e-mail editor@kripalu.org.
Megha Nancy Buttenheim, MA, E-RYT 1000, founding director of Let Your Yoga Dance® LLC, specializes in bringing a gentler, kinder yoga practice to the world.
Full Bio and Programs