Showing Up Just the Way We Are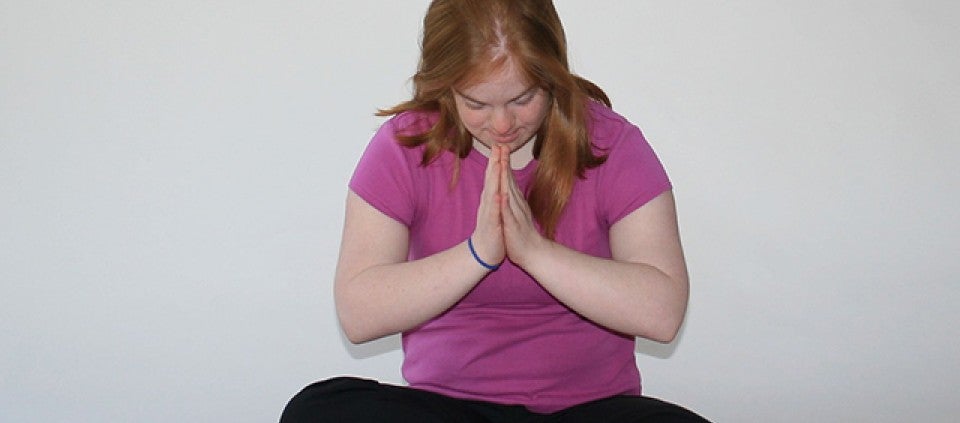 by Rochelle Jewell
Samantha is an amazing young woman who has Down's syndrome. She has been a friend to my daughter, the daughter of my best friend, and a huge part of my life and extended family. I have watched her grow, struggle, and grow some more. For many years, she practiced yoga with me every week. Our yoga sessions were times when she could challenge herself, yet also call the shots. If she was tired or sad, she was allowed to show up just the way she was. Sam has a beautiful yoga practice. Sometimes, when I watched her sit in meditation, I am moved to tears. She is an inspiration.
Sam was my first consistent long-term contact with someone with a developmental disability. Through my relationship with her and her family, I have been introduced to the larger community, and have had many opportunities to teach yoga to children, teens, and adults with a variety of special needs, both in private lessons and group sessions. I've been teaching a group of developmentally disabled teens and adults in the Portsmouth, New Hampshire, area for two years, and the benefits to this group are amazing. They are stronger, stand taller, and are more focused and relaxed than I could ever have imagined during the first few classes. They are by far the most dedicated students I have encountered in my yoga career.
Inspired by the success of this group, I applied for and received a Teaching for Diversity grant to bring yoga to a similar population in York, Maine. The most rewarding part of the new class was seeing the group gel in a relatively short period of time. There were two organizations represented, as well as participants who were homeschooled or from a different school, but it was an amazingly cohesive group. At the end of each class, we washed, dried, rolled up, and put away the mats. This was not an easy task for this group, but they really stepped up, and it was a seamless endeavor.
For other yoga teachers working with this population, my advice is: Keep it simple. Use clear directions. Model, and provide hands-on assists where appropriate. Assume that each student fully understands all directions—because they probably do, even though they might not appear to—and only simplify or provide assistance if they really do become stuck. Even nonverbal and autistic students are extremely capable, despite their tendency to look as if they're not aware of what the instructor is asking. Walk into each class without expectations, because you never know what will happen. Teach with an open heart, and you will make a deep connection with your students.
What I've learned from teaching this population is that their abilities are greatly underestimated. They're not challenged nearly enough, and thus not able to achieve their full potential. We learn through the yoga sutras about the importance of challenge and struggle in developing the mind and making connections with the Divine. I've seen many people assume that Sam and her peers are less able, less accountable, and less worthy. Through yoga, people with disabilities are more likely to lead productive and happy lives. They are encouraged to become physically stronger, to make and measure progress, and to deeply breathe.
Yoga programs like mine are welcomed both by those with disabilities and by their care providers. This is very important work, and there are far too few of us doing it. My ultimate goal is to see yoga programs led by yoga teachers, parents, and staff members of the organizations that provide services to our disabled citizens all over the country.
Rochelle Jewell is a Kripalu Yoga teacher, personal trainer, creator of My OmAbilities Yoga, and founder of the nonprofit SATYA: Seacoast Area Teachers of Yoga in Action.
© Kripalu Center for Yoga & Health. All rights reserved. To request permission to reprint, please e-mail editor@kripalu.org.