When the Road from Teacher Training Doesn't End with Teaching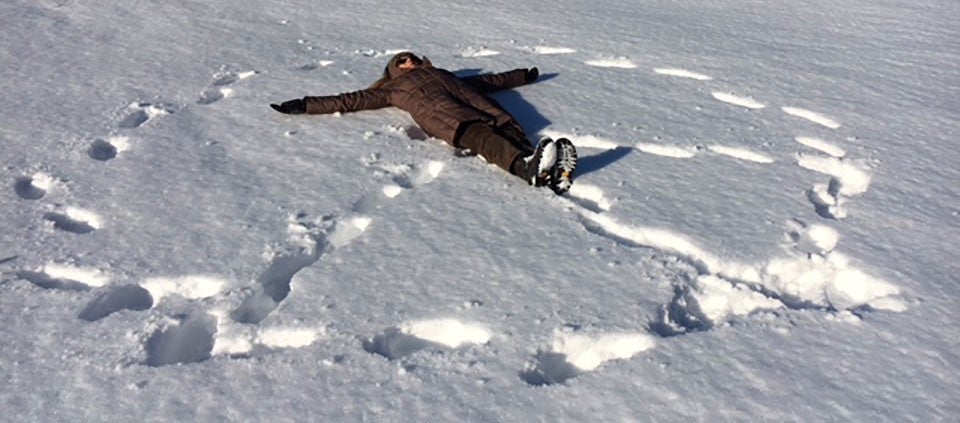 by Kathleen Gibbons
On this path effort never goes to waste and there is no failure.
Even a little effort toward spiritual awareness will protect you from the greatest fear.
—The Bhagavad Gita, translation by Eknath Easwaran
In 2004, I was in my mid-40s and at a crossroads. I had been working full-time for several years as the main breadwinner in my family, commuting more than 10 hours a week to jobs around the Boston area, and I was burnt out.
I was also longing for some kind of fulfillment that I couldn't quite name at the time, but I knew it wasn't in my 8-to-5 corporate job. With both of our daughters through college and the housing boom at its height, my husband and I decided to sell our house on the south shore of Massachusetts and move to Maine.
That's when yoga first entered my life. Without the immediate responsibility of work (thanks to the savings from our house), I was free to explore my yearning for something deeper … a connection to something that I hoped would help me feel more whole and bring me greater joy.
I began attending a few yoga classes at WholeHeart Yoga Center in our new home city—and I was hooked. I immediately connected to the Kripalu-based instruction and the experience of becoming present in my body through a grounded asana practice that was heart-centered. I truly felt transformed, and I knew I wanted—no, needed—yoga to be a central force in my life moving forward.
Filled with an almost desperate desire, I enrolled in Kripalu's 200-hour yoga teacher training program in the fall of 2004. The monthlong training was difficult both physically and emotionally, but it was also extremely rewarding. I met a wonderful group of compassionate, aspiring yoga teachers and experienced faculty with whom I felt a sense of belonging. Being immersed in the Kripalu culture of compassion, within the beautiful Berkshire surroundings, was a true gift to my soul.
I returned to Maine with my teacher certification in hand and a pure intention in my heart to transform my work/life as a yoga teacher.
Starting Out as a Teacher
Initially, my teaching practice was a bit of a struggle. Being an introvert, I was not entirely comfortable in the spotlight as teacher and I was even less comfortable giving hands-on adjustments to students. I remember clearly my very first class and making a verbal mistake that truly brought home the concept of self-compassion: During the centering phase of the class, I was so nervous that I mistakenly used the word "clavichord" (a musical instrument) instead of "clavicle" (referring to the collarbone)! Thank goodness no one seemed to notice—or they forgave my inexperience without mentioning it.
In those early days of teaching, I prepared detailed notes for my classes to help bolster my confidence, typing them up and pasting them on colored index cards. I also practiced my class sequences regularly. Over time, my confidence evolved and matured, and I felt increasingly gratified by my teaching experiences.
For the next two years, I taught a weekly class at WholeHeart, along with a lunchtime class at a local business. I also subbed regularly at various studios in in the area and taught a short-term program to a group of preschool children. Whenever I could swing it, I returned to Kripalu for additional training and R&R retreats.
And then, because our financial situation demanded it, I made the choice to return to a full-time job.
An End … and More Beginnings
My yoga story could have ended there, but it doesn't. Even though I stopped teaching, I never stopped my personal practice. In fact, it only deepened.
Fast-forward to 2014: I was once again at a crossroads. After a good run of work stability and satisfaction, things changed drastically when the small consulting firm I had been with for several years merged with a much larger company. Within a few months, my comfortable, remote writing job—in which my skills were highly valued—was gone. I knew I had to make a change. I left that job in 2016, and since then I have applied for hundreds of jobs, and launched my own copywriting business and wellness blog to try to regain my employment footing. But the challenges of being an older worker, and someone who's not naturally inclined toward "networking," have been difficult.
Throughout all of the upheaval and disappointments over the past two years, yoga has been the one stable, positive force in my life. It's also been my health insurance and mental-health therapy. My yoga practice has allowed me to let go of regrets, anger, fear, frustration and sadness—if only for an hour or so a day—and experience tranquility. For the time that I'm on my mat, yoga relieves me of the burden to "become" and allows me to settle into the assurance of simply "being."
In the midst of so many uncertainties about the future, I can always return to my breath and to the wisdom of yoga, which teaches me: "On this path, effort never goes to waste and there is no failure. Even a little effort toward spiritual awareness will protect you from the greatest fear." What blessed reassurance!
As I continue evaluating employment options and my path forward, a question from my yoga teacher training 14 years ago keeps bubbling up: How can I serve?
I've thought a lot about whether to return to teaching as part of that yearning to serve. Although I still have financial pressures—in fact, maybe even more than before—something feels different at this stage in my life. As I approach 60, there's less time to waste on being unfulfilled. I feel more committed to making choices based on what I truly want rather than what I feel is expected of me.
Whether or not my future involves teaching yoga again is unclear. But what I do know is that yoga continues to teach me and guide me, and for that I am eternally grateful.
Kathleen Gibbons is freelance writer/editor living in Waterville, Maine. She writes a blog about her wellness journey at wordsforwellness.org.