This Year, Make Black Friday 'Nature Friday'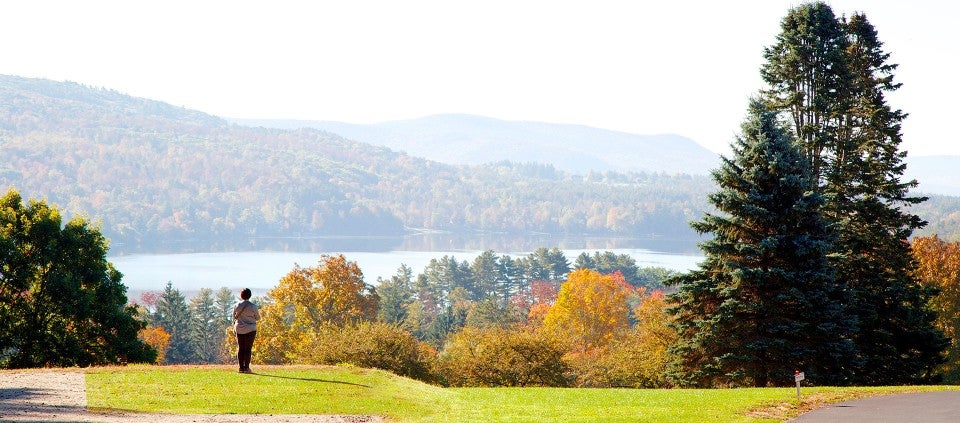 Presence. Simplicity. Gratitude. Reflection.
These are just a few words that to me evoke the qualities of November in New England. The trees are bare, the forest is quieter than in the summer months, and the earth begins to draw inward, inviting reflection, rest, and slowing down. Our woodland friends—the woodchucks, bears, squirrels, and chipmunks, among others—are denning and nesting, living off food stores through the dark, cold winter. Here and there, the first patches of snow begin to blanket the land and rest lightly on the trees. A male cardinal alights in a thicket, his red feathers a bright spot of color against the browns, grays, evergreens, and whites of the season.
Spending mindful time in nature, especially during times of stress—such as the winter holidays—is a powerful form of healing and self-care, allowing us to transition from states of stress into states of rest and relaxation. But beyond stress reduction, meditative time in nature is restorative in other, subtler ways. We may find that we feel connections forming that we didn't know were missing—to trees, other creatures, and the great elements themselves. We may begin to appreciate and enjoy the ways in which the earth opens our senses and helps us feel alive and present.
Nestled toward the end of this beautiful month of November is, of course, the Thanksgiving holiday. A day of gratitude for many Americans, a time to count one's blessings, reflect on nature's abundance, and gather together over nourishing food during this time of annual harvest. And, for the Wampanoag people of Plymouth, Massachusetts, who welcomed the Pilgrim colonists and helped them through their first winter on these shores, it is a day of mourning, a time to remember and reflect on an event that forever changed the destiny of a people and a land.
Why Black Friday?
As we recognize the 399th Thanksgiving since the Pilgrims and the Wampanoags first sat down together in 1620, we see a strange juxtaposition in our annual national feast. A day of gratitude, followed by a day of shopping, fueled by massive spending and with it, anxiety—a day with the ominous name Black Friday. It's a stimulus for an economy fueled by what environmental activist Greta Thunberg referred to this year as "fairytales of eternal economic growth."
In her book Braiding Sweetgrass, Potawatomi elder and scientist Robin Wall Kimmerer puts it this way: "In a consumer society, contentment is a radical proposition. Recognizing abundance rather than scarcity undermines an economy that thrives by creating unmet desires. Gratitude cultivates an ethic of fullness, but the economy needs emptiness."
Most people now recognize that something about our economy—but, perhaps more importantly, about our consciousness—has to change if we wish to pass on a livable planet to future generations. We know that our current state of excessive, material consumption must shift, but how? An important start is for each one of us to start a relationship with the land we live on, to become intimate with our place and begin noticing and appreciating the natural beauty around us. The first step is simply getting outside.
The Power of a Sit Spot to Change the World
In response to the moral challenges of this consumer holiday, the environmentally motivated retailer REI has made the decision in recent years to close all of its stores on Black Friday, and started a new hashtag to mark the day: #optoutside. The goal is to encourage people to spend time outdoors rather than at the mall. Being in nature offers a host of proven health benefits that have become increasingly researched and recognized over the past decade, but it is the awareness-expanding practice of mindfulness in nature that can truly transform our relationship to the earth. These benefits are less well known.
In the Kripalu School of Mindful Outdoor Leadership, we train mindful outdoor guides to help people begin a process of reconnection with the earth, through a very simple practice that we call nature meditation, or "sit spot." A sit spot is a place you go (daily if possible), close to your home and easy to get to—your own backyard, or a park down the street. The practice is to sit in that spot through all seasons and simply observe what is happening around you.
As you become still, allowing 10 or 15 minutes to pass, your presence becomes less of a disturbance and you begin to experience a sense of settling in, of belonging. As the creatures who frequent your area become accustomed to your presence, their daily activities resume, and you are afforded a window into a world that few modern humans see. As time goes by, you may get to know individual birds, squirrels, or other members of the "more-than-human world" in your neighborhood. With this awareness comes a sense of connection, appreciation, and understanding of a world we've lost touch with.
In my own experience, becoming intimate with a place through this ongoing practice is the most effective way to build connection with nature. In fact, it was this practice, referenced in the Sattipathana Sutra, a foundational text of Buddhism, which I believe lies at the foundation of mindfulness practice:
A monk, having gone to the forest,
To the foot of a tree or to an empty place, sits down, with his legs crossed, keeps his body erect and his mindfulness alert.
Ever mindful he breathes in, and mindful he breathes out.
Through mindfulness and connection, we can create a practice of gratitude that can truly change the world.
Micah Mortali is lead Kripalu faculty, the Founder of the Kripalu School of Mindful Outdoor Leadership and author of Rewilding.
Full Bio and Programs