Attuning to Winter Through the Sense of Smell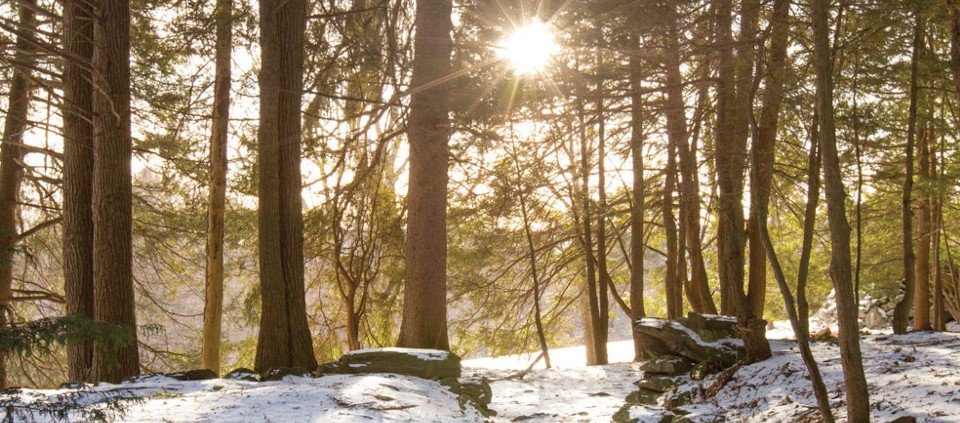 Many people who live mostly indoors suffer from sensory anesthesia, the gradual loss of sensory experience. Think about the number of plants growing in a forest or a field, the myriad decomposing life forms washing around the ocean, the dry herbs and tree resins in a high desert plain. All these environments have their own concoction of smells, textures, sights, sounds, and flavors, richer and more varied than the average office environment.
In the woods and out on the land, the sense of smell is essential for survival. It can help us detect an incoming storm (think of the smell of the ozone before a thunderstorm) or the musk of a predator, like a skunk we want to avoid. To awaken this sense outdoors, I often invite folks to gather Eastern hemlock or balsam needles, press them between their palms to release the aromatic oils, and then cup their hands and take deep inhalations. Another great stimulus for scent is the fallen leaves in autumn; crush them in your hands and take in their sweet, earthy smell.
During an outdoor mindfulness retreat I led one winter, we kept coming up on fox tracks in the snow. My co-facilitator, Dale Abrams, a naturalist, kept sniffing and asking the group if we could smell the scent of fox on the air. At first the group was oblivious to it. Then Dale knelt down and lifted a small handful of snow with a small, yellow ice crystal in it—a drop of frozen fox urine. He invited us to take a whiff, and sure enough, it had a potent, musky, almost skunk-like smell. From then on, we were on our knees sniffing every little yellow patch of snow we found near fox tracks. After a few days, the group began picking up the smell on the wind.
All year round, but especially during the winter, we can often easily find natural areas where the wonderful smell of pine fills the atmosphere, freshening the senses and stimulating the mind. I do a lot of mindful breathing and tend to pause often to take deep breaths within pine forests, which has a calming effect on the mind and body. This practice is enhanced by the concentration of essential oils in the air. In ancient times, pine boughs were believed to ward off evil spirits and disease. Today, research into the power of phytoncides bears out this ancient belief in pine's medicinal attributes. Essential oil, tea made from the needles, and ointment made from the pine resin have all been shown to have healing properties.
How to Make Eastern White Pine Tea
In the depths of winter, the Eastern white pine (Pinus strobus), like other evergreens, holds on to its green needles. Rich in vitamin C, the needles can be used to make a comforting tea. The Eastern white pine is a prosperous and beautiful member of the forest community in New England. Its needles grow in packets of five, which is an easy way to identify it since white has five letters.
Gather at least 20 packets of white pine needles.
Rub a couple of the packets between your hands to release the pine resin, as you offer a gesture of thanks to the trees for this provision.
Drop the crushed needles into a pot of freshly boiled water and allow them to steep for five to 15 minutes, although I like to cut them up into smaller pieces to help release the oils before steeping them.
Strain the needles from the boiling water and pour the tea into a mug.
Before sipping, hold the cup up near your nose and take a few deep inhalations. Drink as is or sweeten with maple syrup or honey. Enjoy!
Safety Note: Be sure to always properly identify the tree you find using a field guide or the internet before you consume them. Avoid pines that aren't really pines like Yew (Podocarpus macrophylla), Norfolk Island Pine (Araucana heterophylla), as well as Lodgepole Pine (Pinus contorta) and Ponderosa Pine (Pinus ponderosa), because they are poisonous.
Excerpted from Rewilding: Meditations, Practices, and Skills for Awakening in Nature by Micah Mortali.
Micah Mortali is lead Kripalu faculty, the Founder of the Kripalu School of Mindful Outdoor Leadership and author of Rewilding.
Full Bio and Programs