Begin with Art: Tracking Berkshire County's Writers, Then and Now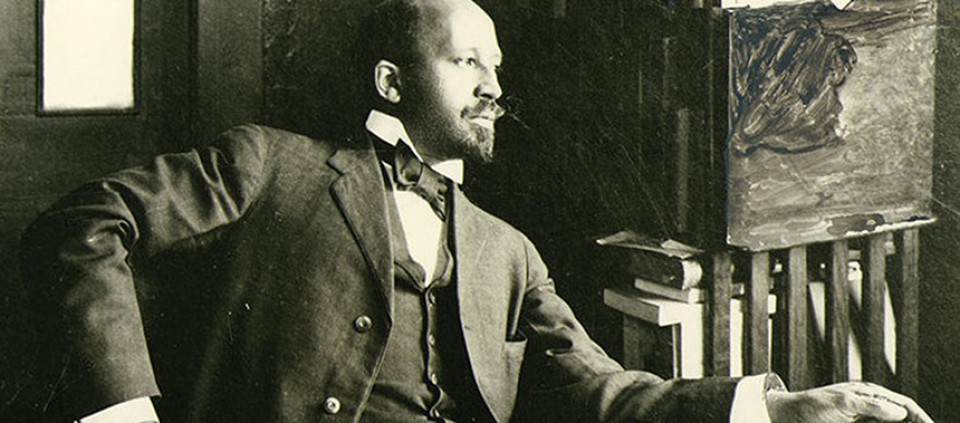 "Begin with art, because art tries to take us outside ourselves," wrote W. E. B. Du Bois (1868–1963), author of 21 books, including The Souls of Black Folk.
I knew nothing of the Berkshires' literary scene when I moved to Stockbridge, Massachusetts, in 2010, a frustrated writer wracked with self-judgment. I came for Kripalu, the lakes, the distance from New Jersey Transit. But I soon discovered that Du Bois' birthplace was in Great Barrington, Massachusetts (15 miles from Kripalu); his many achievements are highlighted at the Du Bois Center in Great Barrington, which houses books and artifacts. The Du Bois Walking Tour includes several sites from the author's childhood and young adulthood. And, too, Nathaniel Hawthorne (1804–1864) lived just three-tenths of a mile from Kripalu, in a modest red house. (A replica of his home is now used as a rehearsal space for the Boston Symphony Orchestra in the summer months.)
Hawthorne moved from Salem, Massachusetts, to Lenox to escape a post-publication frenzy following the release of The Scarlet Letter. In the Little Red House, for a year and a half, he worked on The House of the Seven Gables and A Wonder Book for Girls and Boys. The sequel to this story collection for children was Tanglewood Tales, named for the neighboring estate. When he wasn't drafting, he strolled the same meadows and forest paths I liked to wander through.
I certainly didn't have Scarlet Letter–like success to contend with. (Hawthorne's novel hasn't gone out of print since its publication.) But I wanted to give myself permission to be more prolific, too, away from the buzz of the city.
Walking in the Tracks of Their Words
Research is an excellent way to work on your writing without writing. So I read about Hawthorne's friendship with Herman Melville (1819–1891), who lived about seven miles from Kripalu on a farm in Pittsfield, Massachusetts, called Arrowhead. Visitors can tour Melville's rooms and, from his writing desk, see the view of Mount Greylock that inspired the shape of the whale in Moby Dick. "I have a sort of sea-feeling here in the country," Melville wrote. "I look out of my window in the morning when I rise as I would out of a port-hole of a ship in the Atlantic. My room seems a ship's cabin; at nights when I wake up and hear the wind shrieking, I almost fancy there is too much sail on the house, and I had better go on the roof and rig in the chimney."
A few years ago, during the Berkshire Festival of Women Writers, I attended a workshop in Melville's study. I looked out the window and tried to see the whale. But I saw only the mountain. I wrote about Herman's wife, Lizzy, instead.
Next, I visited Edith Wharton's stately Lenox, Massachusetts, home, the Mount, 3.6 miles from Kripalu—a gardener's paradise. Wharton (1862–1937) lived there for 10 years, drafting The House of Mirth and Ethan Frome from the comfort of her bed, her beloved dogs nestled beside her—though her official portrait was taken at her library desk. This makes me feel better about posting a studious Facebook selfie (books, laptop) when I'm actually eating macaroons in my pajamas.
"She doesn't flinch or turn away from anything difficult. She makes you feel acutely," Koren Zailckas, best-selling author of memoir (Smashed) and fiction, says of Wharton's prose. This served as motivation as Koren drafted her second novel, The Drama Teacher, as a writer-in-residence at the Mount. The Pulitzer Prize winner Rachel Kaadzi Ghansah was a 2019 writer-in-residence; her book-in-progress covers 400 years (1605–2017) of black American history through profiles.
Though the Berkshires are associated with many other historical figures in literature, these four—Hawthorne, Melville, Wharton, and Du Bois—have made the water churn for me again. Because I can see where they lived, I can muster "sea-feelings" of my own and, I hope, keep writing. There's something about standing on ground that holds a story, something about inhabiting the space where a great mind dwelled.
Making Space for New Voices
Contemporary writers of the Berkshires have also invigorated my viewpoint, and my writing life. In The Celestials, a novel based on meticulous research, Williams College professor Karen Shepard follows 75 Chinese laborers who arrived in 1870 in North Adams, Massachusetts, to work for a shoe manufacturer. Says Karen, "I'm drawn to the Berkshires as a fictional subject because it's a more complicated world than it first appears. It's filled with fictionally useful tensions: the 'cottages' of the wealthy share space with gritty former mill towns, the problems of addiction butt up against world-class museums, lifelong Berkshire residents live side by side with newly arrived transplants. It suggests our narratives should always be moving targets, that we always have more to learn."
Ty Allan Jackson promotes innovative ways of learning, too. Originally from the Bronx, New York, Ty now lives in Pittsfield, where he's a children's book author, literacy advocate, and founder of Big Head Books, which aims to introduce children to the joys of reading. He received the Massachusetts inaugural Martin Luther King Jr. Content of Character Award; his books were gifted to former First Lady Michelle Obama by his hometown mayor. (Ty calls this his "proudest moment.") "Berkshire County has a way of bringing out the best from our souls," says Ty.
Patrick Donnelly, the author of four poetry collections (Little-Known Operas is his most recent book), was the 2018 recipient of the Amy Clampitt Residency, and lived in the late poet's Lenox home. "Maybe part of the reason the Berkshires is such a great place to work on one's own writing is that you're catching the tailwind of all the other literary artists who came before, and those who are working there now," Patrick says. "It's peer pressure—getting down to work on your art is what people do here!"
Cofounded by architects Tessa Kelly and Chris Parkinson, the Mastheads in Pittsfield (named for the lookout perch on the Pequod, the whaling ship in Moby Dick), invites writers to work in mobile studios in the summer. The studios are architectural interpretations of five American Renaissance authors who wrote in the Berkshires: Hawthorne, Melville, Henry Wadsworth Longfellow, Oliver Wendell Holmes Sr., and Henry David Thoreau. The 2019 residents (S. Erin Batiste, Rachael Uwada Clifford, James Davis, Toni Judnitch, and Sam Max), hail from across the United States.
Tupelo Press, based in North Adams, celebrates 20 years in 2019. Two-thirds of Tupelo's writers are women, said founder and Editor-in-Chief Jeffrey Levine, in a recent Berkshire Eagle article. "There's also an emphasis [at Tupelo] on representing writers of diverse backgrounds and races. Because I felt writers of color were underrepresented in the literary world, we have focused on Asian-American and African-American writers. We just published an anthology of extraordinary Native American writers that I'm extremely proud of."
I continue to be invigorated by the Berkshires' literary heritage—and by the recognition that more viewpoints are necessary. "We must add to our heritage or lose it," said George Orwell, a quote featured on the Mastheads' site. When I walk in Kripalu's woods, I want to hear voices beyond Hawthorne.
As Matt Tannenbaum, proprietor of The Bookstore in Lenox for more than 40 years, says, "The Berkshires has a quietness that just about demands (if you're paying attention) a step into creation."
I'll keep listening for what comes next.
Lara Tupper, MFA, is the author of two novels, Off Island and A Thousand and One Nights, and Amphibians, a linked short story collection forthcoming in 2021.
Full Bio and Programs