Building Strength for the Good Fight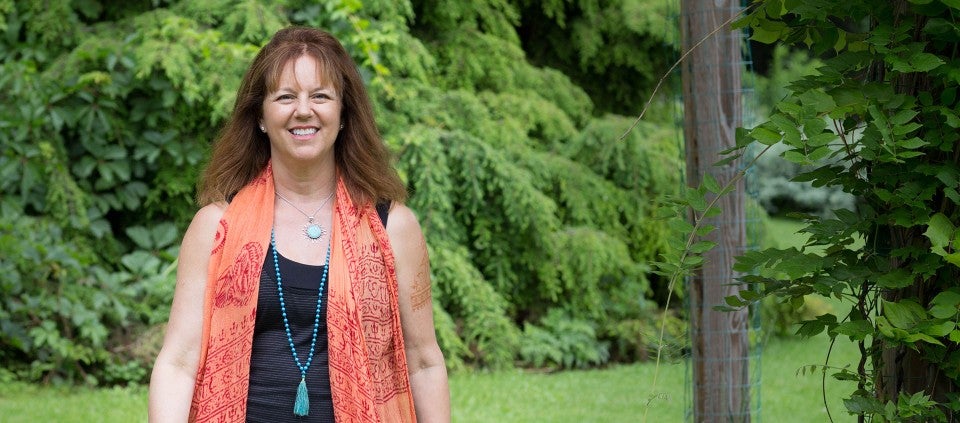 A Kripalu School of Yoga graduate uses her mat as a launching pad for creating a more peaceful world.
by Leila Sadat
After a bruising battle with breast cancer, I came to Kripalu in 2008 to do my 200-hour yoga teacher training. I was diagnosed while pregnant with my third child, and I arrived in the Berkshires exhausted and heartsick after nearly two years of treatment.
I'm a human rights lawyer and academic with a specialty in international criminal justice and combating impunity for the commission of crimes against humanity. I have always had a strong yoga practice, and becoming a yoga teacher had been a personal goal for nearly a decade. But I was never able to get it off the ground—each time I started, I would lose my focus.
After my cancer, several of my yoga teachers, Kripalu-trained themselves, urged me to do the 200-hour at Kripalu. It was the best decision of my life. Under the loving gaze of my Kripalu teachers, nourished by the compassion and support of my fellow students and uplifted by the beauty and healing energies of the Berkshires, I recovered my physical strength and my joy in life.
I returned to Kripalu a year later to continue my training. Sitting with my meditation teacher during one of the 300-hour modules, I realized that having cancer has been an incredible blessing—that being a survivor is a gift. My anger and frustration melted away and I was ready to take on new challenges off the mat. Instead of slinking away from life as a worn-out cancer survivor, my professional career exploded as I found the strength to continue my work on global justice and human rights.
I am now supporting the work of the prosecutor of the International Criminal Court and, as the Director of the Harris World Law Institute at Washington University, I do my small part to help create a more peaceful and safer world. In 2012, I finished my 500-hour training, and I come back to Kripalu once or twice a year to assist, as a way to give back to this amazing place and deepen my understanding of yoga.
In my work off the mat, I encounter atrocities that make the lives of the victims who endure them hell on earth. It would be easy to fall into despair and cynicism. But my time on the mat and the teachings of the Kripalu tradition tell me that justice and peace are prizes worth fighting for, and inspire me to stick to my path, even when it seems unbearably hard. At Kripalu, I found a little bit of heaven on earth, a place that heals, sustains, and inspires.
Find out more about the Kripalu School of Yoga.
© Kripalu Center for Yoga & Health. All rights reserved. To request permission to reprint, please email editor@kripalu.org.