Fresh Living in the Kitchen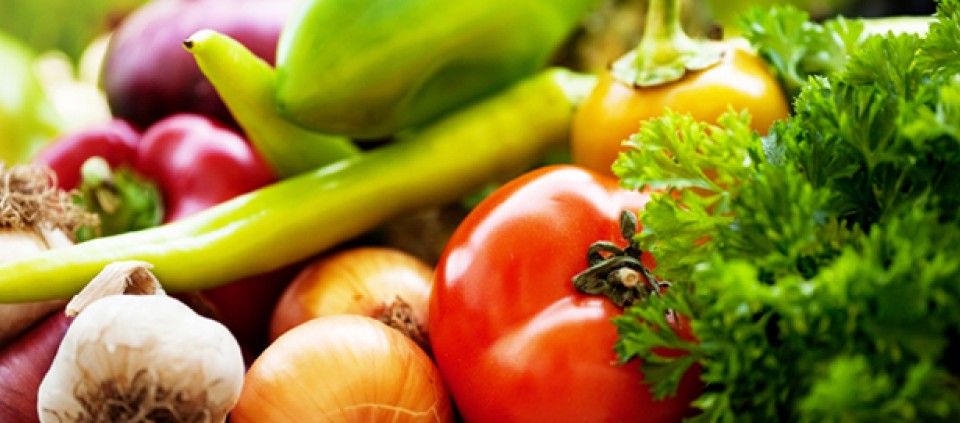 In this excerpt adapted from her book, Sara Snow's Fresh Living: The Essential Room-by-Room Guide to a Greener, Healthier Family and Home, Sara offers her top three tips for an efficient kitchen, plus her recipe for Hearty Tofu Spaghetti Sauce.
The best diet in the kitchen certainly starts with the foods you eat—moving toward greater amounts of organic and local foods that are grown sustainably and are free of undesirable ingredients like high-fructose corn syrup, MSG, trans fats, genetically modified ingredients, and pesticides. But another extremely important diet involves your activities in the kitchen and weaning yourself of excess water and energy use. Below are a few ways to cut back on both so you and your home can grow healthier together.
1. Your refrigerator can be the biggest energy sucker in the home, but it doesn't have to be. To optimize its energy use, make sure your refrigerator is reasonably but not too full. Too much stuff can prevent it from functioning properly, but leave it too empty and the fridge has to work extra hard to do its job. Make sure hot foods have cooled before you stow them in the fridge, and be sure both the refrigerator and freezer are at their proper temperature settings—the fridge should be set at 37 degrees and the freezer at 3—for an optimally efficient machine.
2. When it comes to packing up your leftovers, there are a couple of options that are better than the plastic standbys, for your health and the planet's. Plastics can leach harsh chemicals into your food, especially when food is reheated in the plastic. Most plastic containers have a number inside a triangle on the bottom, and in general, numbers 1, 2, 4, and 5 are safer than numbers 3, 6, and 7. A better option is to store your leftovers in glass, ceramic, or stoneware containers with lids. While you're at it, avoid the temptation to use a plastic bag or paper towel for every little kitchen job. Opt for wax paper bags and reusable cloth towels instead.
3. Go vegetarian, for at least one day out of the week or one week per month. Farmers require 40 times as much water to produce a pound of beef as they do to grow a pound of potatoes. Cows are responsible for the consumption of a lot of antibiotics, and they produce a lot of methane, which is the second worst greenhouse gas. Eating only vegetables for at least a portion of your diet means you are asking less of the environment and its most valuable resources.
Sara Snow's Hearty Tofu Spaghetti Sauce
My mom made this sauce a lot as I was growing up. Since we were a fairly good-sized family, I think it was her way of making a jar of spaghetti sauce go a long way, both in terms of filling bellies and packing us full of fresh vegetables. We used vegetables from the garden; you can do that or seek out organically grown local veggies of your own.
1 pound whole-grain pasta
2 tablespoons extra-virgin olive oil
1 large onion, chopped
2 garlic cloves, diced
½ teaspoon salt
½ pound button (or other local) mushrooms, quartered
1 pound spinach
2 medium zucchini, chopped
½ pound organic firm tofu, drained and mashed to resemble a ground beef consistency
1 jar organic spaghetti sauce
1 14-ounce can stewed organic tomatoes
1 bay leaf
1 teaspoon dried oregano
½ teaspoon sugar
Salt and pepper to taste
Cook pasta according to package directions. Once cooked to al dente, drain but don't rinse.
In a large pot, sauté onion and garlic in olive oil and salt. Add mushrooms, spinach, and zucchini. Cover and cook about 5 minutes, stirring frequently.
Add mashed tofu, spaghetti sauce, stewed tomatoes, bay leaf, oregano, and sugar. Add salt and pepper to taste. Cover and simmer 10 minutes longer.
Serve with pasta and a salad of mixed organic greens, lightly dressed.
Sara Snow, CHS, daughter of Tim Redmond, an organic-foods pioneer, is a TV host, author, green expert, and health specialist.
Sara Snow, CHS, daughter of Tim Redmond, an organic-foods pioneer, is a TV host, author, green expert, and health specialist sharing a message of simple,...
Full Bio and Programs