How to Make Your Own Shimmering Body Oil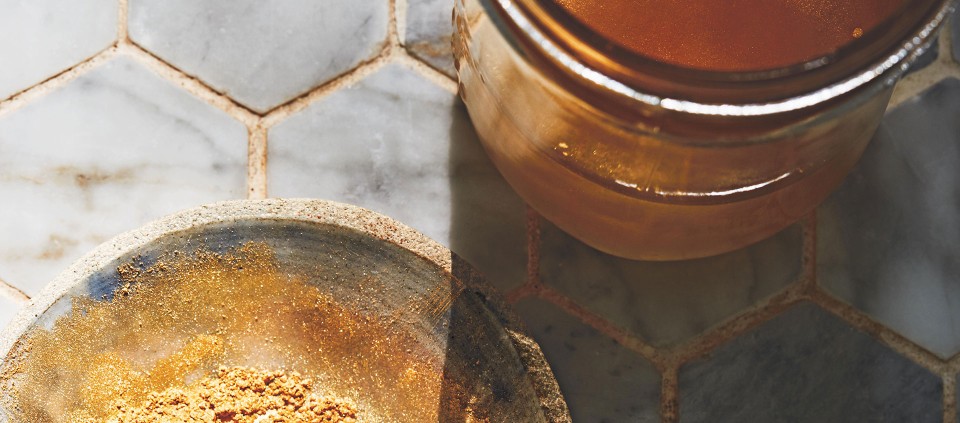 This oil absolutely makes you glow! It's indulgent and fun, and it smells heavenly. Mica is a natural mineral dust that adds a hint of glimmer, making this body oil perfect for a date night or when you're wearing a beautiful dress and want to highlight your skin.
For all skin types.
2 teaspoons mica, either gold or bronze
1 tablespoon shea butter or coconut oil
3 ounces sunflower seed oil
5 drops of vanilla essential oil (or any essential oil you prefer)
4-ounce glass bottle with stopper
Using a funnel, pour the mica into the glass bottle. In a saucepan over low heat, melt the shea butter or coconut oil, then add to the bottle. Pour in the sunflower seed oil and the vanilla essential oil, place the stopper in the bottle, and shake. Use your fingertips to apply lovingly to your shoulders, chest, and limbs. Use after bathing or before an evening out.
Find out about Whole Beauty programs with Shiva Rose at Kripalu.
Excerpted from Whole Beauty by Shiva Rose (Artisan Books). Copyright © 2018.
Shiva Rose, an author, leader, and entrepreneur in the world of all-natural beauty and lifestyle, is creator of the Local Rose blog and the Shiva Rose Beauty & Skin product line.
Full Bio and Programs