The Inner Work of Weight Management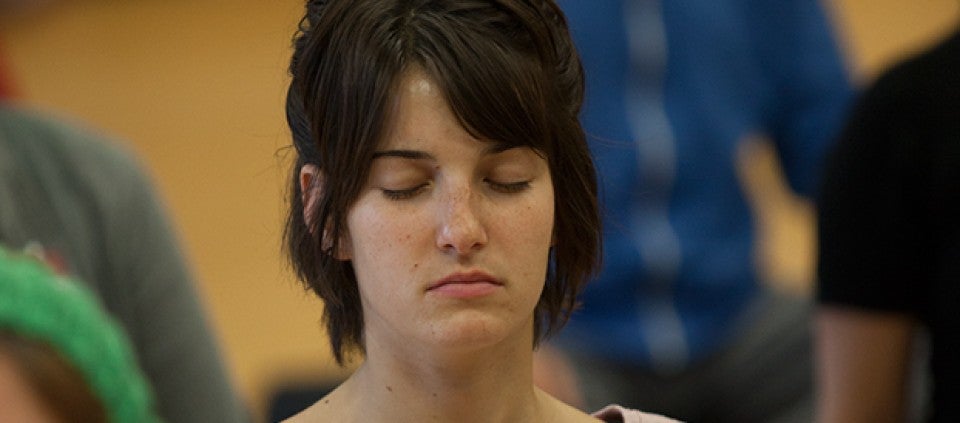 Like so many, I've spent most of my life battling the same 10 or 15 pounds, losing them with great pride only to gain the weight back again and berate myself for allowing it to happen. Recently, determined to make a change in the way I look and feel, I signed up for a fitness boot camp that involves regular weigh-ins and writing down every morsel you put in your mouth. I dread the pain and agony of the workouts, but I sure like the way I feel in my clothes again. I dropped 10 pounds in a little over a month.
Because I'm really watching what I eat these days, I'm especially interested in Annie B. Kay's concept of "the inner work of weight management." Annie, who is Kripalu's Lead Nutritionist, knows the slippery emotional slope on which those of us with food and weight issues live. Both weight loss and management are a process, she says. Sometimes we indulge–and it's okay.
Instead of throwing in the towel when the scale begins tipping upward, it's imperative to remind ourselves that we're not miserable failures because we gained a pound or two. Have some self-compassion. Notice the triggers that cause you to order the four-cheese pizza instead of the salad, and then get back on the horse and resolve to eat more wisely.
Those of us who struggle with weight, Annie says, know that emotional eating is often at the root of weight gain. I know my tendency is to turn to sugar when I feel stressed out or sad, when I want comfort or feel alone. The inner work of weight management, according to Annie, involves asking ourselves what we're really needing in those stressful, sad, and lonely moments. Do we need to do call a friend or do some deep breathing? Do we need to cry some tears or express our anger to the one we're angry with?
And when we want to reward ourselves for an accomplishment with food, what could we reward ourselves with instead? A bubble bath? Movie night with a friend? A massage at the local spa?
We think losing and maintaining weight are only about the ratio of calories consumed to calories burned, but there's a lot more to it. A little self-inquiry and a little self-compassion, Annie's convinced me, go a long way toward keeping not just our bodies in healthy shape, but our minds and hearts, too.
Portland Helmich is the creator, host, and producer of the Kripalu Perspectives podcast series. She has been investigating natural health and healing as a host, reporter, writer, and producer for more than 15 years.
© Kripalu Center for Yoga & Health. All rights reserved. To request permission to reprint, please e-mail editor@kripalu.org.
Portland Helmich has been investigating natural health and healing for more than 15 years, as a host, reporter, writer, and producer.
Full Bio and Programs