Kripalu Recipe: Mushroom Cheesesteaks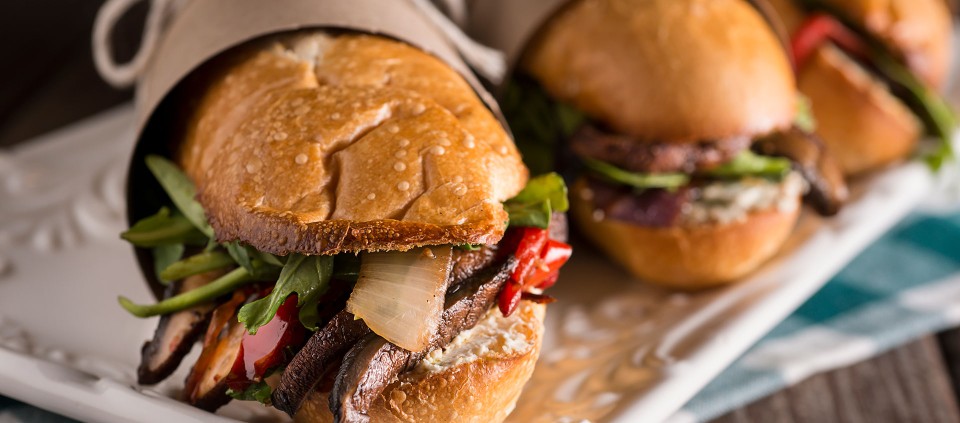 June 8, 2020
Be prepared for a big burst of juicy, satisfying, savory flavor in these sandwiches. Caramelized portobello mushrooms, dried mushroom powder, soy sauce, Worcestershire sauce, and provolone cheese are all rich sources of umami, the Japanese word for "delicious."
Makes 4 sandwiches.
1 cup julienned Spanish onion
2 tablespoons extra-virgin olive oil
8 cups sliced portobello mushrooms
1 teaspoon porcini mushroom powder
½ teaspoon dried oregano
2 teaspoons finely chopped garlic
2 tablespoons tamari or soy sauce
½ teaspoon Worcestershire sauce
2 cups julienned red and/or green bell peppers
¼ cup grated provolone cheese
4 ciabatta rolls or sub rolls
Heat a large sauté pan over medium-low heat. Put in the onions and oil, shaking the pan to coat the onions. Cook until the onions are translucent, 3 to 5 minutes. Raise the heat to medium and cook, stirring occasionally, until the onions are lightly caramelized, 3 to 5 minutes more.
Stir in 6 cups of the mushrooms, cover, and sweat the mushrooms until they are tender and release their juices, about 5 minutes.
Stir in the porcini powder and oregano and raise the heat to high. Cook, uncovered, until the pan goes dry and the mushrooms caramelize, 2 to 3 minutes, stirring to prevent burning. When the mushrooms are nicely browned, stir in the garlic and cook for 1 minute.
Stir in the tamari and Worcestershire, scraping the pan bottom to capture all the flavors. Reduce the heat to medium-low and stir in the peppers and remaining 2 cups mushrooms. Cover and sweat until the peppers are just tender, 2 to 3 minutes. Remove from the heat and fold in the provolone. Serve on the rolls.
Options
Add greens, such as arugula or mixed greens.
You can buy porcini mushroom powder or make it yourself by buzzing dried porcini mushrooms to a powder in a clean coffee grinder. Try buzzing a mix of dried mushrooms, such as shiitake, porcini, and matsutake, to make your own signature blend.
For a vegan version, use vegan Worcestershire and omit the cheese. Or use vegan cheese such as Follow Your Heart pepper jack.
For a gluten-free version, use gluten-free rolls. Or for a grain-free version, skip the rolls.
Jeremy Rock Smith, Kripalu faculty and a graduate of the Culinary Institute of America, began his career in classical French cuisine.
Full Bio and Programs