Kripalu Recipe: Pumpkin-Chocolate Pie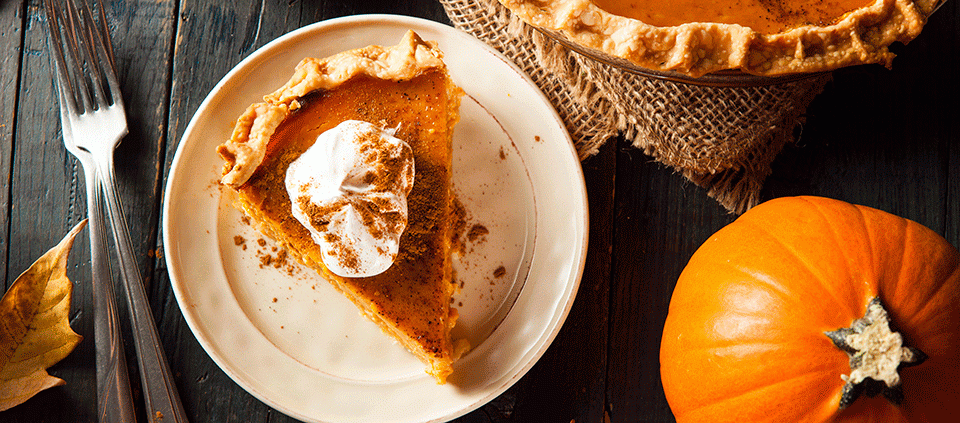 A source of essential vitamins and minerals, including beta-carotene, vitamin C, and potassium, pumpkin can spruce up your meals while providing you with health benefits. The beta-carotene in pumpkin is a nutritious antioxidant, and a potent part of a health-conscious immune building diet. You can use a prepared crust for this pie, or use the simple graham cracker crust recipe below.
Serves 6 to 8
Preparation and cooking time 45–60 minutes
Baking time 1 hour
Cooling time variable
Crust
4 ounces honey graham crackers
⅓ cup Sucanat (granulated cane juice)
⅓ cup butter (or earth balance)
Chocolate Layer
2 ounces unsweetened baker's chocolate
6 ounces cream cheese (or cream cheese alternative), at room temperature
1½ tablespoons arrowroot
¾ cup pure maple syrup
Pumpkin Layer
2 eggs, well beaten (or egg replacement)
2 cups cooked or canned pumpkin
¾ cup Sucanat (granulated cane juice)
1 teaspoon ground cinnamon
½ teaspoon ground ginger
½ teaspoon ground cloves
1 teaspoon salt
1 cup milk of your choice
To make the crust: In a food processor, finely grind the graham crackers. Add the Sucanat and process briefly. In a small saucepan, melt the butter. With the processor running, add the melted butter to the graham cracker mixture and blend until the mixture is damp and holds together.
Preheat oven to 425 degrees. Press the mixture into a lightly oiled, 10-inch pie pan, covering the bottom and sides. Bake for 3 to 5 minutes. Remove and let cool.
To make the chocolate layer: In a double boiler, melt the chocolate on medium heat. Remove from heat and let cool.
Meanwhile, in a food processor or with an electric mixer, blend the cream cheese at medium speed until fluffy. Add the arrowroot and blend until smooth. Add the melted (just barely warm) chocolate and blend at medium speed until smooth and thick. With the processor running, add the syrup in a steady stream until blended well.
Pour the mixture into the cooled crust and smooth to fill the bottom of the crust. Set aside.
To make the pumpkin layer: Preheat oven to 425 degrees. In a large bowl, combine the eggs, pumpkin, Sucanat, spices, and salt and mix together until well blended. Add the milk and mix with an electric blender at low speed until well combined.
Pour the mixture over the chocolate layer. (The pie will be very full.) Bake for 15 minutes. Reduce heat to 350 degrees and bake for 40 to 45 minutes more or until a knife inserted one inch from the edge comes out clean. Let cool on a wire rack. Serve alone or topped with whipped cream.