The Power of Play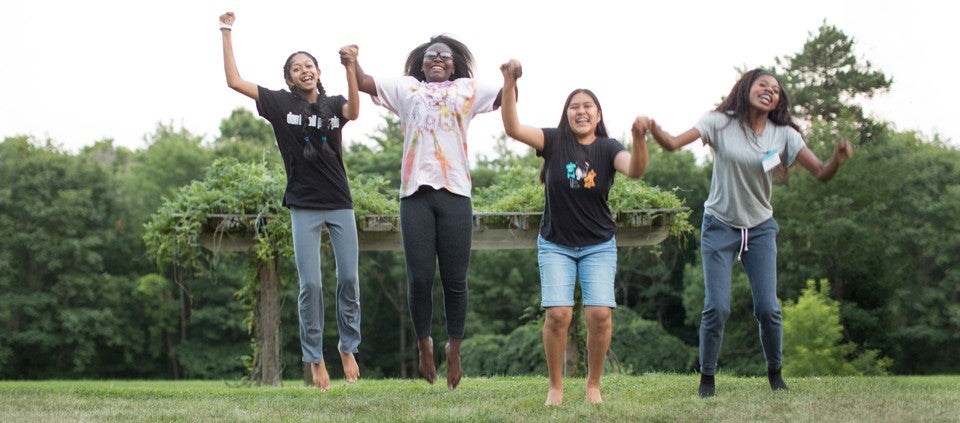 The warmer months can brings us back to the freedom of childhood, when summer meant school-free, carefree days. But as adults, finding the time to be carefree is a challenge. That's why play can be so powerful. Here, three experts offer insight into how the simplest of childhood pleasures can reinvigorate the mind, body, and spirit.
"Our natural state is to be happy," says Kripalu Yoga teacher Coby Kozlowski. "The joyful, playful side of the inner journey often gets overlooked. There's often guilt in joy because there's so much suffering in the world, so a lot of people are resistant to it." The Sanskrit word leela, which means "divine play," is an essential component of Coby's teachings; the idea is based on a process she calls joyful self-inquiry. The modalities Coby uses include vinyasa yoga and hula-hooping, an activity she sees not just as a fun throwback, but also as a yogic tool for self-empowerment. "The hooping action awakens the chakras," she says. "It opens up the inner channels, awakening the body, awakening the breath." Stimulation through hooping's circular motions can release "stuck" places in our bodies and emotions, creating a space in our being that allows for self-expression to flourish.
Erin Maile O'Keefe sees play as a process of finding the childlike wonder that erodes as we get older. "Kids are more connected with play as a vehicle for learning," says Erin. "They're curious and engage with the world through experimentation: the learning process is more organic; it isn't dictated." As we grow up, Erin explains, we move away from those experiences, so play is a way to rediscover our curiosity with the world around and within. Erin incorporates yoga, movement, theater, dance, and circus arts as playful tools for profound investigation: Whether on a tightwire or in Tree pose, for example, we're exploring balance, how we relate to gravity. As Erin explains, it's not about mastering balance, but rather engaging in the exploration of balance. "Play is about taking risks—we discover something new about ourselves," she says.
Toni Bergins teaches play through dance. "Joy comes out of physically unleashing what's blocked," she says. Letting go of tension and apprehension through playful, unbridled movement is a hallmark of Toni's teachings. During her JourneyDance class, dancers embark upon what she calls "funky connections"—dancing up to a random person while expressing affirmations to one another ("You're so funky! You're so wild!"). It's light, silly, and fun for sure, but it's also an opportunity to build trust and connect with others. "When you move, dance, you start to feel new areas of your being open up," she says. "The blood starts to flow, you are present, and endorphins are released. We hold onto so much stress in our bodies. Dance releases that stress."
Keeping open to the possibilities of play can keep your perspectives fresh and your spirit light, no matter what life may bring, and a great way to greet the summer.
Find out about Yoga Summer Camp at Kripalu.
© Kripalu Center for Yoga & Health. All rights reserved. To request permission to reprint, please e-mail editor@kripalu.org.