Shifting from the Head to the Heart with Compassionate Touch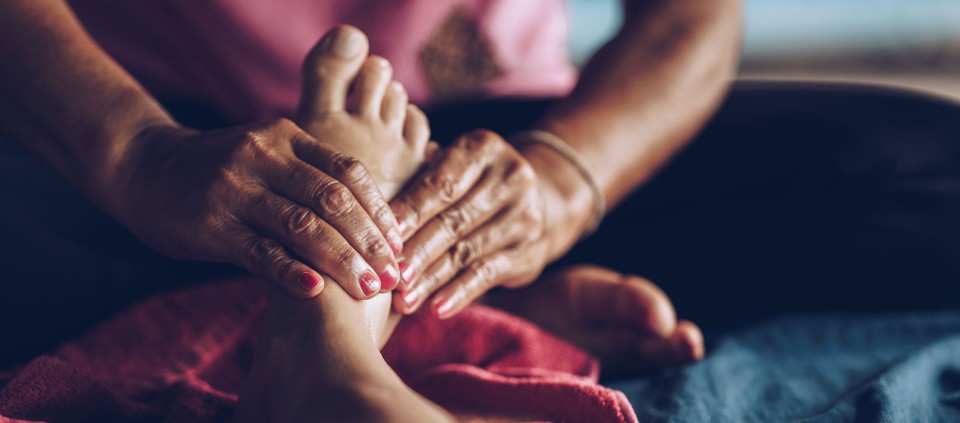 Compassionate touch is a way to show I care when I cannot find the words. That can be especially true when massaging family members. Sometimes it might be massaging someone I'm angry with or who is frustrated with me, or with whom I feel blocked in knowing what to say in difficult or tender moments. This kind of touch gives me a completely different way to relate, and very often that can spark the creativity and the words needed to mend fences, get closer, and become more appreciative of one another.
Giving compassionate touch is a way to help someone you care about while also helping yourself. That helping of yourself is not just lip service. Massage helps you on just about every level. You get physically stronger from giving, you grow more confident in your abilities from helping others, you improve your ability to communicate, you explore non-sexual intimacy and break down barriers borne of fear. You get more comfortable in your body, with your body, and with another person's body. You share spaces of reverence with your partner, with yourself, and with Spirit. Those moments of stillness and touch will be alive with life and the knowledge that you are part of something more.
When you give compassionate touch in this way, you get to experience the right brain so bright and so clear. You become aware of what it means to be connected and how meaningful it is.
As you continue to give massage regularly, especially with the same person over an extended period of time, all of these benefits increase exponentially. You are not the same person as when you started; you transform just as a caterpillar turns into a butterfly.
The massage becomes part of your spiritual practice and it is grounded in your relationships. This brings tremendous feelings of gratitude as your heart becomes lighter and you become freer. Compassionate touch becomes a friend for life, a friend who you can access whenever you want, and certainly through times of need.
Personally, I have endured tremendous experiences of loss in my life: the end of a relationship, the loss of a loved one, or the loneliness that I sometimes feel on any given day and without warning. Massaging on those days are often the most challenging experiences, until you get on the mat, or the bed, or table.
It usually takes about two painstaking minutes of giving to get over the hump and then you start to melt so that "You" can take over. Whatever it was that had you feeling down has been transformed into something that is so different. That hardship you were feeling doesn't magically disappear every time, but by the time you're done, you have changed and you often feel so much more able to find your way.
It's in these ways—and so many more that go beyond the word—that I share from the heart what giving can mean. Why it is a missing link in one's personal practice and how it can enrich relationships. You have it in you. It lives right there at the tip of your fingers and the point of your elbows. It is life brimming inside you experienced in all its glory that you get to share it with another person.
Find out about Loving Touch Couples Thai Massage with Shai Plonski at Kripalu.
Excerpted with permission from Compassionate Touch: Giving Massage for Optimal Health, Thriving Relationships & Spiritual Awakening. © 2017 by Shai Plonski.
Shai Plonski is a leader in the field of Thai massage and best-selling author of four books including Couples Thai Massage.
Full Bio and Programs