Touch Plus: Using Reiki to Care for Yourself and Others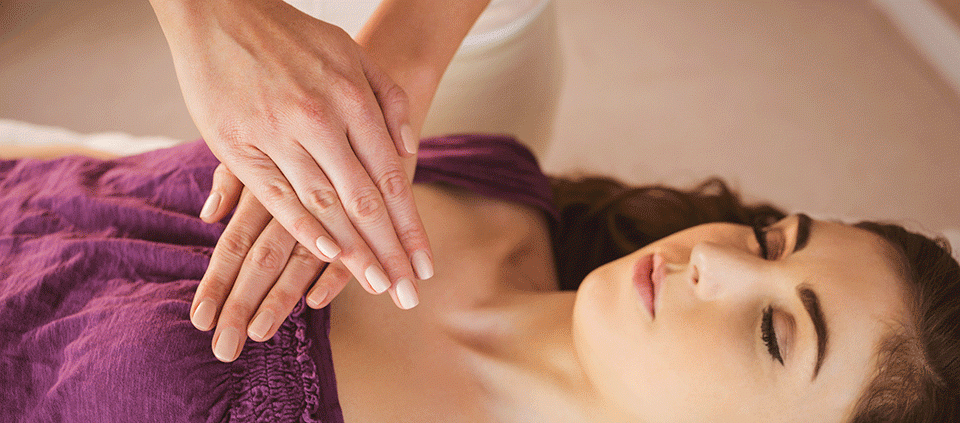 My son, David, was seven years old when he fell eight feet onto a dirt floor. Rushing to the ER, I felt comforted knowing that I was giving him Reiki as I held him on my lap. On the drive, I noticed my initial anxiety quieted, and David calmed and his pain lessened. I was so grateful I didn't have to do anything but have my hands on him, and his body could pull the Reiki in to soothe, comfort, and reduce his pain.
Reiki was like having a first aid kit in my hands. I was particularly impressed that Reiki could flow regardless of the state of mind I was in. As a mother of young children, I was always holding or touching them, and I really liked the idea that Reiki enhanced my touch, making it "touch plus."
The ER could not find a surgeon, so they told us to return the next day. I was concerned about the delay in setting David's broken wrist, but spent the night doing Reiki on him. Looking back, I know it was an opportunity to get lots of Reiki into him prior to surgery. It is now well documented that people receiving Reiki pre- and post-op often need less anesthesia and require less recovery time.
I received an email from a Reiki student who was a surgical first assistant in orthopedics with more than 18 years' experience, four with Reiki: "Over the past six months, we have done 16 major spine reconstructions. All received Reiki. None had any complications or adverse effects. With the use of Reiki during surgery, our operative times have been shorter, blood loss has been lower, and anesthesia time lessened."
David's surgery was uneventful, and post-op, he had no pain. When David's cast was removed, the nurse commented that his wrist had healed in two-thirds the normal time.
Reiki empowers you to not only soothe and comfort with hands-on touch, but also to send Reiki long distance. David was a senior in college when hit by a car while riding his bike. When the hospital chaplain called to say David was in the ER awaiting surgery, as distraught as I was, I could send Reiki to him as well as the medical team, who I wanted to be at the top of their game even though it was 2:00 am.
Despite the muffler burns on his back and the macadam in his face, David was back in class in five days and able to graduate with his class.
My First Reiki Experience
When a friend called in 1979 inviting me to a Reiki class, I immediately said yes, even though I'd never heard of it. She said it had something to do with healing, but that didn't really resonate because I'd been a social worker at Massachusetts General Hospital, and "healer" was not part of my scope of practice. However, my intuition was to go, so off I went.
What I didn't know was that the teacher, John Harvey Gray, was one of the original 22 teachers trained by Mrs. Takata, the Reiki Grand Master. John was on a teaching trip from California bringing Reiki to the next town, 12 miles from my home.
Three days after class, I talked with the high school chemistry teacher at the post office about his painful ruptured Achilles tendon. I told him I had just learned Reiki, which was supposed to help soothe pain and promote healing.
His eyes lit up as he heard this, and he asked if he could try it. I felt a bit anxious that I didn't know enough to do Reiki on him and worried he might be disappointed.
As he lay down on the futon, I invited him to close his eyes and relax as I placed my hands on his head, torso, knees, and feet, following the Reiki protocol. After about 45 minutes, I asked how he was. He said he had felt waves of relaxation flooding his body, and his pain had decreased dramatically. He paused and then continued: "A relationship I've always thought could be better, floated across the screen of my mind, suggesting a new way of relating." He completed sharing his experience with, "And then I spent the rest of the time dancing with the gods and the goddesses."
This Reiki session taught me so much. Reiki is a simple and effective tool for providing soothing comfort and enhancing well-being. Performing Reiki only requires the class Attunement and then "hands on, Reiki's on" as the recipient's cells draw in the energy. Even though I understood little about Reiki and lacked confidence in my ability to do it, all I had to do was follow the Reiki hand positions and the high school teacher got great results. Word travels fast in a small town, so I soon had lots of opportunities to practice Reiki on others. In the decades since, my appreciation for Reiki has only continued to grow.
Reiki as a Multifaceted Tool for Wellness
Many of my clients are dealing with cancer. A mother of three young children was diagnosed with fourth stage. She came for Reiki every week and received 10 rounds of chemotherapy. Six months later, she was declared cancer free. Another client came for Reiki following each radiation treatment, and told me, "Reiki provides an oasis of comfort, allowing me to be me without the cancer label. After Reiki, I feel restored and more able to deal with my illness. I leave my Reiki session feeling both relaxed and energized."
At a major cancer hospital in Boston, I helped initiate a volunteer Reiki program providing Reiki to patients in the infusion clinic. As one patient said, "Without Reiki, I always felt stressed during my infusions. With Reiki, I sail through my infusion and feel so good I can go out to lunch with friends afterwards." Patient feedback indicates that Reiki is beneficial in reducing pain, anxiety, and stress.
Reiki is available to patients not only through volunteers, but many hospital staff are also Reiki-trained, and the practice has been shown to reduce their work-related stress. A benefit for staff is that they can use Reiki in their personal lives as well as with patients. Recently, a nurse said she came to class because "I see what a difference the Reiki volunteer makes in the comfort of my patients." Following class, she sent me an e-mail about her Reiki experience: "I practiced on my husband and I thought he was going to completely melt into the floor, his relaxation was so deep. The day after class, I gave Reiki to a couple of nursing directors. My Reiki touch was mostly on their shoulders, heart, and top of head. Both commented that it felt wonderful and reset them for the day."
Hospice is another area where Reiki is enthusiastically embraced. Research shows that Reiki is effective in treating community-dwelling older adults who experience pain, depression, and/or anxiety. I've trained many hospice staff and volunteers, but using Reiki with my mother during her transition was most special.
When she broke her hip at 95, surgery was not a viable option because her health was on a downward trajectory. We chose hospice care for quality of life, using Reiki to manage her minimal pain. Because she was alert and comfortable during those last three weeks, we had good talks and deep connection. Sharing Reiki with her gave me something to do rather than just wringing my hands. I was able to "Reiki her over" with love.
So, 30-plus years and ten thousand students after my friend invited me to Reiki class, I'm still passionate about Reiki as one of the simplest and most effective tools to enhance well-being, for both yourself and others.
Find out about upcoming programs with Libby Barnett.
© Kripalu Center for Yoga & Health. All rights reserved. To request permission to reprint, please e-mail editor@kripalu.org.
Libby Barnett, MSW, is a Reiki Master and teacher whose experience as a medical social worker at Massachusetts General Hospital provides a foundation for her work.
Full Bio and Programs