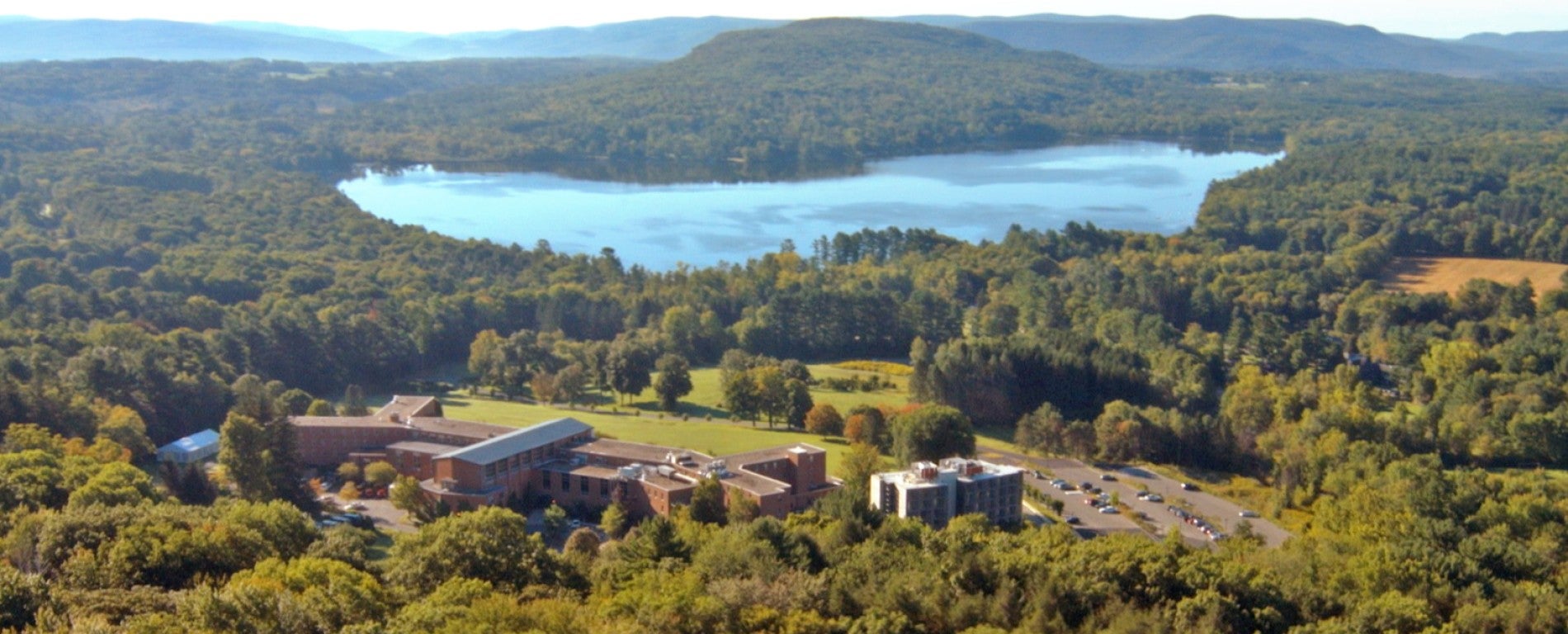 About Shadowbrook
From the 1880s until the start of the World War I in 1917, the Berkshires emerged as a popular summer resort for the wealthy elite of what has come to be known as America's "gilded age." Catalyzed by their tremendous wealth and business influence, the area flowered as a center for the arts and culture.
In 1893, the original 100-room mansion was built on what is now Kripalu's property by entrepreneur and banker Anson Phelps Stokes. The home was situated on what is still called the Mansion Lawn, the level area surrounded by stone walls easily visible along the East Drive. With a façade that measured 410 feet, the house briefly held the record as the largest private dwelling in the United States. The grounds of Shadowbrook were designed by a student of the world-famous landscape architect Frederick Law Olmsted, known for his design of Central Park in New York City.
Spencer Shotter, a wealthy turpentine magnate, purchased the mansion and 350 acres in 1906. During the Shotter ownership, Shadowbrook was leased for a time as a summer resort hotel, and also rented to Mrs. Gwynne Vanderbilt. In 1917, steel magnate Andrew Carnegie purchased Shadowbrook as his summer retreat. A local newspaper, The Berkshire Eagle, wrote: "Mr. Carnegie wanted a quiet place where he could meditate upon his unsuccessful efforts toward world peace after World War I." In 1922, after Carnegie's death, his wife sold Shadowbrook to the New England Province of the Society of Jesus for use as a Jesuit novitiate.
Just as there had been a cultural flowering in the "cottage" era, Shadowbrook blossomed as a hub of Jesuit educational activity, with generations of young men studying and practicing in the huge mansion. Tragedy struck in 1956 when Shadowbrook was destroyed by fire and four Jesuit fathers perished in the flames.
The Jesuits decided to build anew, not on the same site, but just down the hill. In 1957, the present Shadowbrook structure was completed, a mammoth brick building with hundreds of individual rooms, a central chapel, and many classrooms. While the Jesuits imagined that their novitiate would continue to grow, the 1960s brought sudden social changes and declining enrollment. In 1970, due to rising costs, the Society closed Shadowbrook's doors.
Standing vacant for 13 years, the property was briefly considered as a location for a state prison before Kripalu purchased it in 1983. The building needed extensive work, and the accomplishments of Kripalu residents included the cleaning and repair of 694 windows, the installation of two acres of carpet, and the painting of seven acres of wall space. Shadowbrook opened its doors again as Kripalu Center for Yoga & Health on December 1, 1983, ushering in a new era of Shadowbrook history.
Kripalu and Shadowbrook continue to flourish in the Berkshires as a program center and educational organization dedicated to empower people and communities to realize their full potential through the transformative wisdom and practice of yoga.