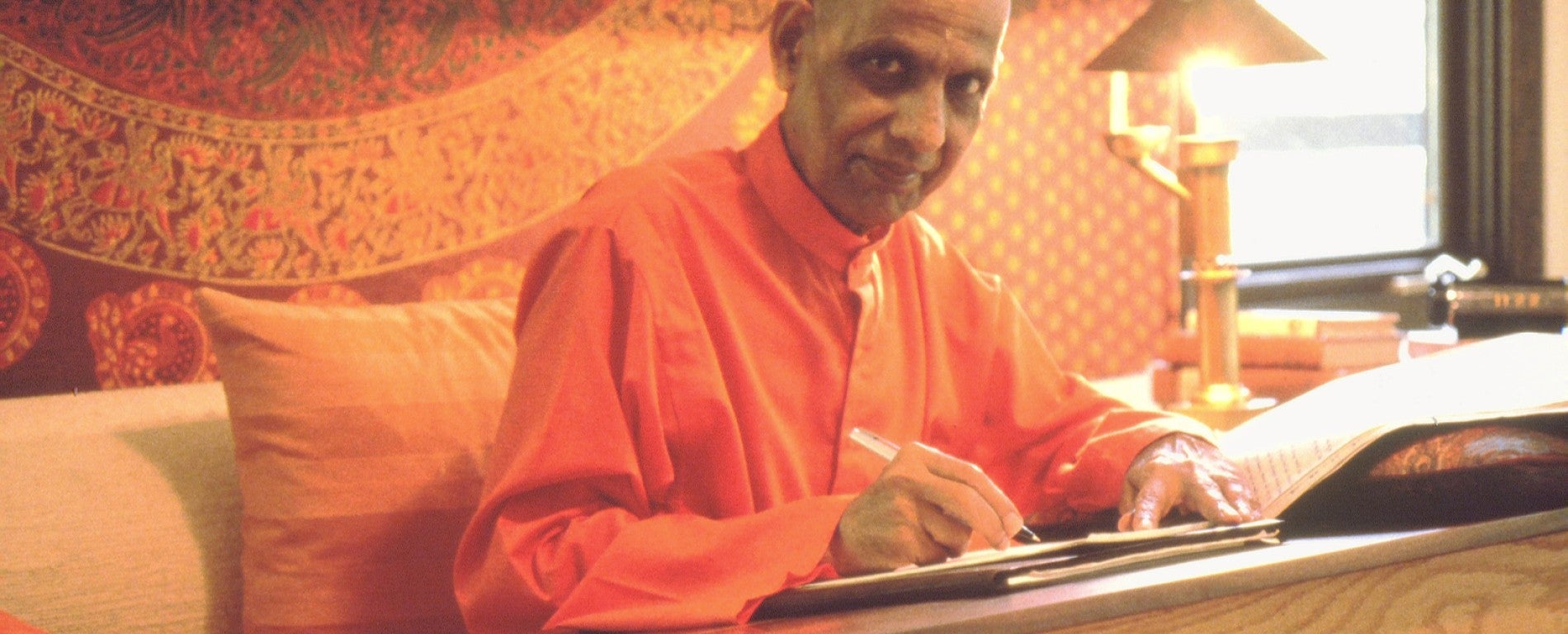 Our History
Kripalu's history parallels the evolution of yoga in America, which progresses from
An exclusive reliance on Eastern tradition, teachers, and cultural forms
To the development of Western teachers steeped in the tradition and able to transmit its authentic depths in formats appropriate to our time and place
To the integration of yoga with contemporary discoveries in medicine, psychology, and science.
The Yoga Society of Pennsylvania
Indian-born Amrit Desai came to the United States in 1960 to attend the Philadelphia College of Art. A close disciple of a renowned Indian yoga master named Swami Kripalu, Desai taught yoga classes to a growing number of yoga enthusiasts in the Philadelphia area. In 1966, Desai and nine others formed the Yoga Society of Pennsylvania, a nonprofit organization organized to advance the science and philosophy of yoga. Within a few years, Desai had trained numerous Americans as teachers and the Yoga Society was offering 150 yoga classes a week. Along with classes, the Yoga Society made yoga books and other educational resources available to students, an activity that continues today in the Kripalu Shop.
The First Kripalu Centers
In 1972, Desai left the Philadelphia area with a handful of dedicated students to establish a small, residential yoga retreat center in Sumneytown, Pennsylvania. This was the first "Kripalu Center" and reflected a desire to move beyond the limits of what can be offered in a single yoga class. In 1974, the name of the nonprofit organization was changed to "Kripalu Yoga Fellowship" to reflect an increasing emphasis on propagating the teachings of Swami Kripalu through residential retreats, depth programs, and the training of Kripalu Yoga teachers. Desai's wife, Urmila, also played an important role in the establishment of the community.
In 1975, Kripalu purchased a second and significantly larger facility in Summit Station, Pennsylvania. Summit Station was the first full expression of the Kripalu vision for a residential yoga, health, and program center. Members of the Fellowship believed that a residential center could provide students with an immersion experience in the yoga lifestyle powerful enough to inspire them to explore and adopt new ways of being. The Summit Station facility had space for student housing, group yoga instruction, meal preparation, and a fully-staffed holistic-health center that offered massage and a variety of other health services in concert with two physicians. This health center was the genesis of "healing arts," which remains an important aspect of the Kripalu curriculum and mission.
Both the Sumneytown and Summit Station properties were staffed by an inspired group of volunteers and yoga enthusiasts who formed the nucleus of the community or ashram. Desai was the ashram's spiritual leader, while the ashram staff offered a curriculum of yoga, holistic health, and self-discovery programs to the public.
In 1977, Desai's teacher, Swami Kripalu, came to the United States and spent the last four years of his life in residence at Sumneytown and Summit Station. Although continuing a lifestyle of intensive yoga practice, Swami Kripalu's presence galvanized the growth of what would become Kripalu Center. Delivering periodic talks and teachings, his lectures and writings inspired thousands to begin regular yoga practice. Swami Kripalu returned to India in 1981, where he died shortly thereafter. His teachings, especially those delivered in America, still form the basis of the Kripalu approach.
Kripalu Finds Its Permanent Home in Stockbridge
With Swami Kripalu's teachings at the forefront of our activities, Kripalu Center continued to grow at a rapid rate, and the Kripalu community was soon overflowing the Sumneytown and Summit Station facilities. In early 1983, Kripalu purchased its current Stockbridge, Massachusetts, location, a former Jesuit seminary on a property called Shadowbrook. After a flurry of renovation work, the doors of Kripalu Center for Yoga & Health were opened in December 1983. With an awe-inspiring new location, the staff was able to offer a cutting-edge curriculum of programs on yoga, health, massage and bodywork, personal growth, and spirituality.
Read a brief history of the Shadowbrook property, once the residence of Andrew Carnegie, here.
During the 1980s, Desai became an international figure in yoga, delivering talks, performing yoga demonstrations, and leading seminars worldwide. The Kripalu community continued to grow in size until it contained more than 350 residents.
While Desai was engaged in traveling and teaching, a cadre of senior teachers developed into competent leaders, healers, and depth practitioners. It was during the late 1980s that efforts began to integrate the teachings of yoga with psychology, science, and Western approaches to healing and self-development. Instead of relying exclusively on ancient texts and Sanskrit terminology, the teachings of Kripalu Yoga were increasingly voiced by Western teachers in language that meshed with the contemporary world.
By 1990, the ashram's network had expanded to include a significant number of Kripalu Yoga teachers living throughout North America and the world, leading local groups practicing Kripalu Yoga. In 1991, the Kripalu Yoga Teachers Association (KYTA) was formed to coordinate the training and professional development of Kripalu-certified teachers. The 2,200 members of KYTA and the thousands of students they touch each week remain a vital part of the Kripalu mission.
In 1994, revelations surfaced of sexual relationships between Desai and several female ashram residents. When these and other alleged abuses of power were confirmed, Kripalu's Board of Trustees called for Desai's immediate resignation. Since 1994, and continuing today, there is no formal relationship between Kripalu and Desai.
Prior to the scandal, a critical mass of ashram residents had grown to a point of "individuating." In seeking greater self-expression, many were pushing against the ashram's rigid rules and authority structure. A number were leaving residency to strike out on their own as times had simply changed and the ashram was no longer thriving. The scandal dramatically broke open a closed and pressurized social system. We are reminded of a variation of an old teaching, "When the disciple is ready, the guru disappears."
In the months that followed, the ashram disbanded, with the majority of residents leaving the area to pursue new lives.
The Retreat Center Thrives
Kripalu has the distinction of being the first, and possibly the only, yoga center in North America to survive the transition from a traditional guru-disciple structure to a secular, all-inclusive center for yoga, health, wellness, and lifestyle change.
Between 1996 and 2004, Kripalu's leadership and staff focused on establishing a new vision, launching Kripalu as a nationally-recognized yoga retreat and experiential program center. While continuing to teach Kripalu Yoga, it reached out to a broad mix of teachers from other traditions and disciplines to expand its curriculum and appeal to the growing number of Americans interested in yoga, health, wellness, and personal growth. This nonsectarian willingness to embrace all schools of yoga, along with other traditional and contemporary approaches to personal transformation, is an important part of the Kripalu approach.
During these years, Kripalu was restructured into a standard nonprofit organization offering a broad curriculum of educational programs and spiritual retreats. This new structure was formalized in 1999, when Kripalu officially ceased being a religious order.
In 2004, the Board of Trustees hired Patton and Ila Sarley to serve as Kripalu's CEO and President. Under the Sarleys' leadership, Kripalu enjoyed a period of sustained growth. The programming effort was strengthened. Relationships with world-class presenters were cultivated. The result was an attractive program curriculum featuring a rich mix of national and international teachers. Program attendance increased markedly, enabling the organization to expand and prosper. In June 2009 a new, 80-room environmentally sensitive residential building, The Annex, was completed to comfortably house the growing number of Kripalu students and guests.
In 2011 and 2012, the Board of Trustees invited visionary CEOs David Surrenda and Richard Faulds to imagine and build an even broader and deeper expression of Kripalu for the modern age. To execute this new vision and strategy, in 2013 the Board recruited David Lipsius, JD, RYT-500, who brought to the role 15 years of experience in leadership positions at NBC Universal. Under David's guidance, Kripalu focused on aligning its strategy and curriculum with the legacy and teachings of Swami Kripalu as well as enhancing and improving every aspect of the retreat experience. This direction has strengthened Kripalu's innovative programming offerings and curriculum development as well as the Schools of Yoga, Ayurveda, and Yoga Therapy, and the Institute of Extraordinary Living, positioning Kripalu to make an even greater impact in the world.
Today, under the leadership of Dr. Barbara Vacarr, Kripalu continues to evolve and grow, with experienced faculty and professional staff universally committed to serving our guests and students in a way that supports their education, healing, transformation and empowerment. It is an exciting time to be at Kripalu, as we work to create and support an awakened, compassionate and connected world.