5 Ways to Embrace Winter, Kripalu-Style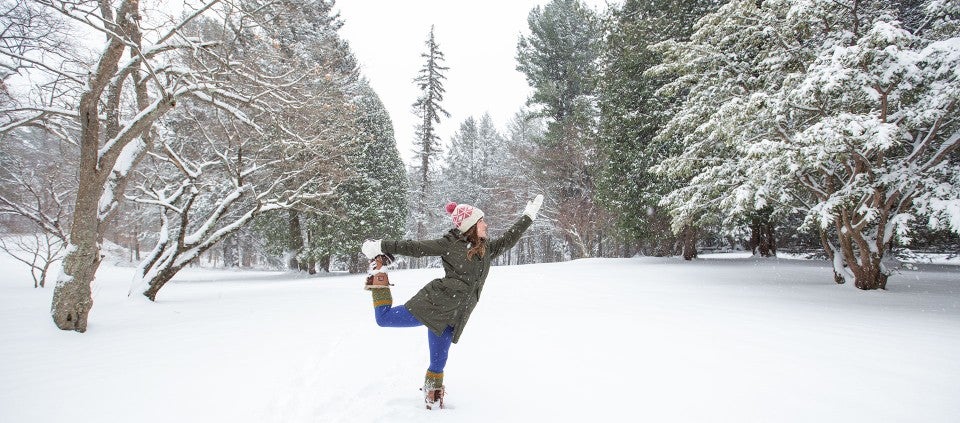 According to Ayurveda, winter is the vata season—dominated by the cold, dry qualities of air and ether. From what we eat to how we practice on the mat, winter calls for grounding, warming, and restorative practices and experiences.
"Just as night comes after day, so does the restful time of winter follow the active time of summer, healing and reinvigorating us," says Micah Mortali, Dean and Founder of the Kripalu School of Mindful Outdoor Leadership. "Winter can be a time to reflect, write, rest, and practice. Then, in spring, when the earth softens and warms, we head out to explore the world and begin to manifest the visions of winter's dreamtime."
Here are five ways to experience the gifts of winter at Kripalu, as you weave a vision for your next steps and the next season.
1. Create routines built around connection and self-care.
This winter, spend a few days with us to get centered and energized. During the holidays and into the new year, our R&R workshops focus on topics like gratitude, self-compassion, intention-setting, creative expression, and more. You can celebrate the spirit of the season, while learning wellness and lifestyle tools to take into your daily life, all year round.
2. Learn how to take cold-weather comfort food to the next level.
Winter is the best time of year to heat up the kitchen with nutritious and user-friendly recipes—or to try something new and special for the holidays. Kripalu's Executive Chef, Jeremy Rock Smith, author of the Kripalu Kitchen cookbook, loves cooking comfort food from different cultures, including French, Italian, and Asian.
"Cooking simple, delicious things helps me decompress," he says. "These days, there are so many options and so much information available to us that it can be overwhelming—but the success of classic recipes often relies on a simple, brilliant technique and a few high-quality ingredients."
3. Use Kripalu as a home base for relaxation, and explore everything the Berkshires has to offer.
With Kripalu R&R, you create the schedule that works for you, depending on your mood when you get out of bed in the morning. You might choose to go deep into practice and stillness one day, and start your next R&R day with an invigorating yoga practice and a hearty breakfast that set you up for a day spent exploring Berkshire County's museums and galleries (we love the nearby Norman Rockwell Museum), ski slopes, and great shopping in picturesque Lenox, Stockbridge, and Great Barrington. Then come home to Kripalu for a healthy, whole-foods meal and an evening yoga nidra workshop to wind down body and brain for a sound sleep.
4. Embrace the winter woods, and reap all the health benefits of nature.
Nature and outdoor programs at Kripalu approach wilderness skills and experiences through the lens of mindful, meditative observation. Our instructors craft programs that open the door to an entirely new way of viewing nature and its inhabitants—through wildlife tracking, snowshoeing, forest bathing, birdwatching, and tree identification, paired with gentle yoga and meditation classes indoors.
The average American spends 90 percent of their life indoors and 11 hours a day on screens, says Micah. "But mindful time in nature can reconnect us with the "more-than-human world" in which we live." In addition, time spent in nature, especially in forests rich in conifers, exposes us to a class of naturally occurring, highly beneficial chemicals called phytoncides, which have been shown to reduce blood pressure and the stress hormone cortisol, and improve immune function by building the natural killer cells that fight disease.
5. Start your new year feeling clear.
Jump-start 2022 with a whole-foods, plant-based detox that draws from nutritional science. Or learn ways to finally create a balanced relationship with food. "Eating clean, managing stress, and getting adequate rest and movement are central to the recipe for both detox and weight management," says Annie B. Kay, Lead Nutritionist at Kripalu. "Ultimately, it's a self-inquiry practice of noticing what works, and making choices that support your body and the whole of your life."