Bringing Yoga to the Bronx During a Pandemic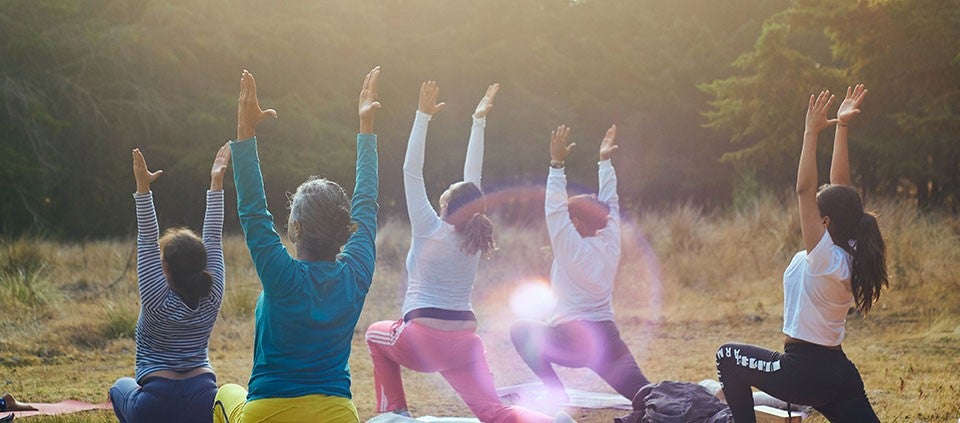 February 2, 2021
Michele Griffin was a member of the last in-person Kripalu School of Yoga 200-Hour Yoga Teacher Training before COVID-19 forced Kripalu to move exclusively to online learning. How does Yoga Teacher Training prepare anyone for living in a pandemic? It turns out, in more ways than one.
"I've been able to thrive through Covid-19 because of what I've learned," she says. "I want to touch as many people in this community as I possibly can."
For Michele, this meant she dove even deeper into helping the Bronx in New York City, where she works for the city's Parks Department. One aspect of Michele's work—both on the job and in her off-hours—is leading yoga classes for kids, "super seniors," and people with cognitive and physical disabilities.
"My mission statement is to bring Kripalu Yoga to the Bronx," she says, "a little teeny bit at a time."
Thanks to a modest donor-funded grant from Kripalu's Schwartz Teaching for Diversity Fund, Michele was able to purchase back jacks, bolsters, and pillows to serve her students, many of whom are coping with immobility issues.
And the result? Michele's students have clamored for more. Last summer, she offered ad hoc classes at Orchard Park Beach on Pelham Bay. She accepted donations but didn't charge for the classes. "No one should pay crazy prices to breathe," Michele says.
Volunteering. Sharing. Giving to support those who expand Kripalu's reach and make its teachings accessible. It's all yoga. None of us can do everything. But each of us can do something.
---
MISSION DRIVEN, DONOR SUPPORTED
Michele's story is one example of how your gifts to Kripalu empower people and communities in realizing their full potential through the transformative wisdom and practice of yoga. As a non-profit organization, our mission is underwritten in part by generous people like you. Please donate, if you are able. Every gift is a step toward the future of Kripalu.
---