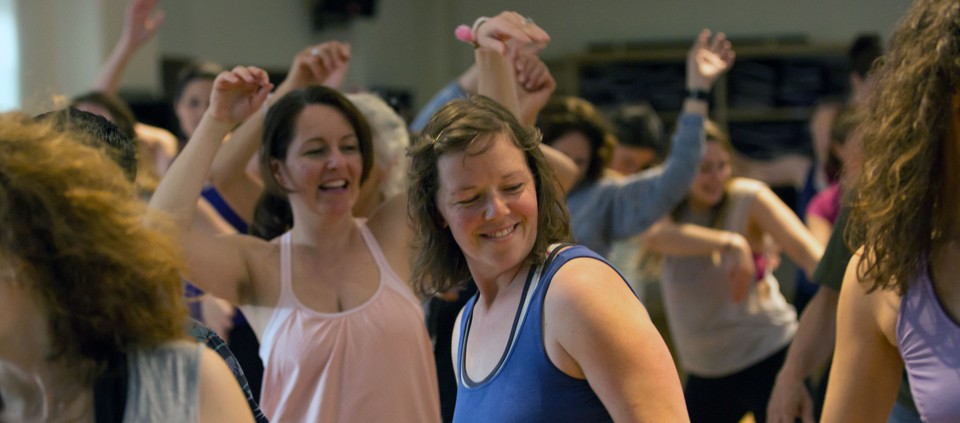 Embodiment and Empowerment in a Time of Transformation
Can you imagine looking up and seeing the entire sky go dark in the middle of the day? I personally am making the pilgrimage to live into that experience. In my imagination, I feel it will invite time for reflection, a sense of humility, and a deeper trust in the great mystery.
During these times of transformation, it has been said that we are being called to hospice the old paradigm and midwife the new. Astrologically, the new moon solar eclipse on August 21 marks a new beginning and an invitation to collectively cocreate our experience. Just a few days after the eclipse, those who join Toni Bergins, founder of JourneyDance™; Parashakti, founder of Dance of Liberation; and myself, the founder of Qoya, at Kripalu, will have an opportunity to honor the intensity of this time using movement as medicine. We will explore our commitment to serve through ritual. We will emerge from isolation and claim our star seat in the constellation of community.
During this auspicious time, Qoya resident astrologer Virginia Rosenberg encourages those with a dancing heart to plant intentional seeds of joy, celebration, and personal sovereignty. Open your heart. Connect with your heart of hearts. What would it feel like to love, without grasping or attachment? What would it feel like to give of that love generously, straight from the center of your heart, spinning out joy like a star blessing all of creation? Dance that feeling. Live it. Take something serious you have been concerned about and play with it. Tickle its belly. Tell it jokes. See what happens.
Toni, Parashakti, and I have each given our lives in service to the wisdom of the body as it emerges authentically through dance. All of our modalities are designed to provide a safe space to deeply listen to the wisdom of the body, and encouragement to follow that wisdom. We take our place in a lineage of light workers who shake themselves free and reclaim their backbone in the world by spiraling it through space. No experience is required and there are no levels. There is simply a soul to honor the wise, wild, and free essence that animates your body through movement, to remember the values that are most dear to your heart in living a lifestyle of reverence in ritual and savoring the power—that simply cannot be duplicated in our living room—of coming together as a group, offering our presence as a gift, and receiving others' presence as the gift that it is.
Find out more about Transformational Movement, Dance, and Ritual: A Women's Festival for Embodiment and Empowerment, August 25–27 at Kripalu.
© Kripalu Center for Yoga & Health. All rights reserved. To request permission to reprint, please e-mail editor@kripalu.org.
Create personal change and empower yourself to transform possibility into reality.
Explore