Five Ways to Spend Family Time at Kripalu and in the Berkshires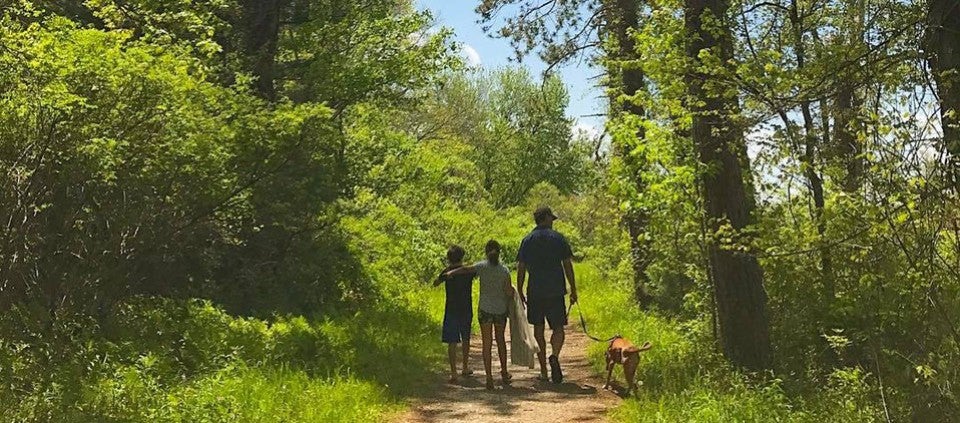 by Kimberly Jordan Allen
For many of us, Kripalu is the mothership. It's where we go to rest, renew, and recharge. For some, it may be where we truly find our practice, or deepen our training in yoga or Ayurveda. For others, it's a place to practice self-care. And when we have kids, we want to share the magic with them.
But is Kripalu really kid-friendly? And what can you do with kids in the Berkshires? Well, the answers are "yes" and "a whole lot"!
Kripalu is nestled in the Berkshires, an area rich in natural beauty and fun activities for all ages. Children are welcome at Kripalu; there are even programs offered just for them. This took me by surprise on my first visits. Kripalu is a place where people go to unwind and unplug; often, guests are in silence or immersed in deep, mindful practice. If my 12-year-old is laughing in the hall, is that going to work? And, on a deeper level, can my spiritual life and my role as a wife and mom cohabitate?
Here's what I've learned in my years of spending time at Kripalu and in the Berkshires.
My Kripalu Family
The first time I went to Kripalu, I was visiting a friend. She's iconoclastic and fairly punk-rock, so she was a great person for me to be with in my condition: sleep-deprived and shell-shocked, with two-year-old twins in tow. She welcomed us merrily and we toured the grounds. We went for a hike to Monk's Pond amid old-growth trees and lush green forest. We did somersaults on the front lawn and picked dandelions. Finally, we hit the Kripalu Shop for some vital necessities—rose quartz crystals, prayer flags, whiffs of aromatherapy, and some organic tea.
Toddlers can throw down at any moment, and I was on high alert for any activity that would challenge Kripalu's tranquility. Sure enough, when we arrived at the Dining Hall and found that it wasn't open for lunch yet, my hungry kids hurled themselves to the ground in tantrum-infused mutiny. As they pounded their fists on the carpeted floor, I covered my face with my hands, mortified.
"Hey, it's okay," said my loving friend. "They deserve to be here just as much as anyone else. They're reminding everyone that it's not about perfection. Who better to teach us that than our children?" We all calmed down and headed into the now-open Dining Hall, where we ate lots of vegetables, tasted every one of the delicious Kripalu dressings, sipped lemonade, and had rice cakes with PB&J for dessert. I was so grateful to be in this blissful haven with my children.
I ended up getting a job at Kripalu a couple of years later, and worked at the center for five years, occasionally bringing the kids back to visit. It feels like home to me—and to them. And now they're old enough for us to take programs together.
What to Do with Family in the Berkshires
You might want to schedule an extra day in the area before and/or after your visit to Kripalu, to take advantage of the many all-ages attractions in the region. Here are a few of my family's favorite Berkshire spots.
Eat
The food at Kripalu is amazing. That being said, we usually go out of our way to stop in nearby Great Barrington, Massachusetts, to visit the Berkshire Co-op for fresh juices and smoothies and Bizen for the best sushi ever (a favorite date-night spot for me and my husband). A few doors down from Bizen on Railroad Street is SoCo, offering locally crafted ice cream. I have many friends who also frequent the Prairie Whale, known for its flavorful meat dishes and hip atmosphere.
Walk
Time in nature is truly replenishing and restorative. Forest bathing is proven to positively impact our mental state and ease feelings of stress and anxiety. And kids love being outside. There are many great spots on site or close to Kripalu. Kids and adults alike love to trace the circular path of the Kripalu Labyrinth, adjacent to the wildflower meadows, where I spent many hours watching the birds, insects, and flora. There are lots of magical hikes—big and smaller (depending on children's ages and the family's fitness level)—in Berkshire County. (Side note: when our kids were six, we brought them on a seven-mile hike, and they rocked it. We were with five friends, so they had plenty of dialogue and encouragement along the way. You may think your kid won't be able to hack a longer hike, but you might be surprised.) My friend Micah Mortali, Director of Outdoor Education and Programming at Kripalu, offers his favorites here. Another spot I love is Benedict Pond in nearby Beartown State Forest. This picturesque spot offers lovely views and a perfect place to picnic. You can hike around the pond for a scenic loop. At Hollow Fields, you can walk through open fields and bask in the vastness of land. A great resource for local hiking is the Berkshire Natural Resources Council, which offers trail maps and info.
Listen
Tanglewood is steps from the Kripalu campus. The summer home of the Boston Symphony Orchestra, it's a regular venue for James Taylor and other legendary groups and performers, such as Earth, Wind & Fire, Gladys Knight, and Squeeze. Picnicking on the lawn while listening to live music under the starry Berkshire sky is perfection. Check in advance for the event schedule and ticket availability. The Mahaiwe Performing Arts Center in Great Barrington features live music, comedy, movies, and other shows. Depending on what time of year you're visiting, you might catch It's a Wonderful Life on the big screen or share a comedy night with your teens. The Colonial Theatre in nearby Pittsfield, Massachusetts, is also a great option for live performances.
Swim
It's the best part of summer. Studies reveal that spending time in proximity to water can generate an overall feeling of wellness and health. Plus, kids love it! Lake Mansfield in Great Barrington offers swimming, paddle sports access, and barbecue grills; no resident sticker required. Benedict Pond, mentioned above, is also a lovely spot, with very clean water and a sandy beach. Kripalu also has its own lakefront on the Stockbridge Bowl.
Connect
What I love about Kripalu is the fact that every aspect of the experience is built on a foundation of connection—with self, others, and the environment. There are times when I need to just unwind and fly solo, but I've also had family experiences at Kripalu that I will never forget. Sharing these moments with my loved ones has only brought me deeper joy and meaning.
The meaning of the word yoga is "to join" or "to yoke"—to create union and unity. That's a perfect philosophy for families, and the ideal intention for a family trip to Kripalu and the Berkshires this summer.
Browse kids' and family programs at Kripalu.
Kimberly Jordan Allen is an award-winning writer, editor, and content strategist.