Growing the Love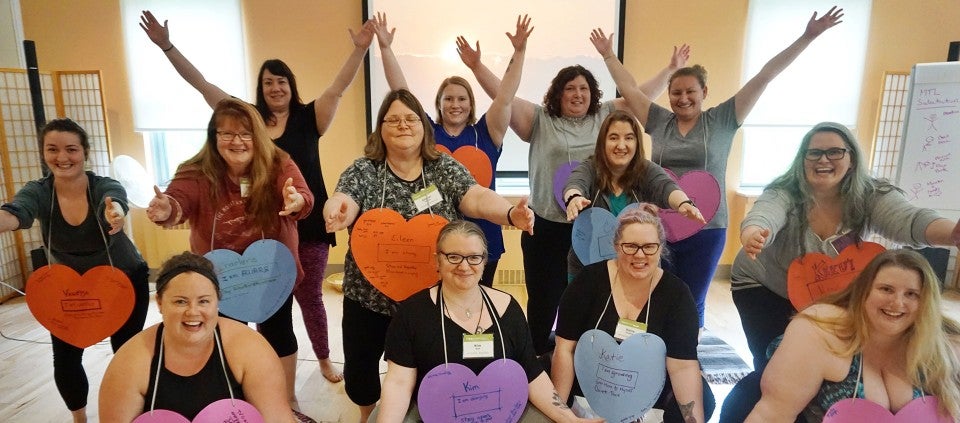 by Rachel Estapa
Three years ago—nearly to the date—I stood on the steps of the Kripalu lawn looking out over the grounds, to the hills and glimmering lake below. My heart and body were full of joy and buzzing with pride, for I'd just completed my month-long yoga teacher training.
I remember feeling prepared and excited for my work ahead, bringing yoga to bodies rarely seen. Bodies like mine who were larger, fuller, often left hiding in the back of yoga classes or too scared to step on a yoga mat in the first place.
But I knew something powerful: Bodies like mine lack nothing in their true ability to enjoy yoga. They just need a teacher and guide to show them how yoga can be an amazing way to experience freedom in their body—no intimidation, no shame—and that's exactly what I've done.
More to Love Yoga teaches people with plus-size bodies how to do yoga, including helpful adjustments to make poses more realistic and enjoyable. But More to Love is more than yoga; it's a way to integrate body-positive lessons into daily life. It's become a movement for people to feel welcome and loved without needing to change anything about who they are.
In the past three years, I've taught thousands of people within the Boston area alone through weekly classes and events, including those who join us online. People travel from all over to attend our body-loving class in our small but spirited studio space. All shapes and bodies, all ages and abilities, it doesn't matter what you're coming in with, because More to Love Yoga—informed by Kripalu's compassionate style—helps you feel loved in your body.
Last year, More to Love was honored to win the Mastercard & Bank of America Grow Your Biz contest, a true testament to the rise of body-positivity in our culture, but also to the magic that yoga holds to transform people's lives. From this contest, a lot of amazing exposure followed, and that helped to grow and strengthen our More to Love community even more.
The jewel of More to Love Yoga is the people who dare to experience their body in a loving, brave way. To honor some of their inspiring stories, I created the I Am More to Love Collection, which has been a delightful way for people to understand that More to Love Yoga can positively impact life off the yoga mat.
This past June was a full-circle moment, as I brought a group of More to Love members to Kripalu to attend A Lovely Rising, our first 3-day retreat. It was an amazing homecoming not just for myself, but for More to Love to gather at Kripalu in the communion of yoga. We celebrated our bodies, we shared our unique stories that shape our need for body-love, and, most of all, we practice yoga without fear of judgement. I'm already exploring ways to continue the retreat annually and people are already looking forward to it.
As More to Love Yoga grows, I am devoted to making sure that our community stands on the strength of inclusion, body respect, and the power of yoga, which is truly for all.
Rachel Estapa, founder of More to Love, is a Kripalu-certified yoga teacher and transformational life coach supporting plus-size bodies in yoga and wellness.