How Time Changes When You Travel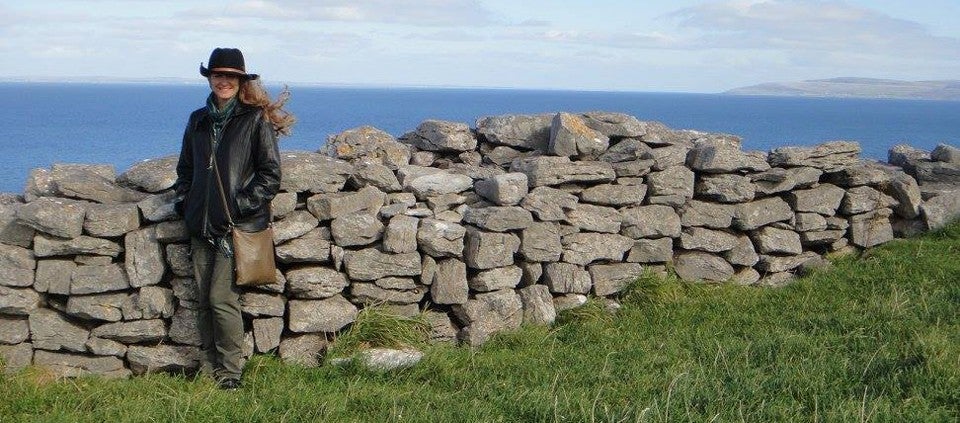 I went to Ireland for the music, the green cliffs, the soda bread, the ruins. Led by four stellar musicians, my husband among them, the Songbirds Tour provided vistas along the west coast by day and song circles by night. It was a honeymoon of sorts (with 18 fellow travelers, including my mother). I was there to play tourist, to listen and enjoy. During those 10 days, time seemed to both slow down and speed up. My perceptions (and my disposition) swung from narrow to spacious, from cautious to generous.
Determined to avoid jet lag, I drank plenty of water, immediately set my watch to Irish time, chewed homeopathic tablets recommended by my pharmacist, and tried to resist the urge to nap. Still, I felt the disorientation of having crossed the Atlantic in less than six hours. My body and mind resisted the pull of local time.
Western medicine refers to jet lag as a disruption in our circadian rhythm, or internal body clock. Ayurveda views it as aggravation of the vata dosha—the subtle energy that governs movement.
By day three, these symptoms passed and I began to fill my notebook with observations about the lilting Irish accent, the price of gasoline, the prevalence of sheep near motorways. Mundane details (ubiquitous packets of vinegar where I expected ketchup) became worthy of notation. This is what I most enjoy about new places: I feel hyper-aware, my senses piqued.
Alain de Botton, in his brilliant book The Art of Travel, calls this the "traveling mindset." "Receptive, we approach new places with humility," he writes. "We carry with us no rigid ideas about what is or is not interesting. We irritate locals because we stand in traffic islands and narrow streets and admire what they take to be unremarkable small details. We are alive to the layers of history beneath the present."
Time passes swiftly when everything in the present moment is interesting. I wanted, as well, to sink into the past. Before departing, I tried to absorb names and dates—the Celtic myths; the ancient, warring factions; the achievements of modern cultural icons—but I soon become overwhelmed and closed my guidebook. Once in Ireland, I welcomed stories from our bus driver, Tony, who revealed that our hotel was the site of an 18th-century dungeon, with chains still attached to walls. (Hotel employees refuse to dwell in the basement.) That night I dreamed of ghosts, and the layers of history seemed very much alive.
The tangible settings helped, too—towers that I could actually climb. At Yeats Tower (Thoor Ballylee), a 14th-century fortress where the poet W. B. Yeats lived from 1919 to 1929, I scrabbled up the circular stairs and was soon out of breath. There was Yeats' writing desk. I could imagine the hearth lit with smoldering turf, and the writer himself, trying to make the words fit together.
I chatted with others on the bus. Were they enjoying their time travel? Lauren Behrman and Jeff Zimmerman, psychologists with busy practices and teaching schedules, said they welcomed the break from their calendars, from the need to plan and organize.
"Work and home provide containers for your life," said Lauren. "Once outside the container, you have freedom to explore beyond, to break out of the box." When the day isn't punctuated with familiar markers (jobs, errands), we feel uninhibited.
Or stressed. This was evident during our journey to Inis Oirr (one of the Aran Islands), known for its Gaelic speakers and warrens of stone walls. Due to rough seas, all but one ferry was cancelled. After waiting it out for several hours in the Last Pub Before the Pier (a foreboding name), we decided to make our way.
I'd considered myself seaworthy—I grew up on the Maine coast and worked on a cruise ship for years. Then the solemn Irish crew hauled our luggage onboard as the rain lashed the deck. I couldn't hear the safety announcement, didn't know where to find the lifejackets. The snack bar cash register toppled and crashed to the floor (a crew member calmly reattached it). The boat heaved and rocked, slamming down nearly sideways as it plowed through steep waves.
"They wouldn't go out if they thought it wasn't safe," said everyone around me. But I couldn't let the words in. I couldn't look outside, a washing machine of sea against the glass. I clenched my eyes shut and gripped my husband's hand. I knew we'd topple and go under at any moment, water seeping inside.
"It's only gravity!" laughed the white-haired man in front of me, an islander we'd see again and again the next day. I couldn't accept this either. I couldn't get out of my box.
Then two Songbirds started singing: "Amazing Grace," "Michael Row the Boat Ashore," "I Will Survive." I laughed for a second and then screamed again as the next wave knocked us back. Time seemed finite then. I believed I'd have no more of it. I was strapped inside a soon-to-be-sinking vessel with my brand-new spouse and my only surviving parent. I thought to meditate, to try Ujjayi breath (Ocean breath!), to surrender to the moment. But I wanted only for the moment to pass, and the next. I wanted only to be motionless, on land.
And we did land. We lumbered to the island's one hotel and promptly gathered in the pub to sing again.
The next day the sun shone on Inis Oirr. The seas were calm. We took a tour with a jovial man named Stephen and stopped at a rusted shipwreck to take photos. It was one of the most beautiful places I've ever seen.
Says Alain de Botton, "The pleasure we derive from journeys is perhaps dependent more on the mindset with which we travel than on the destination we travel to." Our perception of time is dependent on our mindset, too. It becomes endless or speedy, dreadful or euphoric. We can remain boxed in—or stay open, willing to see what happens when the (time)lines are not so rigid.
Lara Tupper writes, sings, and teaches in the Berkshires. www.laratupper.com
Find out about upcoming programs with Lara Tupper at Kripalu.
© Kripalu Center for Yoga & Health. All rights reserved. To request permission to reprint, please e-mail editor@kripalu.org.
Lara Tupper, MFA, is the author of two novels, Off Island and A Thousand and One Nights, and Amphibians, a linked short story collection forthcoming in 2021.
Full Bio and Programs