Kripalu Recipe: Amaranth and Quinoa Salad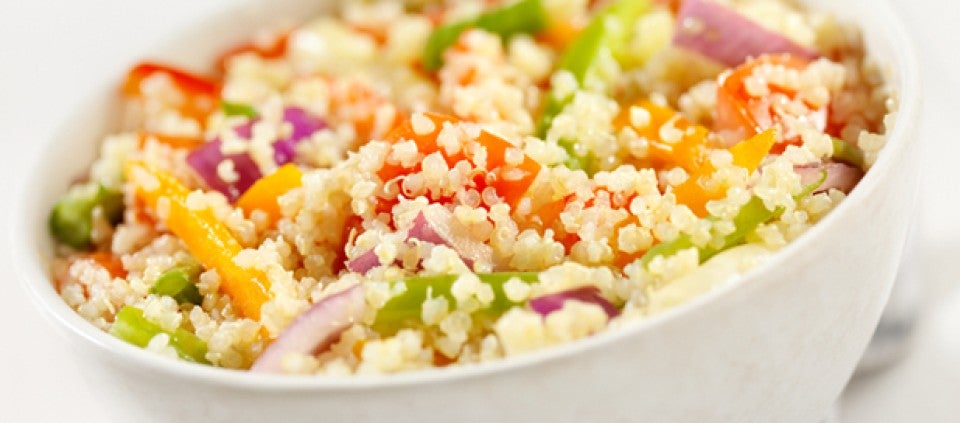 Both amaranth and quinoa are ancient grains that were staples in Aztec and Incan civilizations, respectively. Amaranth, high in protein, the amino acid lysine, fiber, and calcium, has an earthy, sweet taste and a sticky texture when cooked. The National Academy of Sciences has called quinoa "one of the best sources of vegetable protein in the vegetable kingdom." The Mayo Clinic also cites quinoa as one of the key alternate protein sources for a vegetarian or vegan diet.
Serves 10 as a side.
1 1/2 cups quinoa (washed and roasted until slightly brown)
1/2 cup amaranth (washed and roasted until slightly brown)
1/3 cup dried spearmint leaf
1/2 tablespoon each of cumin, coriander, sea salt, and onion powder
1/3 cup diced carrots, celery, and red onion
1/3 cup washed and chopped fresh parsley
1/3 cup sunflower seeds
3 cups vegetable stock
2 tablespoons freshly squeezed lime juice
Put all ingredients (except lime juice) into the widest pan you own. (If the mixture cooks in a narrow deep pan it tends to clump up.)
Simmer until all moisture is absorbed. Add the lime juice at the end and refrigerate, uncovered. Serve and enjoy!