Kripalu Recipe: Asparagus Soup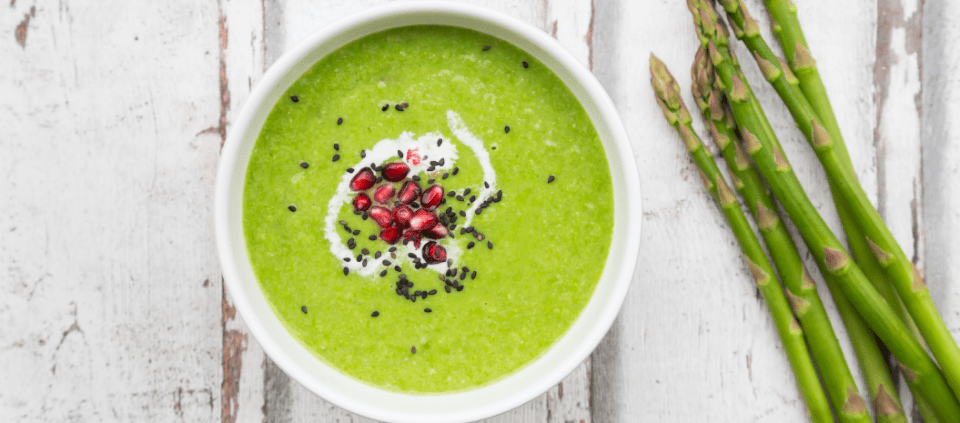 This week's Kripalu Recipe is made with asparagus and cashews—delish!
Serves 4
1/4 cup raw cashews
4 cups water or vegetable stock
4 cups asparagus pieces (about 1-inch each)
1/2 cup medium diced onion
2 tablespoons extra-virgin olive oil
2 tablespoons minced garlic
1 teaspoon sea salt
1 tablespoon lemon juice
Preheat oven to 425 degrees.
Combine the cashews with the water or stock in a 4 quart soup pot. Bring to a boil, then turn off the heat. Let sit while you prepare the asparagus.
Toss the asparagus, onions, olive oil, garlic, and 1/4 teaspoon salt together in a large mixing bowl. Transfer to a baking sheet and roast in the oven, stirring occasionally, until the asparagus is tender but not too soft, 10 to 12 minutes.
Transfer the boiled cashews and water or stock to a blender. Add 3/4 of the roasted asparagus-onion mixture. Puree until very smooth. Return the mixture to the pot, and add the lemon juice and 3/4 teaspoon salt. Heat gently to desired temperature. Serve hot, garnished with the remaining roasted asparagus-onion mixture.