Kripalu Recipe: Baked Winter Squash with Honey Walnuts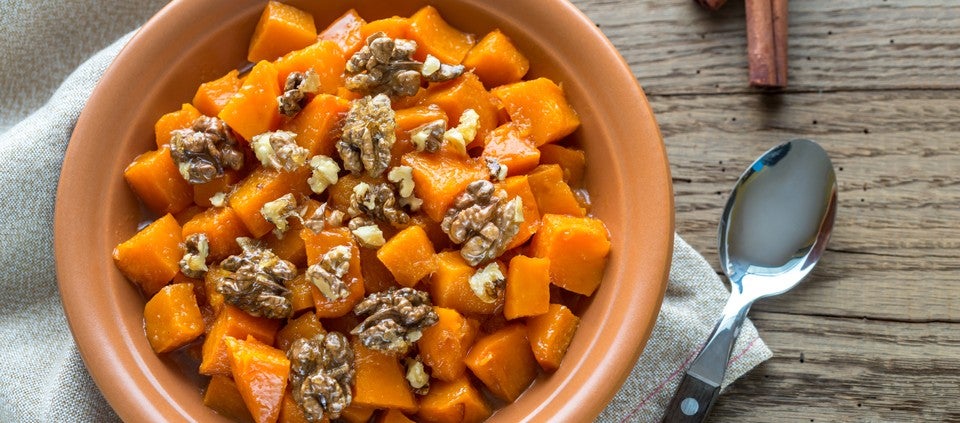 Try experimenting with this Kripalu Recipe—it works wonderfully with a variety of squashes, including butternut, buttercup, kabocha, and delicata. This is a great go-to recipe for holiday dinners.
Serves 4 to 6
3/4 cup walnuts
2 tablespoons honey
1 tablespoon rapidura or sucanat
6 cups winter squash, peeled and cut into large cubes
2 tablespoons extra virgin olive oil
Pinch of salt
Pinch of cinnamon
Preheat oven to 350 degrees. Mix the walnuts with ½ tablespoon of the olive oil, 1 tablespoon of the honey, and the rapidura or sucanat. Spread the walnuts on a baking tray and bake for seven to nine minutes, until they are toasted. Remove from the oven and allow to cool, loosening them from the baking sheet as they cool.
Turn oven temperature up to 375 degrees. Toss the squash with the remaining 1½ tablespoons of the olive oil, the salt, and the cinnamon. Place in a baking dish with 2 tablespoons water and cover. Bake for approximately 30 or 40 minutes, until squash is tender; the baking time will depend on the type of squash and the size of the cubes. Top with the walnuts and serve.